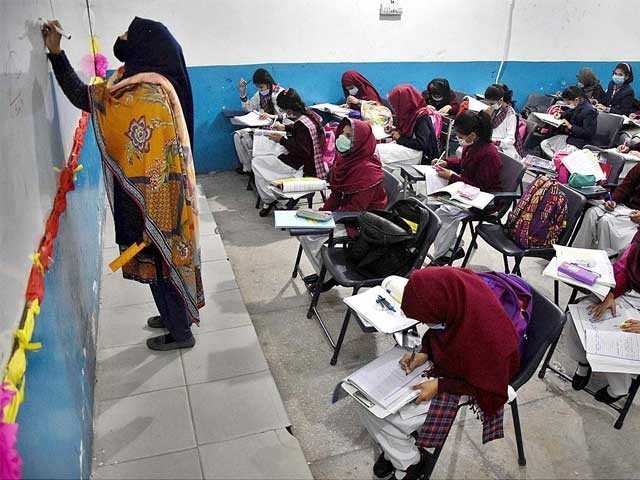 ---
Sindh to continue 50% student attendance policy
Ghani says schools to continue functioning at 50 per cent attendance until complete eradication of Covid-19
---
KARACHI:
As opposed to the federal government's notification permitting schools to resume five-day regular classes from March 1, the Sindh government announced that it would be sticking to the 50 per cent student attendance rule, Express News reported on Sunday.
Addressing a press conference in Karachi, Sindh Education Minister Saeed Ghani said the rule will be enforced till the "Covid-19 pandemic was completely eradicated".
He further urged private schools to continue ensuring that it students maintained social distancing.
The issue arose following Federal Minister for Education Shafqat Mahmood's March 25 tweet, announcing resumption of regular five-day classes a week at all schools across the country from March 1.
Ghani questioned the federal minister's announcement saying, "How will distancing be ensured when schools will allow 100 per cent attendance?"
Also read: NCOC lifts curb on commercial activities amid decline in Covid-19 cases
The provincial education minister said that the epidemic is not over yet, only the cases have decreased.
"We will uphold our decision in Sindh and will not allow attendance of all students at school simultaneously," he maintained.
Mahmood's announcement ended almost a year of online classes – a move the government opted for to curb the spread of the Covid-19 pandemic.
Taking to Twitter, the minister confirmed that all previous restrictions imposed on schools that caused the need to conduct "staggered" classes were only till Feb 28.
The education minister added that this announcement applied to all educational institutions situated in cities where restrictions pertaining to Covid-19 were imposed.