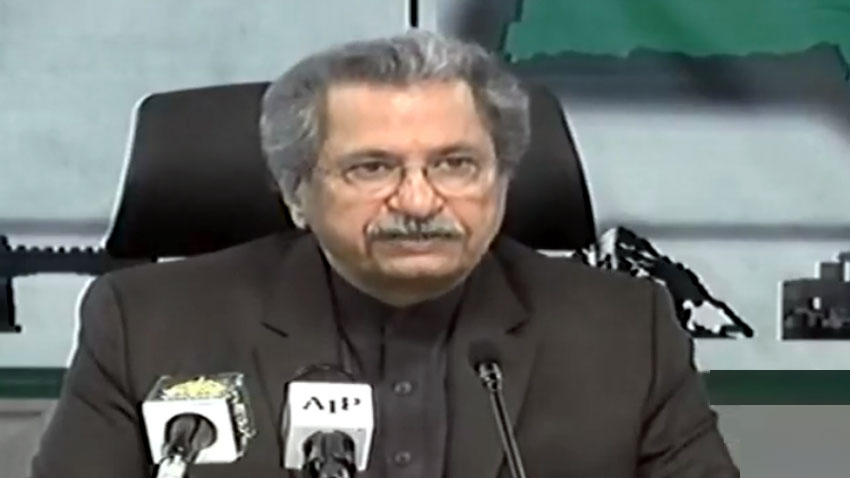 ---
Federal Minister for Education Shafqat Mahmood on Thursday announced resumption of regular five-day classes a week at all schools across the country from March 1, ending almost a year of online classes – a move the government opted for to curb the spread of the Covid-19 pandemic.
Taking to micro-blogging site Twitter, the minister confirmed that all previous restrictions imposed on schools that caused the need to conduct "staggered" classes were only till Feb 28.
Important announcement. All schools will go back to regular 5 day classes from Monday March 1. Restrictions imposed in some major cities on schools to conduct staggered classes was only till Feb 28.

— Shafqat Mahmood (@Shafqat_Mahmood) February 25, 2021
The education minister added that this announcement applied to all educational institutions situated in cities where restrictions pertaining to Covid-19 were imposed.
"This announcement applies to every educational institution in the designated cities where restrictions had been imposed," the minister said. "By the grace of Allah, we are moving towards normalcy."
Also Read: NCOC lifts curb on commercial activities amid decline in Covid-19 cases
According to a statement issued by the Ministry of Federal Education and Professional Training, in continuation of the announcement of the education minister on resumption of regular school week for urban centres of Karachi, Hyderabad, Lahore and Peshawar, it is clarified that these centres had been restricted to three-day school week by the National Command and Operation Centre (NCOC) because of a high spike in the number of Covid cases.
"After review of the Covid cases, these restrictions are being removed. It is; however, reiterated that the SOPs issued by the education ministry in consultation with the health ministry and the NCOC are still fully applicable on schools with a special emphasis on use of masks, physical distancing and hand washing," it added.
Separately, Special Assistant to Prime Minister on National Health Services Dr Faisal Sultan said that the government has been systematically steering progress on all strategic pillars of Covid-19 Pakistan Preparedness and Response Plan (PPRP), which includes coordination, surveillance, points of entry, laboratory, infection prevention and control, case management, risk communication and community engagement and essential health services.
"Improving quality of healthcare for the people through delivery of comprehensive health services during the pandemic is also aligned to the overall government aim to achieve the health objectives of Sustainable Development Goals and universal health coverage," the PM's aide said while addressing a ceremony held to receive donation from the World Health Organisation to strengthen coronavirus response efforts in Pakistan.
WHO Representative in Pakistan Dr Palitha Mahipala handed over 37 ambulances, 125 motor bikes and 12 double cabins to Sultan during the ceremony.
In working with trusted partners like WHO, Sultan said, the government of Pakistan has been fortunate enough to mitigate the severe impact of the Covid-19 pandemic in both the first and second waves.
"The WHO is always standing with the government of Pakistan to strengthen quality of healthcare through comprehensive health services delivery," he said, acknowledging the comprehensive and continuous technical and operational support for holistically responding to the pandemic since January 11, 2020, when the first communication on an outbreak in Wuhan, China was made.
He said that the WHO has been our major contributor in terms of providing 34 PCR machines with supplies, over 50,000 rapid antigen test kits, around 39,000 PPE kit and PPE supplies worth of Rs320 million and many other equipment.
Dr Faisal said that the donation will support timely passengers' and patient referral, strengthen surveillance and sample transportation for contact tracing, ensure timely passenger referral from the POE and critical patient care for Covid-19 case management at the healthcare facilities.