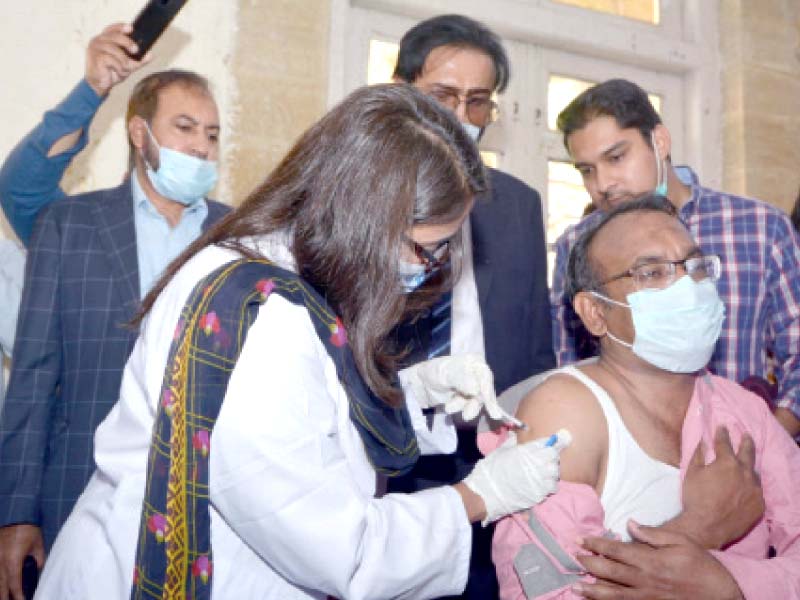 ---
KARACHI:
Sindh Health Minister Dr Azra Fazal Pechuho warned healthcare workers opting against participating in the Covid-19 vaccination drive of being sacked, on Thursday.
The provincial minister's caution came during a meeting held with district health officers.
As many as 198,484 healthcare staffers have been registered at both the government and private levels for the campaign, Pechuho informed.
Also read: 15 Covid-19 vaccination centres set up across Sindh
Healthcare workers registered at the government level so far were 111,547, whereas those registered at the private level were 86,937. The registered staffers will be administered the vaccines free of charge, the health minister maintained.
She directed the concerned officials to monitor the process of providing the latest data to the national health management system.
Pechuho further informed that citizens over 60 years of age will be administered the AstraZeneca vaccine.
"The CNIC numbers of citizens will be registered with the system," she said, ordering to take effective measures to deal with vaccine's side effects, in case there are any, or other concerns of the recipients.
Also read: SHC seeks Sindh govt's policy on Covid vaccines
The minister further assured that the proposed cold chain network for the vaccines would remain operational at all costs. "Areas lacking electricity should be equipped with solar power facility," she added.
On the occasion, district officers briefed those in attendance via video link on the steps taken for the vaccination drive.
Sindh health secretary Dr Kazim Jatoi, director general health Dr Irshad Memon and EOC coordinator Fayyaz Jatoi attended the meeting.