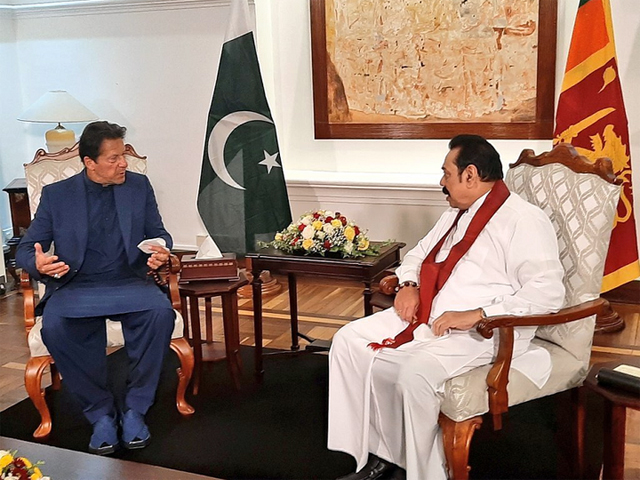 ---
ISLAMBAD:
Pakistan and Sri Lanka have agreed to further strengthen their bilateral relations in diverse areas, including trade, investment, science and technology, and culture through enhanced connectivity, leaders of the two South Asian countries announced after their talks here on Tuesday.
Prime Minister Imran Khan, who arrived in Colombo on a two-day official visit, held wide-ranging talks with his Sri Lankan counterpart, Mahinda Rajapaksa, which focused on reinforcing the broad-based and enduring partnership between the two countries.
"My visit is aimed at strengthening bilateral relationship [with Sri Lanka], especially trade and economic ties through enhanced connectivity…," Prime Minister Imran told a joint press conference with Rajapaksa, after holding one-on-one and delegation-level talks.
Imran said Pakistan was part of the Chinese president's Belt and Road Initiative through its flagship China-Pakistan Economic Corridor (CPEC) project, adding that Sri Lanka could also benefit from it through enhanced connectivity up to the Central Asian states.
Imran is the first head of government to visit Sri Lanka after President Gotabaya Rajapaksa and Prime Minister Mahinda Rajapaksa assumed office last year. Imran told the press conference that he had asked his delegation to find ways to enhance trade and economic relations between the two countries.
Prime Minister Rajapaksa told the media persons that they discussed regional and international issues of mutual interest, besides ways and means to strengthen bilateral ties. During the meeting, he added, the two sides agreed to enhance bilateral cooperation in diverse areas.
Imran said with Pakistan having faced the worst kind of terrorism for 10 years, which took the lives of over 70,000 and Sri Lanka also facing the menace for 30 years, the two countries shared the common problem. He mentioned the role played by Pakistan in addressing the problem of terrorism in Sri Lanka.
The prime minister said with 10 years of terrorism, there hardly came any investment to Pakistan and Sri Lanka also faced similar problems. "Now Pakistan and Sri Lanka like other countries of world faced the situation of coronavirus," he added.
Highlighting the gravity of economic situation faced by the developing countries due to the Covid-19 pandemic, Imran said Pakistan had provided a stimulus package of $8 billion as compared to $3,000 billion provided by the United States to its people.
"With the situation of discrepancy of resource allocation found between the developed and developing worlds to deal with Covid-19, the United Nations and other international institutions should step in to help the poor and developing nations," he added.
Coming back to the bilateral relations, Imran stressed the need for enhanced bilateral cooperation in the field of cultural tourism. He said Pakistan having various heritage sites is home to ancient civilisations of Gandhara and Budhism. "The biggest Budha has recently been found in Pakistan," he added.
Imran said he was not stranger in Sri Lanka as he had been visiting the country from his cricketing period and played matches. He recalled how Sri Lankan cricket revolutionised and became the world class team.
On the occasion, Imran and Rajapaksa witnessed the signing of five memoranda of understanding (MOUs) aimed at enhancing the bilateral cooperation in the fields of investment, science and technology, and industrial technology.
During the bilateral talks at the Temple Trees [Prime Minister's Office], the two leaders held wide-ranging discussions with focus on reinforcing a broad-based and enduring partnership between the two countries to advance the shared objectives of peace, stability and economic prosperity in South Asia.
During the extensive consultations, Prime Minister Imran Khan and his Sri Lankan counterpart reaffirmed their resolve to work together across a broad range of areas. The one-on-one meeting between the two prime ministers was followed by delegation-level talks.
They acknowledged the immense opportunities and vast potential for mutually-beneficial collaboration in the areas of trade and investment, information technology and human resource development, agriculture and science and technology, security and defence cooperation, and culture and tourism.
Appreciating the rich Buddhist heritage of Pakistan and existence of great potential for religious tourism, it was agreed to enhance mutual collaboration, including through sharing expertise in the hospitality industry, training and capacity-building.
Both sides expressed satisfaction at the close cooperation between the two countries at multilateral fora and resolved to further deepen strategic communication and coordination at all levels. It was also agreed to keep the momentum of high-level exchanges between the two countries.
The two sides noted that both Pakistan and Sri Lanka had done relatively well in handling the unprecedented Covid-19 pandemic. In the international context, the importance of Prime Minister Imran Khan's "Global Initiative on Debt Relief" was highlighted.
Imran underscored Pakistan's commitment to peace and stability in the region. He also underlined the imperative of constructive engagement by all sides to promote a political solution to the conflict in Afghanistan to materialise the vision of peace, progress and prosperity in South Asia and beyond.
Pakistan's shifting focus from geo-strategic to geo-economics was underscored. The three pillars of Pakistan's economic security vision – peace, development partnerships, and connectivity – were also emphasised.
The two sides reiterated their commitment to the principles and objectives of the South Asian Association for Regional Cooperation (Saarc) Charter and agreed to the importance of taking forward the Saarc process for regional cooperation.
Read more: PM Imran leaves for maiden Sri Lanka visit
Imran invited Rajapaksa to visit Pakistan at the earliest convenience. The meeting was followed by a banquet hosted by Prime Minister Mahinda Rajapaksa in honour of Prime Minister Imran Khan and his delegation.
Imran Khan is visiting the island nation on the invitation of his Sri Lankan counterpart. Prime Minister Rajapaksa received Prime Minister Imran upon his arrival at the Bandaranaike International Airport this afternoon. The prime minister was given guard of honour by the Sri Lankan forces.
Imran is accompanied by Foreign Minister Shah Mahmood Qureshi, Commerce Adviser Abdul Razak Dawood and Special Assistant Syed Zulfikar Abbas Bukhari. The Foreign Office said the reconstitution of the Sri Lanka-Pakistan Parliamentary Friendship Association would also be announced during the visit.
Imran said in a tweet that he "had interesting conversations on a wide range of issues of mutual interest", and thanked President Rajapaksa for the gala dinner this evening. "Tomorrow I will be meeting the Sri Lankan President @Gotabayar followed by a meeting with the Sri Lankan business community," he added. APP
Pleased to arrive in Colombo with PM @ImranKhanPTI for his maiden visit to Sri Lanka. 🇵🇰 and 🇱🇰 share a close relationship, working together at the bilat level and int'l & regional forums. During this visit all areas of cooperation between 🇵🇰 🇱🇰 will be discussed & strengthened. pic.twitter.com/K5iIAbWaVc

— Shah Mahmood Qureshi (@SMQureshiPTI) February 23, 2021
The two countries have maintained strong ties since 1948. The prime minister's visit is expected to further bolster the bilateral relationship.
Prime Minister Imran is the first Pakistani leader to visit Sri Lanka after President Gotabaya Rajapaksa and Prime Minister Mahinda Rajapaksa assumed office last year.