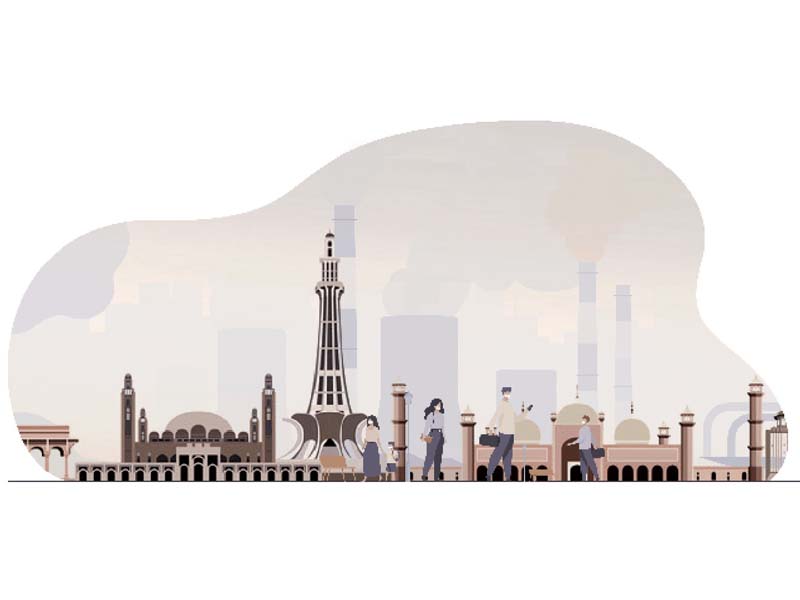 ---
LAHORE:
Environmental organisations have expressed concerns over the lack of progress on recommendations put forth by the Smog Commission to deal with the alarmingly high level of air pollution in Punjab.
The World Wide Fund for Nature-Pakistan (WWF-Pakistan) recently highlighted that Lahore continues to grab the second position with respect to atmospheric pollution among major cities of the world with Air Quality Index (AQI) score exceeding 500 at times. Meanwhile, Air Visual – an air quality monitoring application -- states that AQI score 300-500 or above is classified as hazardous, indicating a health emergency. In such circumstances, citizens should be encouraged to limit their outdoor activities and wear masks to protect themselves from the suspended particulate matter.
Experts also underscored that air quality continued to deteriorate in Lahore from December 2020 to February 2021, with the AQI dropping to 100-200 on rainy days, which is still considered unhealthy and bears serious health consequences.
The elevated level of smog in Lahore, according to the United States Environmental Protection Agency (USEPA), is also due to electricity production via fossil fuels such as coal and gas resulting in emissions which account for 25% of the total atmospheric pollution.Besides this, agricultural activities and land use contribute 24% to the smog crisis, industries 21%, transportation 14% and buildings 6%.
Health professionals are wary that the high AQI score has resulted in increased chronic respiratory disorders among citizens. People continue to complain about stressful breathing, stinging eyes, and sore throat apart from other serious health issues like pulmonary diseases.
The most common diseases among children linked to air pollution include ischemic heart disease, stroke, chronic obstructive pulmonary disease (COPD), lung cancer and acute lower respiratory infections. As reported by the medical journal Lancet in 2015, more than 310,000 deaths in Pakistan are attributed to poor air quality annually.
In an order issued on October 15, 2020, the Punjab Relief Commissioner had requested a ban on crop stubble burning, vehicle emissions beyond the admissible limits, industries without emission controls and brick kilns operating sans zigzag technology by the end of the year.
Except for the conversion of brick kilns to zigzag technology and fines on polluting vehicles, the rest of the recommendations were not entertained by the authorities.
Experts and citizens criticised lack of tangible results after the implementation of select smog-reduction policy initiatives.
Commenting on the issue Hammad Naqi Khan, the Director General of WWF-Pakistan, said, "The situation will have devastating impacts on citizens and can cause significant economic losses as well." He emphasised ensuring strict compliance of National Environmental Quality Standards (NEQS) and cohesive efforts from all departments to improve air quality. Article 9 of the constitution of Pakistan guarantees that no person shall be deprived of the right to life save in accordance with law, thereby exerting writ of law to protect citizens from harm.
Published in The Express Tribune, February 23rd, 2021.
COMMENTS
Comments are moderated and generally will be posted if they are on-topic and not abusive.
For more information, please see our Comments FAQ