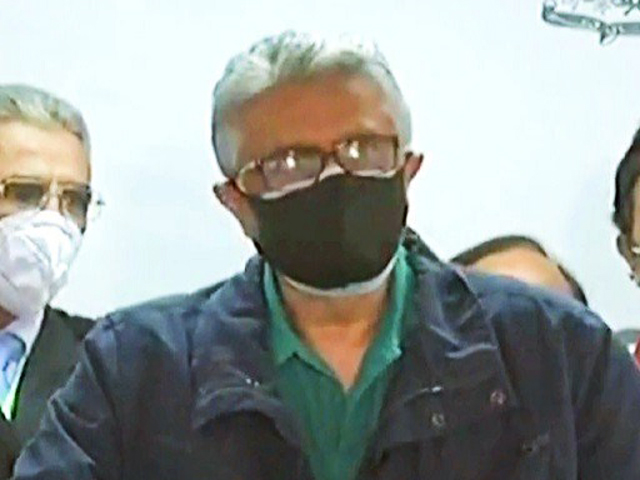 ---
Special Assistant to the Prime Minister (SAPM) on Health Dr Faisal Sultan on Monday said that all those who are eligible for the Covid-19 vaccine including the healthcare workers must go ahead and get vaccinated, urging the masses not to pay heed to misinformation being spread on social media.
"This vaccine is necessary for your protection and to stop its spread," he said while addressing a news conference in Islamabad.
Dr Faisal said that the registered vaccines provide 90% protection from Covid-19 in Pakistan. "This means that all vaccines that are being registered around the world state two things, one is to prevent infection and the other is to prevent its serious effects. It is best to avoid serious effects, so administer it and do not hesitate," he added.
The PM' aide urged the people not to listen to false and misleading reports about vaccines. "I have vaccinated myself and registered my parents. I will vaccinate them as soon as the vaccination starts. This will save you and those around you," he added.
Read More: Command and control centre set up to reinforce Covid response
The SAPM also asked the people to continue to adhere to Covid-19 standard operating procedures (SOPs) despite the availability of vaccines. "Vaccination does not mean that what we have learned and read should be left out and forgotten. The use of masks and sanitizers is still needed," he said and urged the media to continue to make people aware.
Dr Faisal said that normalcy would only return in the country and all over the world when people are being protected from this disease and that prevention can only be achieved through vaccines and precautionary measures.
He said that the Sinopharm vaccine is licensed to be used for people aged 60 years and below. Therefore, AstraZeneca vaccine would be preferred for healthcare workers and people over the age of 60 and will arrive in March, he added.
Praising the exemplary role of media during the pandemic, he said that if it had not supported the cause, the message of awareness would not have reached the masses.
"If we have to administer vaccines to millions of people, then we'll have to increase the number of vaccination centres by thousands," Dr Faisal Sultan said.
"All these things need to be done to make it easy and effective and the whole plan is ready. At present, the acceptance of this [vaccination] is slow," he further said.