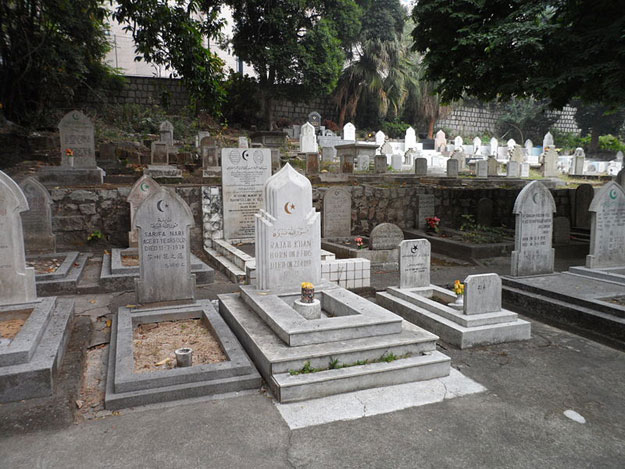 ---
RAWALPINDI:
It is a well known fact that as the world population is growing at a phenomenal rate especially in some countries like Pakistan, living space is shrinking in the world's major cities and people are compelled to move to the outskirts of the city.
However, the living can always improvise, adapt and cope with such issues while the dead cannot do anything when burial spaces are being overwhelmed to capacity.
This is one of the major issues confronting the garrison city of Rawalpindi where people are finding it extremely difficult to inter their loved ones.
A survey conducted by The Express Tribune revealed that all 54 cemeteries in Rawalpindi have no space left whatsoever for further burials.
The model graveyard aptly named Shehr-e-Khamoshan (City of Silence) has not been made operational as a result of which citizens have to pay through their nose to the grave diggers for securing a suitable burial place for their near and dear ones.
It may be pertinent to mention that grave diggers are reaping a windfall in the bargain.
Unfortunately present situation is so grave, so to speak that the practice of replacing abandoned graves for burying a new body is on the rise.
There are 54 small and large cemeteries in the city and Cantt including Karbala graveyard, Dhok Ratta graveyard, Jadeed graveyard, New Katarian graveyard, Pirwudhai graveyard, Eid Gah Sharif graveyard, Shah Chan Charagh graveyard, and Harley Street graveyard, etc which have an acute shortage of burial space.
Muhammad Din, a 65-year-old resident of Rawalpindi, told this scribe that as it is, to eke out a living is becoming difficult in these hard times, what to speak of the dead for finding a grave was no less a challenge.
He added such is the situation in the garrison city that the family of a deceased as stated earlier has to pay exorbitant prices to gravediggers to secure a place for the body.
While recounting a story relating to the burial of a close relative that happened a few days ago, another citizen Yasin Chaudhry described the harrowing ordeal of searching for a place in different cemeteries of the city for five hours until a gravedigger demanded and received Rs25,000 just for identifying an unattended grave in Dhok Ratta graveyard.
Later, the abandoned grave was dug up again to accommodate the body for which the family had to cough up an additional Rs12,000 to the already aggrieved family.
On the other hand, the district administration said that the Punjab government had allocated a huge land for a cemetery near Dhamyal in 2017.
However, the officials added the biggest problem was that the people did not want to bury their loved ones away from their homes.
Published in The Express Tribune, February 22nd, 2021.