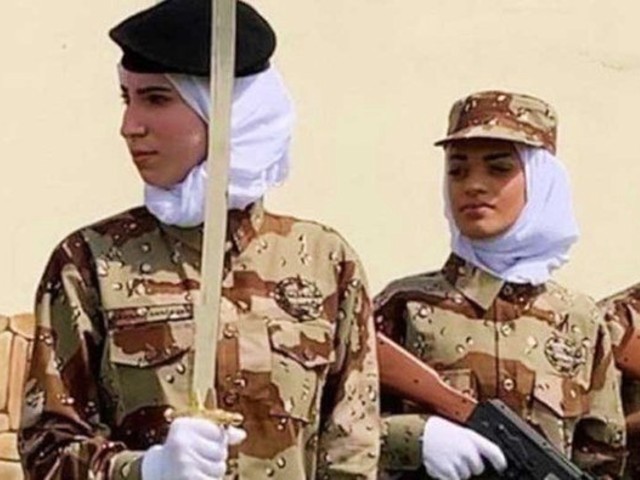 ---
Women in Saudi Arabia can now take up arms and enter the military as soldiers, lance corporals, corporals, sergeants, and staff sergeants, the latest move by the kingdom to transform the Arab world's largest economy.
The military ranks will be available in the Saudi Arabian Army, Royal Saudi Air Defence, Royal Saudi Navy, Royal Saudi Strategic Missile Force, and Armed Forces Medical Services, according to Arab News.
A woman must be between the age of 21 and 40, be 155 centimetres tall or above, and cannot be a government employee to join the armed forces, according to the Saudi Ministry of Defence. She must also pass admission procedures, have a clean record, and be medically fit for service.
A Saudi woman must also hold an independent national identity card, have at least a high school education, and cannot be married to a non-Saudi.
Read More: Saudi Arabia appoints hundreds of women to serve at Khana-e-Kaaba
For male citizens wanting to join the armed forces, they must be between the ages of 17 and 40 and be a minimum of 160 centimetres tall. They must also pass admission procedures, have a clean criminal record, and prove that they are medically fit for service.
The move comes under Crown Prince Mohammed bin Salman's Vision 2030 initiative, introducing reforms that allow Saudi women to advance in various fields.
A report by the World Bank last year placed Saudi Arabia first in gender equality in GCC bloc and second in the Arab region amid reforms that have revamped the kingdom's picture around the world.
The report that underscores Saudi Arabia's rapid progress towards gender quality since 2017 by ranking it the top reformer and the top improver among 190 countries, gave the kingdom an overall score of 70.6 out of 100 — a 38.8 jump since its last ranking — placing it first among GCC countries and second in the Arab world.
The story originally appeared in Arab News
COMMENTS
Comments are moderated and generally will be posted if they are on-topic and not abusive.
For more information, please see our Comments FAQ