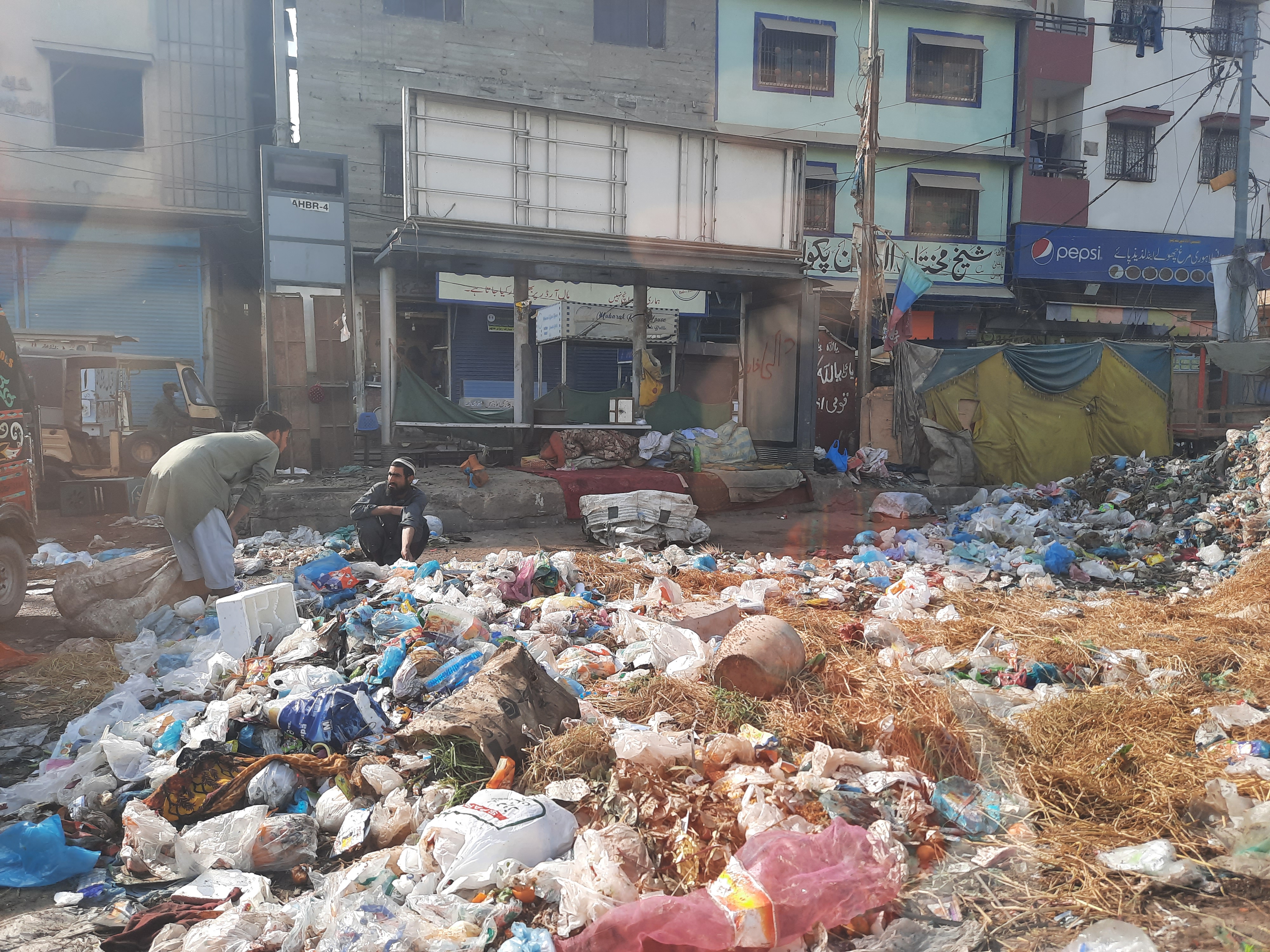 ---
KARACHI:
Tiny feet walk through a maze of garbage, wedging tiny hands into the steaming piles rotting trash, searching for salvageable junk that can deemed valuable enough to be sold off. Six-year-old Sumair Khan searches through mounds of garbage everyday that he picks up from houses and then unloads at a nearby garbage dump.
Khan works with his father and two brothers who go door-to-door to pick up garbage in their cart, which has a motorbike attached at one end to carry the garbage to the nearby dumb. Once they have collected the garbage, they lay out and separate plastic, food, and clothes on the cart and then dump the remainder of the trash at a nearby 'Kachra Kundi,'an unauthorised dumping site. What Khan and his family do is by no means exceptional in Karachi. In fact, such scenes are a common sight in almost every part of the city.
The larger problem for the city of over 20 million people is not how their waste has being handled but rather what happens with it afterwards.
'Flawed from top to bottom'
"Karachi produces waste of around 16,000 tons daily from which 60 per cent reaches Kachra Kundis while only 40 per cent reaches proper disposal," explains Karachi's former mayor Wasim Akhtar while talking to The Express Tribune.
The waste, which is picked up from the houses everywhere by contractual pickers take them to the unauthorised sites, which are made in every nook and corner of the city, the garbage is dump there from the donkey or motorbike carts. Children as young as Khan separate the waste into three categories and take out what can be sold from there and the rest is left to dry at the same site.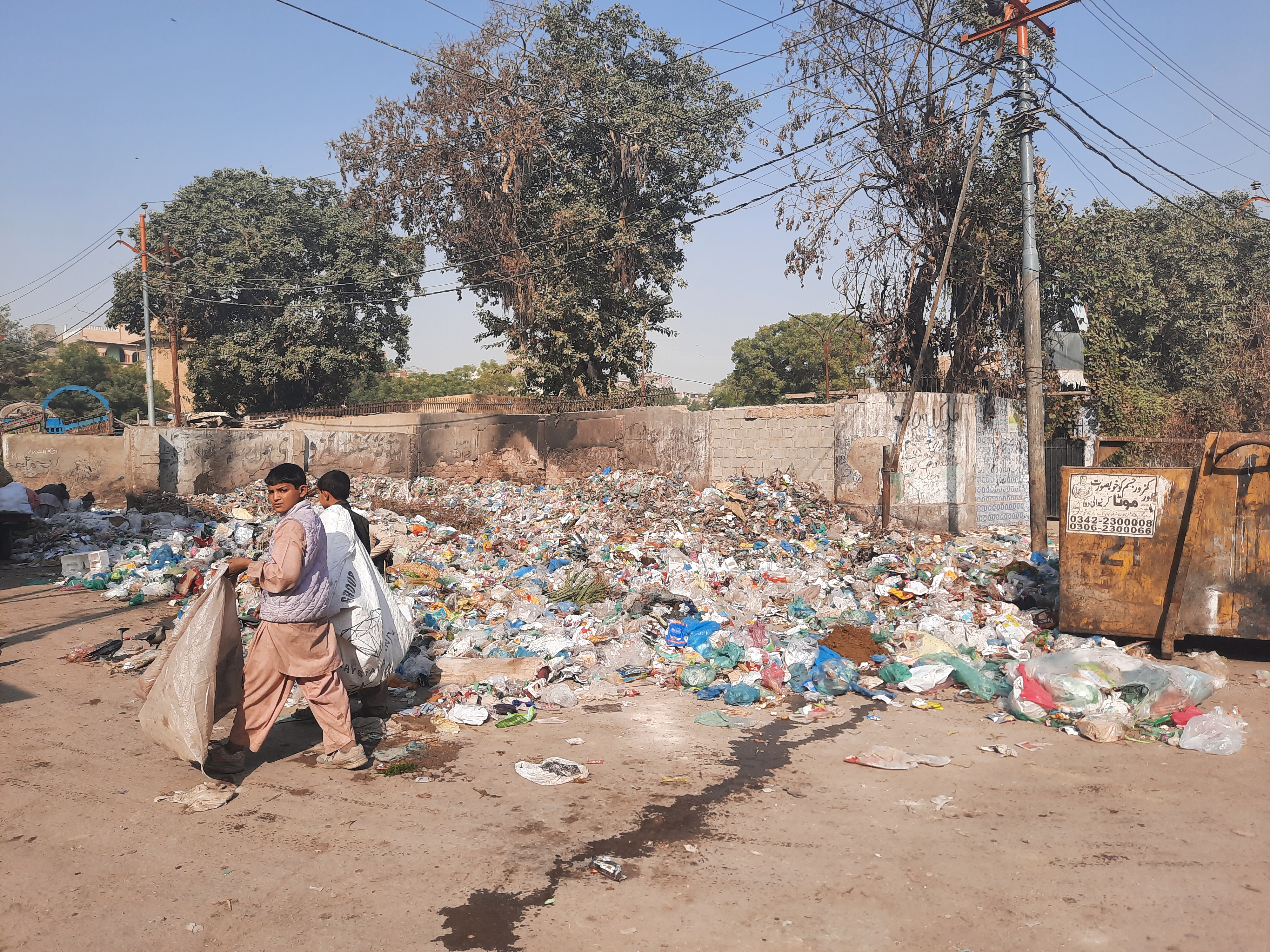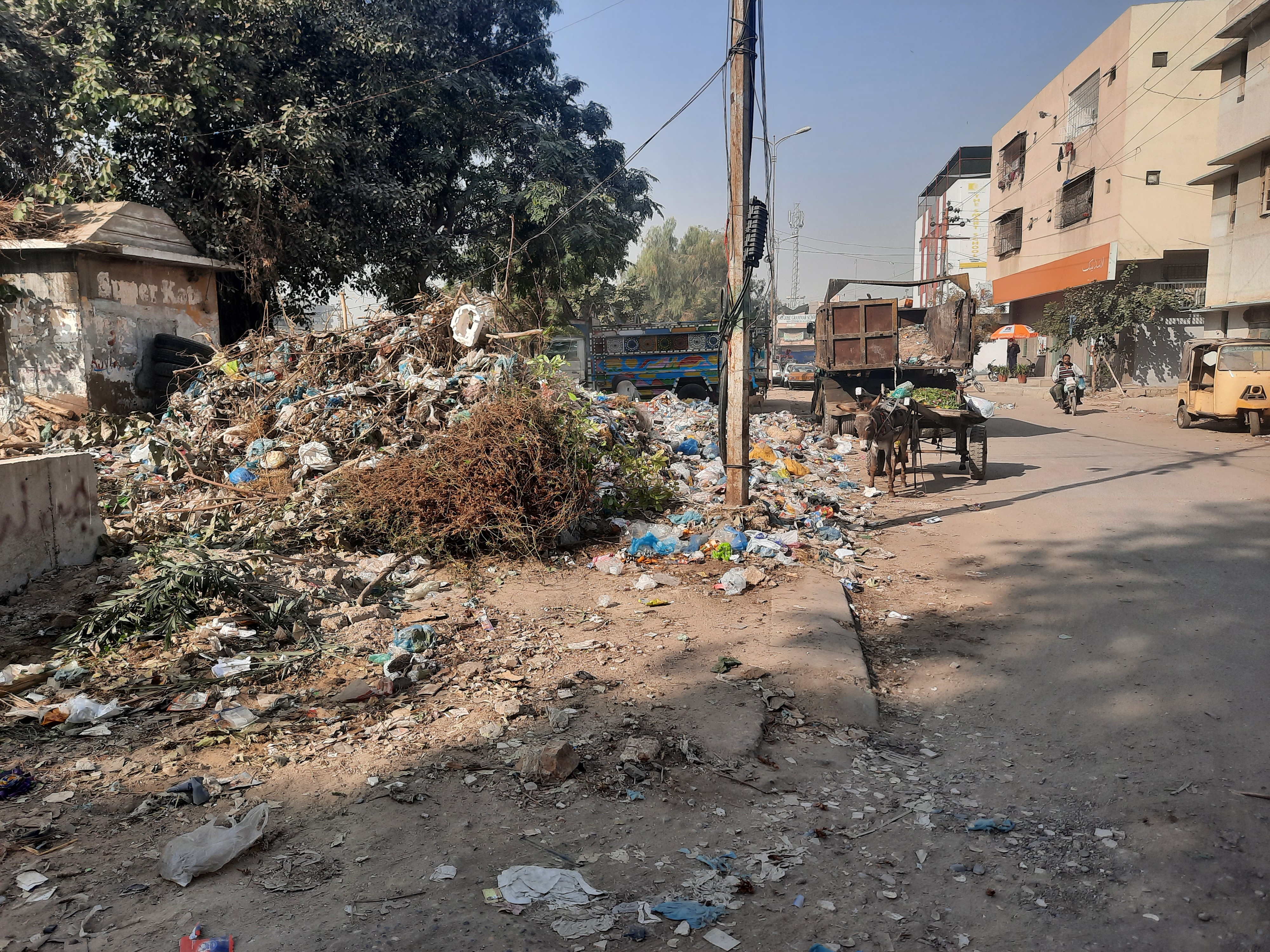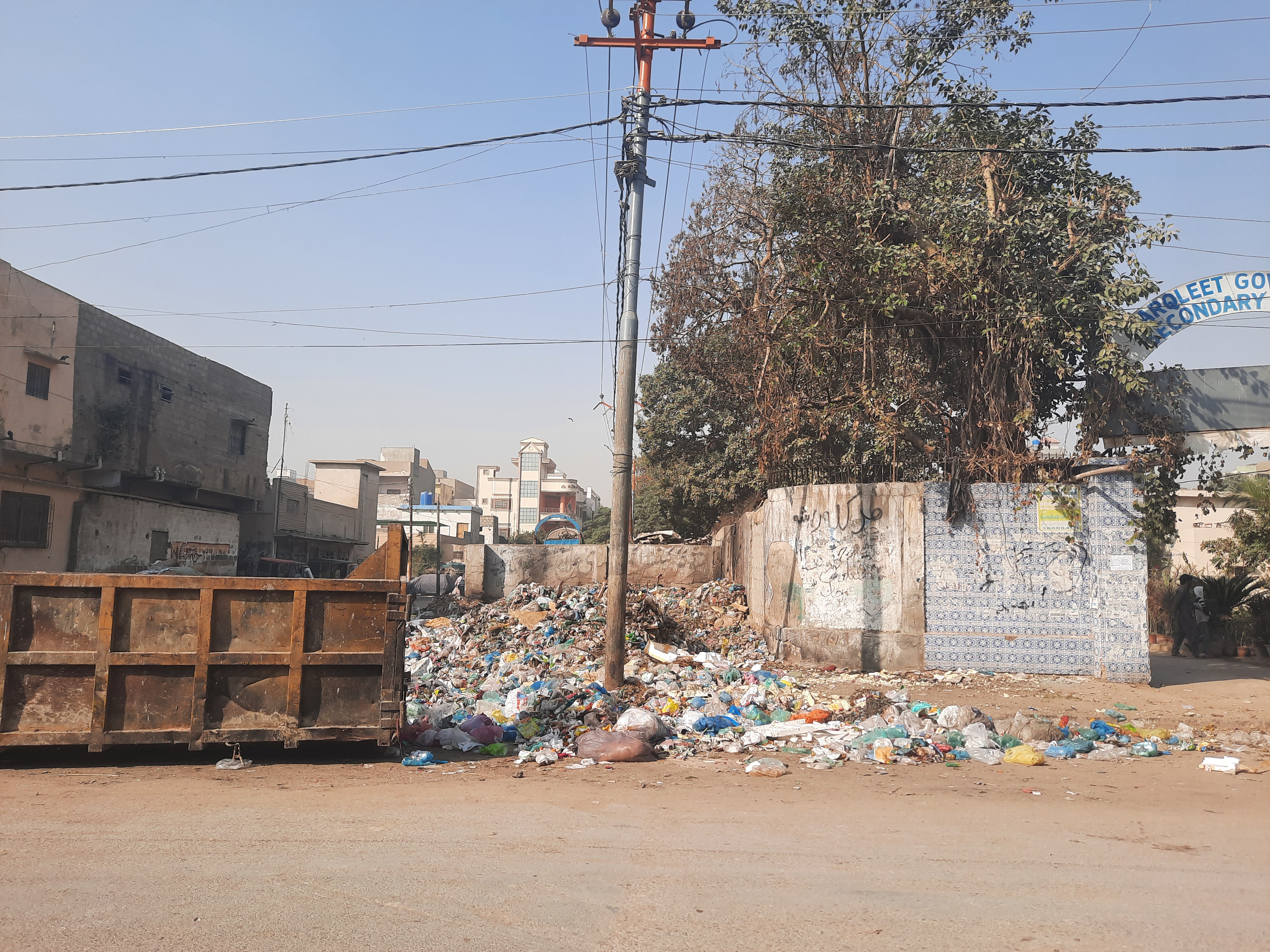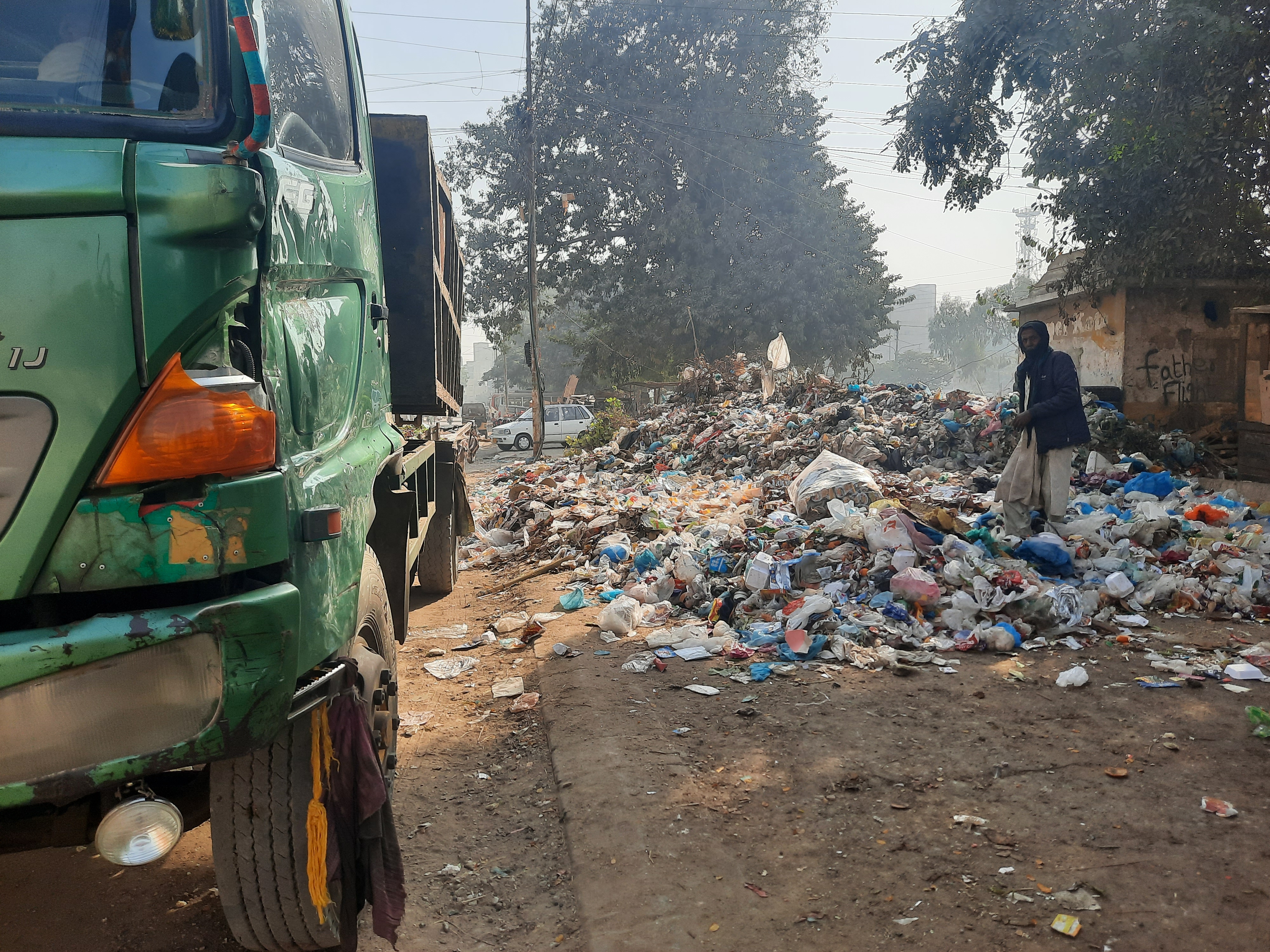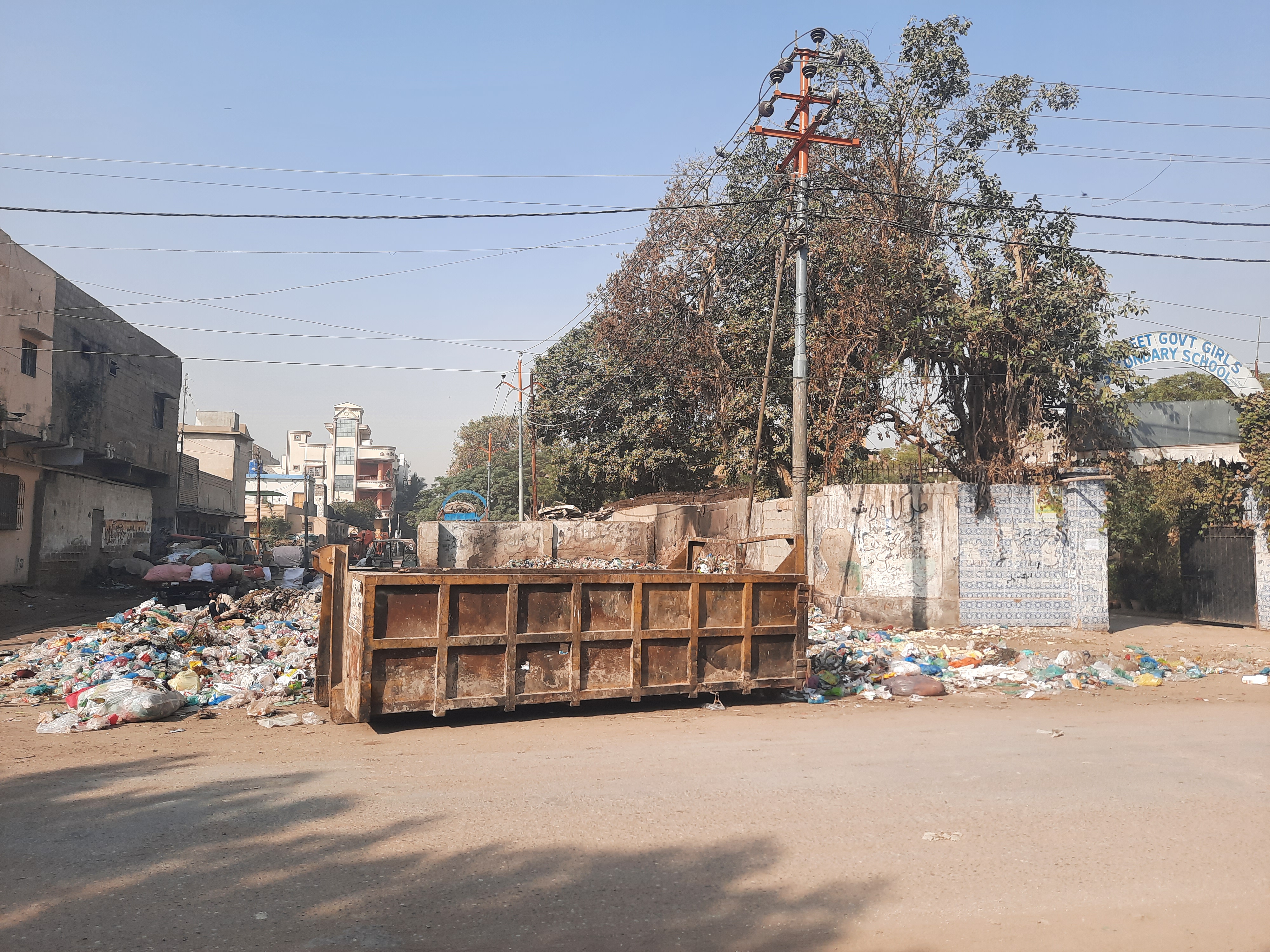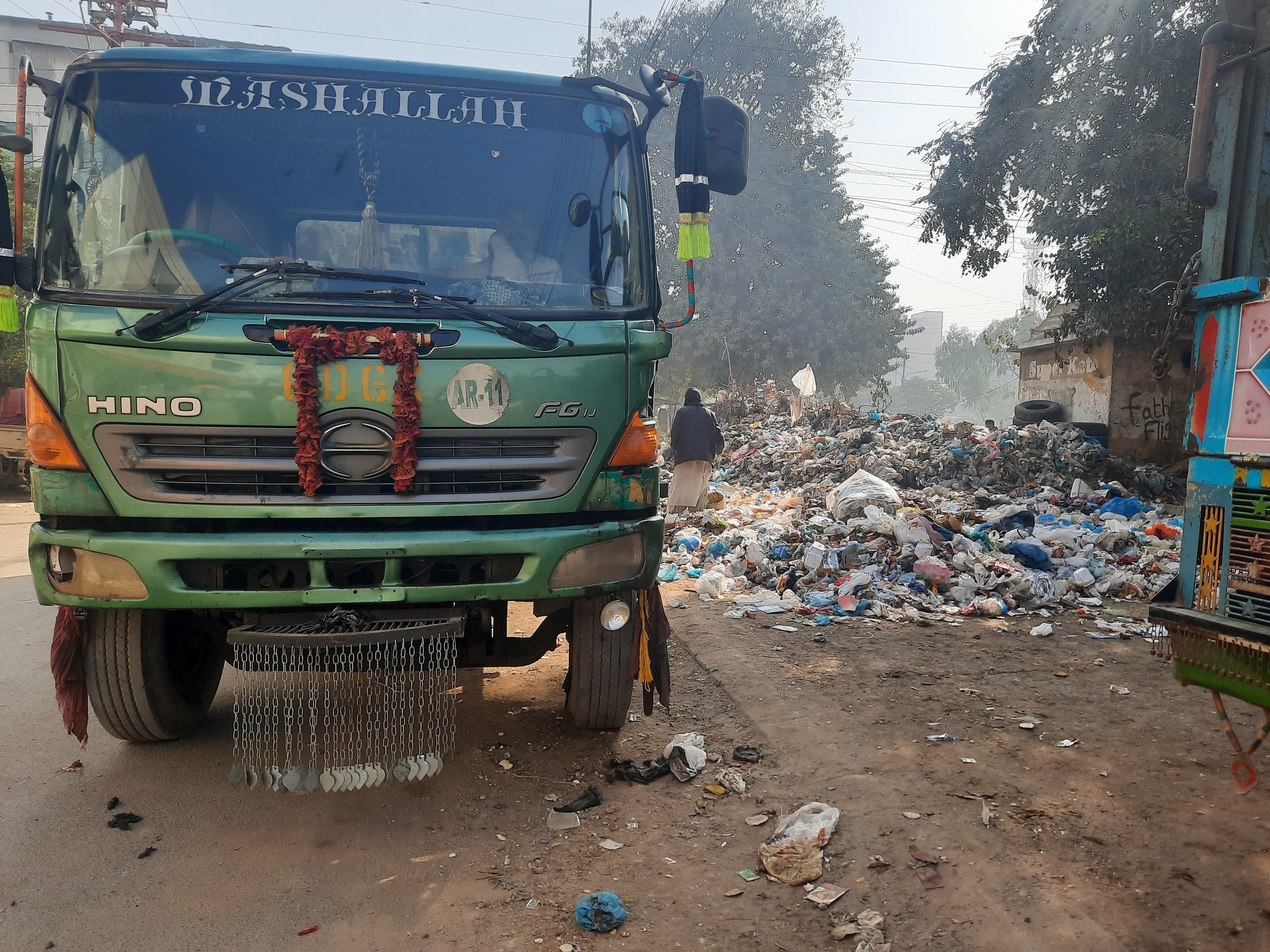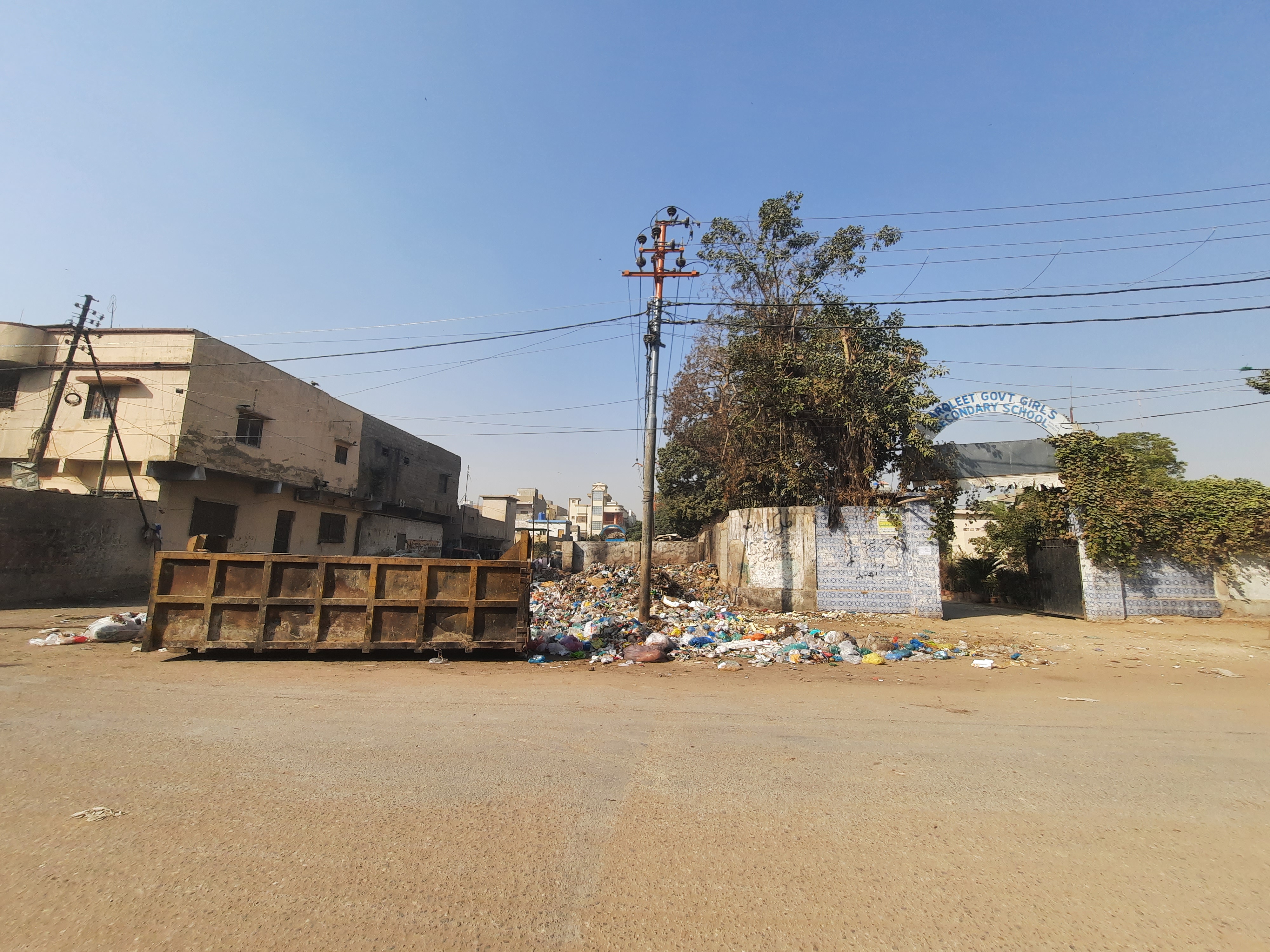 Other than that, the Karachi Metropolitan Corporation (KMC) and District Municipal Corporation (DMC) trucks also pick up garbage from different sites and roadsides, and bring it to one big land, an authorised landfill site, where around five to six trucks are dumped. After separating sellable items, this is also left to dry out so that the mound lessens and get less stinky with time. After four to five days when the garbage gets dry, they either set it on fire and burn it down - which is highly damaging to the respiratory systems of those burning the garbage but also nearby residents - or pick it up and dump it at either Pass Gondal and Jam Chakr, the two landfill sites in the city.
Until the garbage reaches landfill sites, the daily pickers of garbage from door to door pay monthly or weekly charges to the middleman to let them pick garbage without any hurdle. "Some of them are actual KMC workers and some of them pretend to be," shared Khan's father while separating the waste sitting on piles of garbage.
The money-making from this garbage doesn't stop here but as soon as the truck reaches landfill sites, the people living around it, amid piles of junk pay the truck drivers to dump it on their doorstep so that they can further separate things that can be sold. "It is completely dependent on one's luck. There have been people who have found gold from debris as well but there have been days, we haven't found anything worth even Rs100," shared Ramzan, who is a resident of the village. Also, to make the truck dump the garbage in front of their house, they pay the truck driver somewhere between Rs1500 and 2000 per truck from which, they earn Rs4000 to 5000.
"The system is flawed from top to bottom; no one wants to work for what they have been hired," said truck driver Shahnawaz who works for KMC, while waiting for the tractor to come so his truck can be filled with garbage and he can dump it in Jam Chakro. "There are many black sheep in our department and a lot of people working are also corrupt," he said, adding that drivers, cleaners, and many sections of people make money from this, garbage dumping alone has money transferring to millions without reaching to the government offices.
Why dump on roads?
The situation of megacities is worse than small cities, which produce less garbage in terms of numbers and are easily manageable, and where piles of waste cannot be seen in every corner of the city. "We can spread the piles easily in wide spaces which helps us to separate valuable items," said Anis Ahmed, who was spreading the waste on a road just beside a government school in Nazimabad no 1. "Schools are closed nowadays so it is not a big issue but even when schools were open, school management never had a problem big landfill right on the school gate."
One of the main reasons is that noone stops you and if any stakeholder comes, they are bribed and waste can continue to be dumped and spread. "In Pakistan, noone owns any responsibility. Sometimes KMC trucks don't come to pick up the garbage for a week or so. By then its spread till the end of the road and there is hardly space for a single car to pass by," said Ahmed while pointing towards the footpath of the road.
What do the experts say?
While shedding some light on the issues of waste management in megacities, Urban planner and CEO of Urban Collaborative Farhan Anwar said, "We are living in a circular economy era and what our society needs to learn is to not call it garbage or waste because all over the world, waste is used to generate electricity, making it reusable, making resources and thus, making money out of the waste they are producing daily. However in Pakistan, people keep asking for funds to collect garbage because there is no chain in place that follows after garbage collection to resolve the issue of waste production in big cities".
He also pointed out that there was is no use for new plans neither the need of copying neighbours, buying new types of equipment, new vehicles nor making new landfill sites. What he did say is needed, is a proper system where a track can be kept from the first step to the last step [of the garbage collection process.
The only solution to all of this, according to him, is to gather stakeholders, make public and private partnerships, and create a vision keeping in view the system megacities have in place. "New plans, new projects, spending millions and millions on buying new equipment will not help until a vision and will are not in place," Anwar stressed.
Issues of Pakistan and its waste management techniques have turned into a complicated issue over the last few years. While the mandate here overlaps, not a single department is clear about their jurisdictions.
"How can one let a city of 20 million people turn into a garbage dump? They need to outsource things now to get most out of it and that can help in generating money," he suggested.
"Furthermore, to help in making this system work, disposable items can help in economic growth and city should be built out of it, noone on this existing system talks about empowering cities, the situation of garbage which is worsening in Lahore nowadays also is a proof that the government level stakeholders are just not ready to build a stronger and larger vision plan for bigger cities which are producing thousands of tons of garbage daily."
Political rifts and power tussles
The political rift between the parties has cost the cities all over the country a lot whether it was the Pakistan People's Party and Muttahida Qaumi Movement's tussle over Karachi or the recent pull and push in Lahore between the Pakistan Muslim League-Nawaz and Pakistan Tehreek-e-Insaf's government. The mandate war, which seems unsolvable between parties, has gotten worse where so many stakeholders stand up to demand their share but not single department can take ownership to resolve the issues and the blame game seems endless.
The Sindh Solid Waste Management Board (SSWMB) has been functional since 2014. It began working in three districts initially with East, South and Malir and later on also worked with West and Kemari but Central and Korangi districts were never given No Objection Certificate by their DMCs so the board was not able to work and pick the garbage up from these districts until August 2020, when the local government completed its term and now the responsibility of picking up garbage from all the districts lands with the SSWMB.
According to the Deputy Commissioner for Central District, M Bux Dharejo, the district alone produces 1930 tons of waste every day. While a daily 600 to 700 tons is picked up, the remainder is left lying there on the roads, emanating a noxious smell hangs around the area. "We are picking 16,000 tons a month from Central but still we cannot lessen the difference between the garbage produced and the garbage picked," said Dharejo.
Dharejo thinks that a solution that can help to resolve the waste management issue in Karachi is a decentralised system. "No centralised system can work in such big city with such a large population as well as an enormous garbage issue," he said adding that one what can help lessen the burden and generate revenue is to install recycling plants in either each Union Councils (UC) or at least one in every five to six UCs. Currently, the two landfill sites are far away from the main city which costs millions in fuel and time. However, these recycling plants can set up through Public-Private partnerships and 70% of the waste can be reused and recycled.
"What we really need are smarter solutions rather than bigger plans," he said. Dharejo insisted that for his district an operational garbage cleaning has been planned of which the work will be started soon, the tender of which has been passed already.
So where did these waste disposal problems arise in big cities? Former mayor Karachi Wasim Akhtar reasons that worldwide the waste management is done by municipality services but in Pakistan provincial governments keep intervening and turn it into a political war of garbage.
The Sindh Local Government Act (SLGA) created by the PPP government so that MQM's local government would no longer be able to work how they had done previously by his predecessor mayor Mustafa Kamal. "It was Sindh Government's calculated step to prevent us from working and thus, continue to criticise our authority over the city," Akhtar added.
The politics has damaged the city and KMC so terribly that KMC cannot even collect taxes from a lot of sections such as property, betterment, commercialisation, advertisement, towers, etc, which used to be under their jurisdiction before the SLGA.
According to Akhtar, the only solution is that the authority lay with on department alone to be responsible of the waste management and not the existing mixture of three to four sections, where one can stuck in between the mandate and can't work. "There should be one authority and will power which is needed to clean Karachi," asserted the former mayor.
Furthermore, explaining their future ideas for the city, he shared that MQM-P had already submitted a petition in the court, in accordance with 148-A of the constitution, which consists of obligations of provinces and federal government, and empowers the executive authority of every province shall be exercised to secure compliance with federal laws which are applied in that specific province. "We are waiting for the court's decision so that we can have that authority in the city," he added.
Moreover, section 13 of the SLGA stipulates that the Sindh Government will decide a specific percent to be paid to the KMC in terms of taxes but it all depends on the Provincial Finance Commission Awards, which can only take place after the National Finance Commission awards. "We are stuck in an infinite loop of issues and are trapped in a web of problems amongst ourselves," he said, adding that everything which can be done for the city's betterment is connected, one step can be done from MQM but the other is to be done by PPP, and the political rift is rendering the city to erode further and further each day.