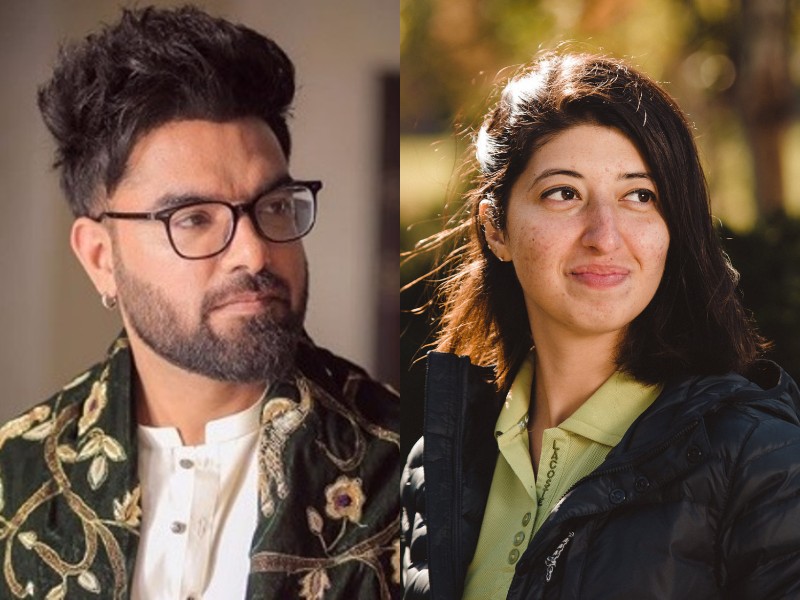 ---
Actor Yasir Hussain is keen on promoting local artists, public figures and the underrepresented personalities of Pakistan, who are worthy of recognition. Of late, he has been particularly careful about voicing his opinion on social media, but has still been at it, nonetheless.
His foot-in-mouth habit is often appreciated by some and trolled by others. But, the actor is not one to hold back when it comes to standing up for what he believes is right. On a recent occasion, Yasir took to his Instagram to laud Pakistani cyclist, Samar Khan.
A video of Samar surfaced on social media this week, where she revealed how she had been treated at the studio of a channel that invited her to be on their show. "Interviewer: What's your full name?" she wrote in the caption, "Me: Samar Khan. Interviewer: Welcome to the show, our first guest is [his complete intro] then we have another great female, who [pause] what to tell you [pause] she rides in all the country!"
1= Intrviewer: What's your full name?
Me: Samar Khan

Intrviewer: Welcome to the show, we have 1st guest (his complete intro) then we have another great female, who(pause), what to tell you(pause), she rides in all the country!! pic.twitter.com/Diwi5Pqq94

— Samar Khan (@SKhanAthlete) February 15, 2021
Samar continued to write about how the conversation went, adding, "Me: Introduce me as an adventure-athlete, a mountain biker who has achieved this, this and this. Interviewer: Actually your sports is new and not as common so you can tell your journey on the show, let's move on...." She alleged that she repeatedly requested the host to introduce her properly, following which she was asked to "calm down" and "do it yourself or leave."
Sharing his two cents on the incident, Yasir wrote, "They must've asked her stupid questions. Forget it Samar Khan, aap apna kaam karti rahen (you continue doing your own work). Aap hamara fakhar hain (You are our pride)." He shared her picture in another story with the hashtag #RespectAthletes.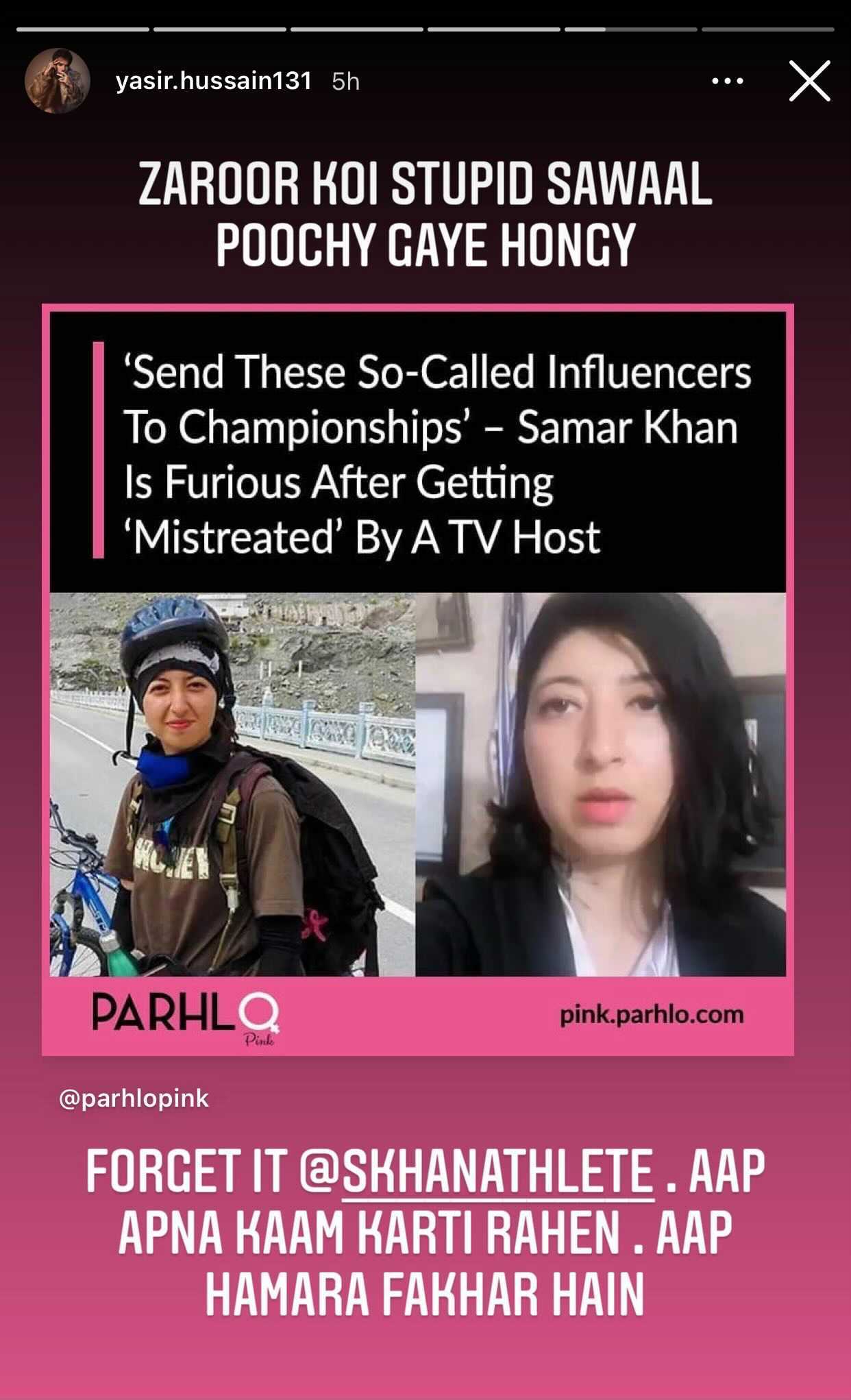 In her clip, Samar says, "I have just returned from a TV show whose host did not know my name or my profile. But they want me to be on their show. I became a part of a race where athletes were kept in one room like animals, without basic facilities and people with a great fan following were kept in another room with topnotch facilities. This is not the first time, neither am I the first athlete to have encountered something like this in the past four-five years." She added, "There are so many times when shows dedicated to us are hijacked by people with more followers on social media. So, I just want to say that if fan following is everything, then please send these so-called influencers to championships, Olympics, make them sit in the parliament so they can take decisions for us, call them in as analysts on TV shows because after gaining more followers, they become experts right? Pakistan will progress like this, because cheap entertainment is everything and fan following is everything."
Designer Nomi Ansari also shared Samar's video on Facebook. He captioned it, "Well said Samar Khan!"
In July 2016, Samar became the first woman in the world to cycle atop 4,500-metre-high Biafo Glacier in the Karakoram Mountains of Gilgit-Baltistan. She reached the Pak-China border, Khunjerab from Islamabad on cycle and rode over 4,693 meters in -5 °C to set a national record. The Biafo Glacier is the world's third longest glacier outside the Polar Regions. Belonging to Khas Dir, Khyber Pakhtunkhwa, Samar also holds a master's degree in physics from Federal Urdu University.
Have something to add to the story? Share it in the comments below.