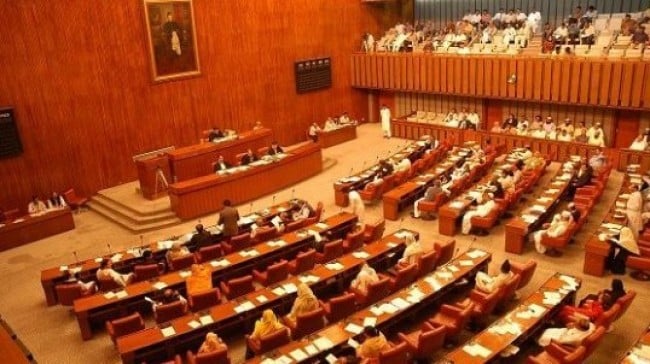 ---
ISLAMABAD:
A total of 78 candidates of all political parties, including the ruling Pakistan Tehreek-e-Insaf, on Saturday filed their nomination papers with the Election Commission of Pakistan for the Senate elections scheduled for March 3.
Earlier in the day, Science and Technology Minister Fawad Chaudhry tweeted a list containing names of 20 candidates, including Abdul Qadir for Balochistan, but later, Special Assistant to the PM on Political Communication Shahbaz Gill tweeted that Qadir has been replaced with Zahoor Agha.
"Senate ticket from Balochistan is being withdrawn from Qadir Sahib and being issued to Zahoor Agha. The captain always listens to his party workers," Gill tweeted.
It appears that PM Imran reconsidered his decision after the PTI Balochistan chapter expressed reservation over the nomination of Qadir as a candidate for the Senate polls.\
The protesting Balochistan chapter leaders told the media persons in Quetta that Qadir is not a part of the PTI while the party manifesto states that he is a member.
Also read: ECP extends date for submission of Senate poll nomination papers
According to the ECP, 15 candidates filed nomination papers in Punjab, 20 in Sindh, 24 in Khyber-Pakhtunkhwa, 15 in Balochistan and four in Islamabad.
Forty-three candidates have filed nomination papers for general seats, 14 for technocrats, 16 for women's seats and five for minorities' seats.
A meeting of the PTI Parliamentary Committee, chaired by Premier Imran, on Saturday finalised the names of 20 candidates.
Several big names, including Babar Awan and Shahzad Akbar, who were recommended for the tickets, could not make the final cut. From Balochistan, the name of Abdul Qadir was approved for a general seat but later withdrawn, while Adviser to the PM on Finance Dr Abdul Hafeez Shaikh and Fauzia Arshad were given tickets for general and reserved seats, respectively for Islamabad.
From Khyber-Pakhtunkhwa, Shibli Faraz, Mohsin Aziz, Zeeshan Khanzada, Faisal Saleem and Najiullah Khattak were given tickets for general seats, while Dost Muhammad Mehsud and Dr Humayun Mohmand for technocrat seats.
On reserved seats for women, Dr Sania Nishtar and Falak Naz Chitrali will be the ruling party's candidates, while Gurdeep Singh would be the candidate for reserved seat for minorities.
For general seats from Punjab, Saifullah Khan Nyazee (North Punjab), Ejaz Ahmad Chaudhary (Central Punjab) and Aon Abbas Buppi (Southern Punjab) have been given tickets.
Also read: PDM parties unveil names of Senate nominees
Barrister Ali Zafar and Dr Zarqa are candidates for technocrat seat and reserved seat for women, respectively.
From Sindh, Faisal Vawda has been awarded a ticket for a general seat while Saifullah Abrro for a technocrat seat.
Further, Jamaat-e-Islami (JI) K-P chapter announced names of its candidates for the Senate election. JI has nominated Maulana Dr Ataur Rehman, a former member of the National Assembly, for the general seat, while Dr Muhammad Iqbal Khalil, a former district deputy nazim of Peshawar, for technocrat seat.
Former MNA Inayat Begum has been nominated for the reserved seat for women, while Javed Gul has been nominated for the minorities' seat. A total of 12 candidates, including former prime minister Yousuf Raza Gilani, of the Pakistan Peoples Party filed their nomination papers with the ECP.
Saleem Mandviwalla, Sherry Rehman, Dost Ali Jessar, Jam Mehtab Hussain and Taj Haider have submitted their nomination papers for general seats, while Palwasha Zai Khan, Rukhsana Parveen and Khairunisa have submitted their papers for women's seats. Farooq H Naek, Shahadat Awan and Karim Ahmed Khawaja have submitted their papers for technocrat seats.
One candidate, Sadiq Ali, did not file his nomination papers in Karachi, while Gilani filed his papers at the ECP office in Islamabad. Seven candidates of the Muttahida Qaumi Movement-Pakistan filed their nomination papers with the ECP.
Rauf Siddiqui, Faisal Sabzwari, Abdul Qadir Khanzada, Khawaja Sohail Mansoor and Dr Zafar Kamali submitted their nomination papers for general seats. Rauf Siddiqui, along with Syed Khizer Askari Zaidi, also submitted the papers for the technocrat seats.
Moreover, Khalida Ateeb filed the nomination papers for the women's seat. Meanwhile, the ECP has extended the date for filing nomination papers for Senate election from February 13 to February 15 on written and verbal requests from various forums to facilitate the candidates.
According to an ECP official, candidates have started filing nomination papers with returning officers (ROs) for contesting election on Senate vacant seats from February 12.
Also read: Upper house polls: PTI may dominate, but not control Senate
He said that the ECP appointed five RO for Islamabad and four provinces. He said that the polling will be held on March 3 on 48 seats – two in Islamabad, 11 each in Punjab and Sindh, and 12 each in K-P and Balochistan – which will fall vacant on the expiration of the term of the senators.
He said that the polling will be held from 9am to 5pm simultaneously in the Parliament House, Islamabad, and provincial assembly buildings in Punjab, Sindh, K-P and Balochistan. A public notice has already been issued by the ROs for inviting nomination papers.
The nominated candidates will be announced on February 16, while the date for scrutiny of nomination papers will be February 17 to 18. The last dates for filing of appeals against acceptance or rejection of nominations will be February 20 while the dates for disposal of appeals by the tribunals will be February 23.
The date of publication of revised list of candidates will be February 24 while the date for withdrawal of candidature will be February 25.
The commission called upon the members of provincial assemblies of Punjab, Sindh, K-P and Balochistan to elect members against seven general seats, two women seats and two seats for technocrats, including Ulema from each province and one seat for non-Muslims each from K-P and Balochistan, which are going to fall vacant on March 11.
COMMENTS
Comments are moderated and generally will be posted if they are on-topic and not abusive.
For more information, please see our Comments FAQ