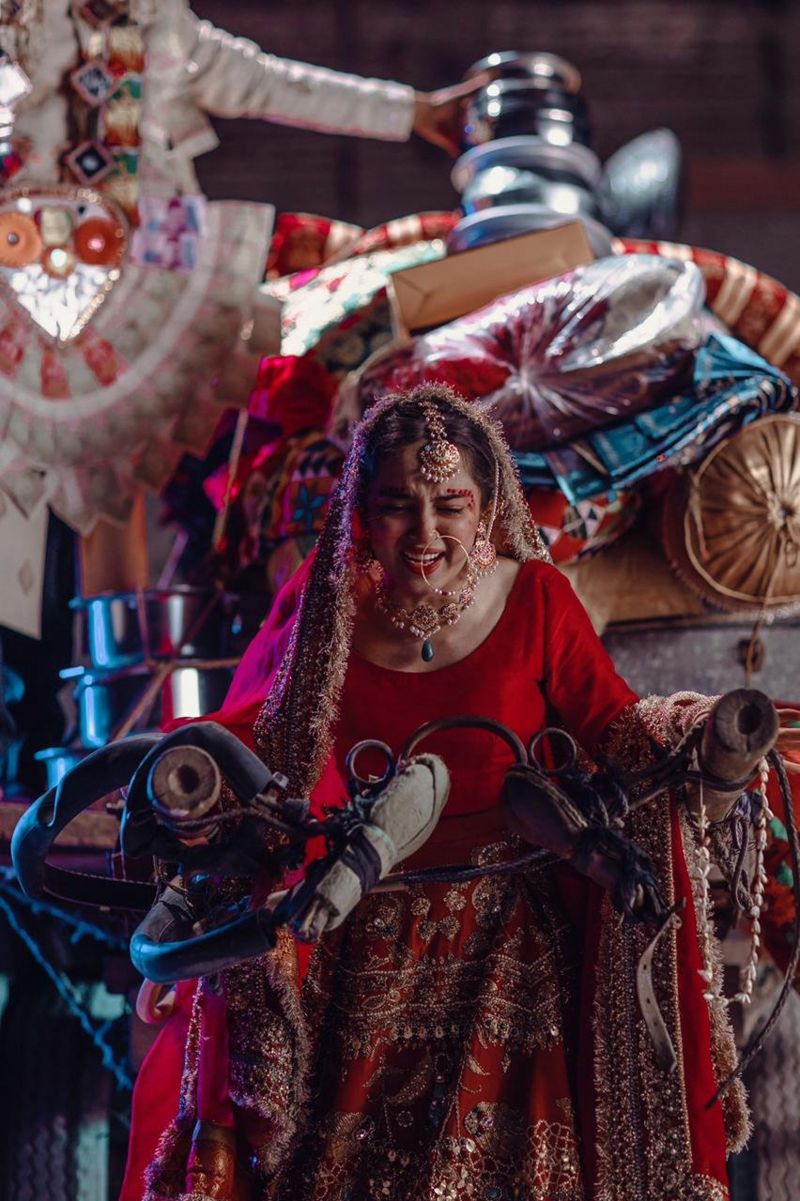 ---
Pictures of an underage bride draped in a gorgeous wedding ensemble, laden in heavy jewelry, pulling a cart-load of dowry with her groom sitting on top have gone viral on social media. The photo reads, "Deny dowry" with a video of the same captioned, "It's time to put a stop to this overburdening tradition!"
The vision first made its way to the Bridal Couture Week runway as part of an exhibit by Ali Xeeshan. The designer, via his latest collection, Numaish, raised awareness against the relentless custom.
He had been dropping hints of his now viral collection on social media for days. His exhibit was in collaboration with the UN Women's Jahez Khori Band Karo campaign. Celebrities had previously been part of the same campaign to raise awareness about the issue.
Now, images of Xeeshan's collection are making waves on Twitter because of their truck-load of reality checks.
#Dowry is a curse that defaces and destroys many couples even since the beginning of marital relationship - by putting such a heavy burden that both bride and her parents can never take; ending with breakups. It must end later or sooner like many such black customs. #SayNoToDowry https://t.co/4SVeX1hHbB

— Sikandar Ali Hullio (@HullioSikandar) February 7, 2021
Saw this picture and couldn't resist myself to share. #Jehaz is an indirect threat to a girl existence and it ultimately decides her position within in laws. A girl who leaves everything to settle in another home, as if it wasn't enough, yet is asked to give #dowry.#saynotodowry pic.twitter.com/jBcBVdUMym

— Mohammad Hazran🇵🇰 (@KhazranSays) February 7, 2021
Following this, many also urged to look at the other side of the wheel.
Some, however, still failed to realise that two wrongs don't make a right.
Double Standards of Society.
Dowry is Lanat but Boy's Separate house, 6-digit Salary, well-Settled boy, 1.8 Brand New Car owner, Bank balance
After marriage Foreign Honeymoon trips, Unlimited Shoppings ,Gold or Diamond Jewellery is not Lanat.
Salute to you👍#dowry #SayNoToDowry pic.twitter.com/qzqdvWWltz

— Dr M Faraz Ul Islam (@mfaraz_ulislam) February 8, 2021
But while many lauded or argued about the display, a few also questioned how a designer like Xeeshan, could voice the plight of the underprivileged when his ensembles go beyond their affordability.
"Ali Xeeshan wants to highlight the dowry and wedding finance issues while selling lehengas worth 12 lakh. Ok," wrote a user. Another commented, "Fashion is a luxury, if you want to raise awareness about lowering the burden of finances than think of the people burdened by the prices of your clothes."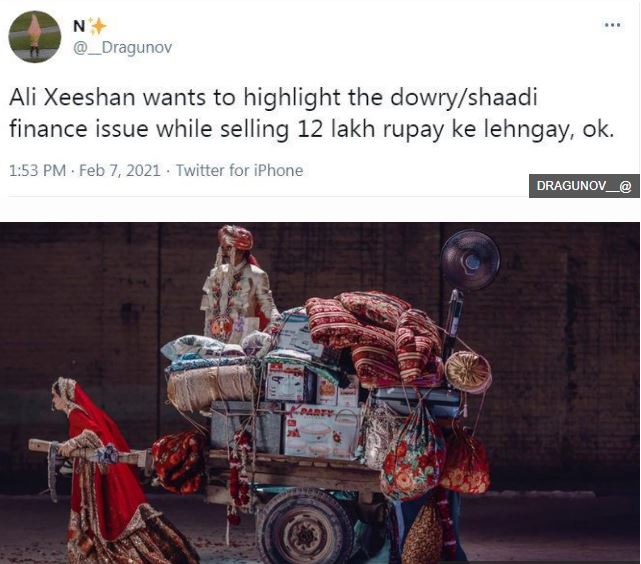 One user tried to reason with the trolls saying, "There is a huge difference between purchasing a 12 lakh worth lehenga from your own choice and forcing another to give millions in dowry."
To tackle the same arguments, in a conversation with BBC, Xeeshan's chief marketing officer Hafsa Babar remarked, "Purchasing an expensive wedding ensemble is your own choice. There is no harm in buying one if you can afford it. And when we talk about Ali Xeeshan, then you need to acknowledge that everything he designs is to cater to the demands of a particular market. Every outfit is handmade, and it takes a lot of time and hard work to make even one such outfit. He does not compromise on the quality of the material used either."
She went on to explain how producing high-quality, expensive ensembles did not mean one could no longer raise voice against oppressive traditions. Hafsa also pointed out how many of their clients even wished to invest more into their wedding outfits but could not because of the money they had to spend on dowry.
"One needs to understand that dowry is not just an issue for the underprivileged, it is also a tradition shamelessly practiced by some elites," she concluded.
Have something to add to the story? Share it in the comments below.