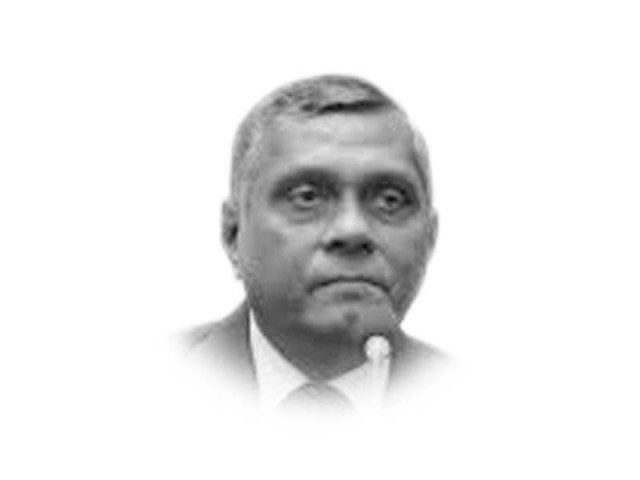 ---
The Kashmir Solidary Day, celebrated on February 5 every year, will be meaningless unless serious thought process is unleashed about the price which needs to be paid for the emancipation of Indian Illegally Occupied Jammu & Kashmir (IIOJK). On February 5, 1975, when prime minister Indira Gandhi and Sheikh Abdullah signed the Kashmir Accord reiterating Article 370 and declaring the Muslim-majority state as India's integral part, not only the so-called autonomy granted to the disputed region under the Indian constitution was usurped, but its illegal occupation has been further strengthened since then.
If Sheikh Abdullah, the then chief minister of the disputed state, by signing an accord with Gandhi in 1975 gave up the demand for a plebiscite, the present Kashmiri leadership representing the Peoples Democratic Party, National Conference, Hurriyat Conference, Jammu & Kashmir Liberation Front and other parties are united in their demand for India's withdrawal from IIOJK and granting the people of Kashmir the right to self-determination.
The Kashmir Solidary Day should remind us of how India, since August 5, 2019, has turned the Muslim-majority valley of Kashmir into a big prison where curfew, lockdown, brutal use of force to quell resistance, killings, arrests, and siege and surge operations are normal and yet there is no cogent international response to such inhuman acts. Since 1975, February 5 is celebrated as a day for solidarity with the beleaguered people of Kashmir who are facing systematic ethnic cleansing. Unfortunately, February 5 has become barely a symbolic day of remembrance having no significant impact on New Delhi's Kashmir's policy. Since August 5, 2019, following the promulgation of the Jammu & Kashmir Reorganization Act; the scrapping of Article 370 and 35(A); ending the so-called autonomous status of J&K; placing Ladakh directly under Indian control with no assembly; merging J&K as Union Territory with a legislative assembly; back-to-back Indian measures to transform the Muslim majority of the valley into a minority reflects the determination and confidence of the Hindutva Modi regime to continue with its arbitrary and illegal acts.
To what extent can celebrating February 5 as a day of solidarity with the people of Kashmir make a difference in terms of exerting pressure over New Delhi to revert its unilateral and illegal acts of August 5, and to withdraw its 600,000 forces from IIOJK? Certainly, nothing can be done by mere speeches, statements and rallies to emancipate the Kashmiri people from the clutches of Indian tutelage. Had this not been the case, things would have been different in the occupied region and India wouldn't have dared to cross the red line by revoking articles 370 and 35(A) and absorbing Ladakh and J&K in the Indian state.
Since 1975, Pakistan is celebrating February 5 as a day of solidarity and this year also history will be repeated by declaring a public holiday and symbolic programmes will be held condemning India but not mentioning how the lives of the Kashmiris can be changed for the better. Has the international public opinion been influenced since the last 46 years and to what extent has the influential world of electronic and print media exposed Indian atrocities in IIOJK?
The enormous sacrifices of the Kashmiris living under the Indian occupation are well presented in a novel titled, Burning Pines, by a veteran Pakistani journalist and TV anchor, Mr Nasir Beg Chaughtai. The blood of the Muslim Kashmiri youth spilling in Srinagar since long should be an eye-opener for Pakistani elites who talk about Kashmir but so far, their sacrifices are limited. Without paying a price, one cannot expect the emancipation of the Kashmiris from Indian occupation. Who should pay that price and how needs to be analysed while taking into account three major realities.
First, Kashmiris have already paid heavily, both in terms of physical and material losses. Since 1990, when the Kashmiri Intifada began, 100,000 people have lost their lives and thousands have been injured including with the use of pellet guns. Since August 5, 2019, a reign of terror has been unleashed in IIOJK in the form of extra-judicial killings, arbitrary arrests of Kashmiri youths, siege and search operations. No other community in this part of the world has rendered so many sacrifices as the Kashmiri Muslims.
Second, if Pakistan calls Kashmir its lifeline and missing 'K', then it is the moral responsibility of the state and society of Pakistan to render sacrifices so that the beleaguered Kashmiri Muslims whose lives have been devastated and are facing the reality of ethnic cleansing can get some relief. If Pakistan is serious in pulling Kashmiri Muslims from such a difficult situation, then it should prepare its people for a long struggle by conserving resources required to be used for practically supporting the Kashmiris holed up in IIOJK. Luxurious lifestyles, VVIP culture and their comfort zones, economic crises and political polarisation will damage the Kashmiri cause and provide India another opportunity to deepen its occupation. In order to emancipate Kashmir, the people and state of Pakistan will have to render sacrifices by putting a moratorium on political squabbling, corruption, nepotism and ensure a proper justice system. A different Pakistan — where, instead of lust, greed and bad governance, there is a rule of law and justice so that the Kashmiris are hopeful about their future — should be the goal. A strong Pakistan with bold and courageous leadership adhering to the rule of law, good governance, economic and political stability will give a new impetus to the Kashmiri freedom movement.
Will the people of Pakistan, along with the state, be prepared to give such sacrifices which would require a qualitative change in their mindset and behaviour on issues which require immediate attention? Once Pakistan changes for the better, India will be forced to abandon its ruthless and inhuman policies in IIOJK.
Third, more than making sacrifices for the cause of Kashmir, the right strategy is also required on the part of Pakistani state organs, including the government in AJK along with the Kashmiri diaspora to put India on the defensive and isolated, because of its blemished record of human rights violations, ethnic cleansing and demographic transformation in the valley. Lessons can be learned from the national liberation struggle in Vietnam that how the Viet Cong that spearheaded a long resistance movement against half a million American occupant forces succeeded in expelling them and unifying Vietnam.
The unification of Kashmir is only possible by rendering sacrifices by Pakistan and the besieged population of IIOJK which has, since 1947, been facing Indian occupation and repression. Only then can the purpose of celebrating Kashmir Solidarity Day be accomplished.
Published in The Express Tribune, February 5th, 2021.
Like Opinion & Editorial on Facebook, follow @ETOpEd on Twitter to receive all updates on all our daily pieces.