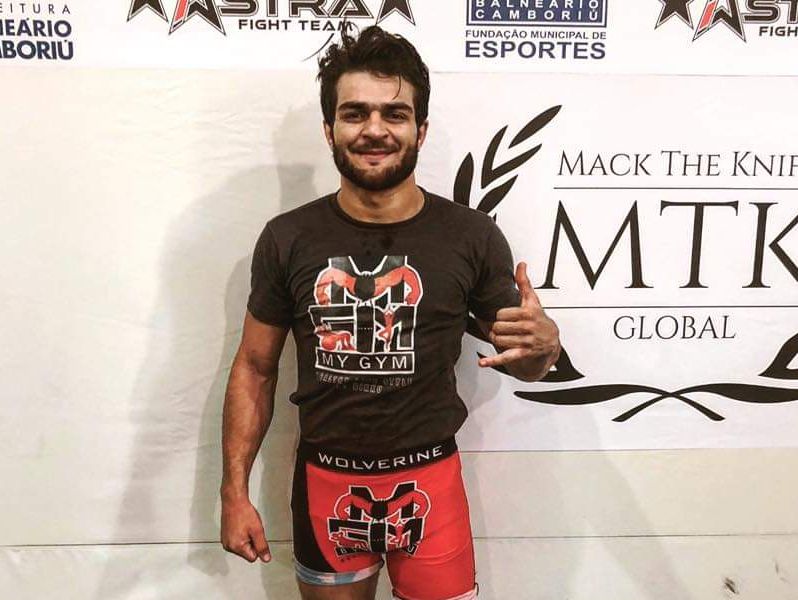 ---
KARACHI:
If hunger can be described in a fixture, then it would be Pakistan's Ahmed "Wolverine" Mujtaba's comeback fight against India's Rahul Raju in One Championship Unbreakabkle III Lightweight match.
Ahmed and Rahul's fixture has also been one of the exceptions and the two have missed each other twice before.
The first time their fight was scheduled to take place in February 2019, but due to visa issues it had to be cancelled, then again in November 2019 it had to be called off for the same reasons, denying Ahmed the opportunity to be back in the cage after his 2018 outing.
"Ahmed is very confident about this fight," Ahmed's manager Rizvan Ali told The Express Tribune. "He is coming back after a long break, yes, but he is also very motivated, after getting married recently. Then fighting off the frustration as well, with Covid-19 pandemic and not being able to be back in the cage, he is really fuelling his motivation on these experiences. Twice he had to see visa issues for this bout, but then again he is very confident, especially because this bout is against India."
Ahmed's manager Ali believes that his athlete will be able to secure the bout in round one or the next, but he acknowledged that Rahul is an experienced fighter and will give Ahmed a tough time.
The 27-year-old has eight wins, and two defeats in his pro career. He will be returning to the cage after his last fight in 2018 while his opponent Rahul also known as "The Kerela Krusher" last fought in October 2020.
Rahul's record stands at seven wins and five defeats as a pro. Rahul's last win was against his own countryman Furqan Cheema, who he defeated via submission in round three.
"Rahul is very experienced, but Ahmed has been working hard. He trained in Brazil in 2018, but unfortunately he was unable to make a return to fights because of Covid-19. I feel his boxing and kick-boxing skills this time will be a difference after his training in Brazil with Marcelo Brigadeiro," explained Ali.
On the other hand Ahmed is dedicating this fight to the people of Jammu and Kashmir. "Pakistan versus India clashes are always exciting in any sport and now we are throwing down in a cage. I'm training hard and I will dedicate this fight to firstly, the people of Pakistan and the residents of Kashmir who have been under unlawful Indian Occupation, this victory will be dedicated to us!"
Ahmed trains with MYGYM in Pakistan and Astra Fight in Brazil.
For his comeback he said he is aiming for submission on the ground. "I am confident that I will finish him either on the feet or submit him on the ground. I'm a BJJ Brown Belt under the Astra Fight Team and he's a brown belt too. It will be a good fight to show my grappling skills."
He further added that he will be bringing in all his skills on the show. "I learned a lot of new tools while training with the Astra Fight Team under head coach Marcelo Brigadeiro and my Brazilian Jiu Jitsu professor and fellow ONE Championship fighter Gilberto Galvao. I plan on using every tool in the fight."
Ali concluded that Rahul will be Ahmed's toughest opponent on paper, but he believes in his athlete's ability to redeem after a long break. "I know and I am confident, as a manager and as a friend that he has this fight in him, he can win."
Ahmed versus Rahul at ONE Championship Unbreakable III will be headlined by Stamp Fairtex versus Alyona Rassohyna in Singapore on Friday.