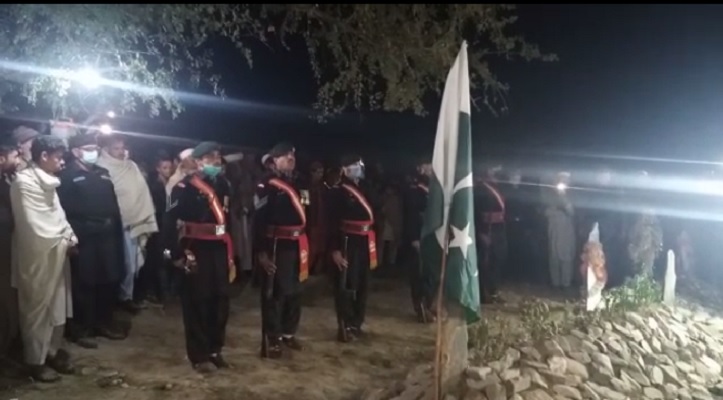 ---
LANDI KOTAL:
The funeral prayers of Frontier Constabulary (FC) soldier, Sepoy Sher Zamin, martyred during a security operation in North Waziristan district a day before, were offered in his native village of Shalman on Thursday.
The sepoy was laid to rest with full military honour. The funeral was attended by Commander of 13 Riffles, Lieutenant Colonel Sohail Mansoor, along with other officials.
"Will sacrifice thousands of my sons for the security of this country," said the martyr's father, retired Subedar Saddam. "No matter what anyone does, our spirits will not weaken," he added.
Read More: Top commanders vow to 'defeat terrorists at all costs'
Lietuenant Colonel Sohail said, "The blood of soldiers will not go in vain. This country will continue to shine on the world map."
"Will pursue terrorists till every last one of them is completely eliminated," he said, adding, "Will rest only after terrorism is completely defeated."
Earlier, it was reported that security forces killed four terrorists during an operation in Mir Ali area of North Waziristan.
The military's media wing said that the operation was conducted after the security forces observed the presence of the terrorists in a compound.
"These terrorists were involved in kidnapping for ransom, extortion, fire raids on security forces and improvised explosive device (IED) explosions," it added.
The ISPR said that 42-year-old resident of Chitral Naib Subedar Aminullah and 24-year-old resident of Landi Kotal Sepoy Sher Zamin embraced martyrdom while four other soldiers sustained injuries during the operation.
COMMENTS
Comments are moderated and generally will be posted if they are on-topic and not abusive.
For more information, please see our Comments FAQ