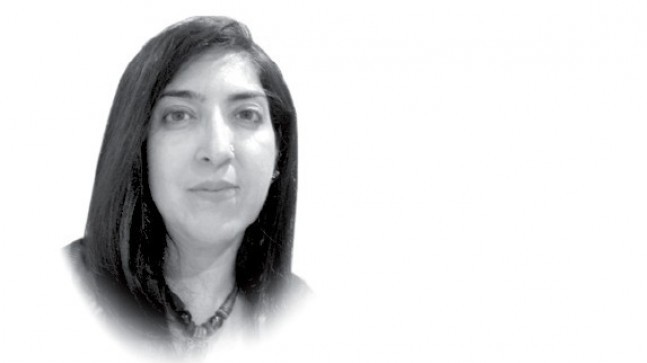 ---
Arundhati Roy Incorporated is a YouTubed fable. Our liberalism is suspect if we are not on this side of the fabulist line. Her myth machinery sets the stage with emails sent by People With Conscience acting like the thought police. They tutor us about the correct news perspective.

She then makes a splash on the front page of a Pakistani newspaper to counteract the malicious "concocted account" by an Indian news agency of a lecture delivered in Mumbai. Part of her gripe is "a ridiculous dumbing down of the (Maoist) debate".

Is there a difference between what she speaks at meetings and what she writes? Videos reveal that she omitted several aspects that would show the 'maliciousness' as mere peripheral reporting. But, pray, what did she mean by: "I do not support the killing … it is not my brief?" Does she only represent herself or work on someone else's brief?

Roy stated that half the activist industry is bought; the media is bought. This is often true and obvious. Now, will the self-righteous other half also come clean about their agendas and who sponsors those?

Regarding dumbing down, she mentioned a call from an uncle. He wanted to help in her fight against injustice. She responded: "I said don't say this on the phone … they will call you a Maoist"! To create a romantic image of 'her' movement – "There are just a handful of us shouting from the rooftops" – she wondered aloud, "And after this they want you to come on the side of the government … after you see those people in loin cloth with bows and arrows. I cannot, I simply cannot." Loin cloth? Bows and arrows? We have seen her picture, head draped in a bandana, with armed comrades. Was she referring to the tribals?

Who were they fighting with bows and arrows?

The PR note stated: "She did NOT call upon the government to put her in jail for supporting Maoists, nor did she offer support to the Maoists." Why was she there giving a sermon from the dais if she did not support them? She did say she did not care if she was "put in jail, pick me up". The important thing was to "turn around and ask your comrades the question for the sake of pushing things forward". Protest groups must force the government to take action, but not as latter-day intellectual Robin Hoods.

For a certain huddled section, idealism means titillating with false images and false hopes. The moment a cause goes down in the ratings, the industry moves on to the next one. The background helps to embellish speaking assignments: "when I walked there", "when the tribals said this", "in Kashmir", "in Gujarat", never mind that "the war in Goa, which is mainly Christian" is wrong. Twenty six per cent is a majority?

The corporate behemoth got a naive jab: "In 1989 when capitalism won its jihad against communism, the whole world did a somersault." Roy callously used the term jihad, that too out of context. Forget political correctness, this is stereotyping.

Her sights are elsewhere: "We can make history," she said, because the Maoist movement is not only about justice; it is questioning civilisation. "I don't even care about the human race … but also all those birds off the Gulf of Mexico with oil slick on their feathers …these people are fighting a war that is questioning all of that. That is the beauty of this resistance."

A legitimate Maoist will one day tell us how greased feathers figure in the beauty of their resistance. "If it had grown up, it would have made a dreadfully ugly child; but it makes rather a handsome pig, I think" — Alice in Wonderland.

Published in The Express Tribune, June, 22nd, 2010.
COMMENTS (14)
Comments are moderated and generally will be posted if they are on-topic and not abusive.
For more information, please see our Comments FAQ