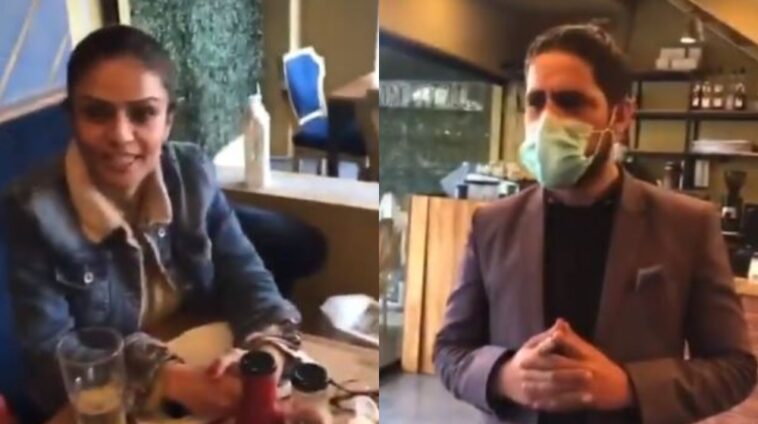 ---
KARACHI:
Owners of a high-end eatery in Islamabad, who recently gave a dressing down to their manager for his lack of proficiency in English, issued a supposed 'apology' on Thursday after the footage drew flak for humiliating the staffer.
Their official page offered a 'clarification' claiming they were the ones who were "saddened and appalled by the reaction of the people." This backhanded apology went on to allege that it was the viewers who 'misconstrued' their banter with a team member.
"This video depicts the gup shup between us as a team, and is never meant or taken in a hurtful or negative way," the statement assured.
But the video purportedly showing these women mocking their employee met the ire of social media users for a reason. It hit too close to home. The 'banter' was no longer between an employer and employee; it was a public dispute reincarnated by those who take so much pride in their knowledge of a second language that they dub it superior to their own – excluding themselves from the majority as the 'educated niche'.
The belief is so deep-rooted - the apology, so paper-thin. And that, perhaps, is what the owners of this restaurant either failed to acknowledge or chose to overlook.
Had the distasteful conversation been merely a harmless 'gup shup', the video would've witnessed the amusement of the manager too. But any 9 to 5 staffer can guess why it didn't. Dear owners, what is appalling is your ignorance to accept that you may not have intentionally wanted to hurt anyone's sentiments, but you did – and that should've been the subject of your apology, not something you just make a mention of.
It is in fact appalling, that a restaurant manager in Pakistan is even required to be fluent in a second language to fit the bill. Had this manager even spoken fluent English, emphasising on knowing so would've still set a dangerous precedent - and it does - because it is not a prerequisite in his field of work, especially when there's hardly any eatery in Pakistan that attracts only tourists.
What's more, is that aside from their out-of-place priorities, the owners even felt compelled point out the 'very good' salary they pay this man. Mind you, no amount of salary paid gives an employer the emancipation of humiliating their employee – intentionally or unintentionally.
Method to the madness
Cancel culture is a problem too, thus, boycotting the eatery altogether can never be the solution, especially since our post colonial hangover does not begin and end there.
It begins in our homes, when only the children who can speak better English are deemed 'intelligent'. It begins in our schools, when teachers fine and discourage students from speaking Urdu, demanding it be restricted to their Urdu lessons.
It is because of this obsession with English that many are even afraid to converse, ask questions and learn, in the fear that they may be ridiculed, come off as 'dumb' or worse, mocked for their peculiar accents.
Mind you, our post colonial hangover is even evident in the hoard of memes about Umar Akmal and Sarfaraz Ahmed's English skills, especially when the latter was swamped by reporters after an amazing win against Sri Lanka, following which he was dragged on Twitter for struggling to respond.
"Being human means making mistakes, becoming emancipated means understanding, and owning up to your mistakes, asking for forgiveness and apologising means it [should] lead to redemption. Giving forgiveness is even greater. It lifts a burden. #CompassionNotRepression" wrote PR maven Freiha Altaf on Twitter. But like Anoushey Ashraf said and I quote, "No [amount of] damage control can undo the embarrassment here."
Being Human means making mistakes. Becoming emancipated means understanding, owning up to your mistakes & asking forgiveness. Apologising & meaning it leads to redemption. Giving Forgiveness is even greater. It lifts a burden. #CompassionNotRepression #Bycottcannoli

— Frieha Altaf (@FriehaAltaf) January 22, 2021
The problem is that the owners' apology was just as halfhearted as their attempt to pay their employee respect. And it became more frustrating when the apology pointed out that this 'gup shup' is "never meant or taken in a hurtful or negative way," indicating that it happens often.
So I would like to second Mushk Kaleem when she says, "English is not a parameter to judge intelligence." And as JeremyMcLellan tweeted, "Humiliating your countrymen so you'll be accepted by foreigners always ends in being rejected by both."
Have something to add to the story? Share it in the comments below.