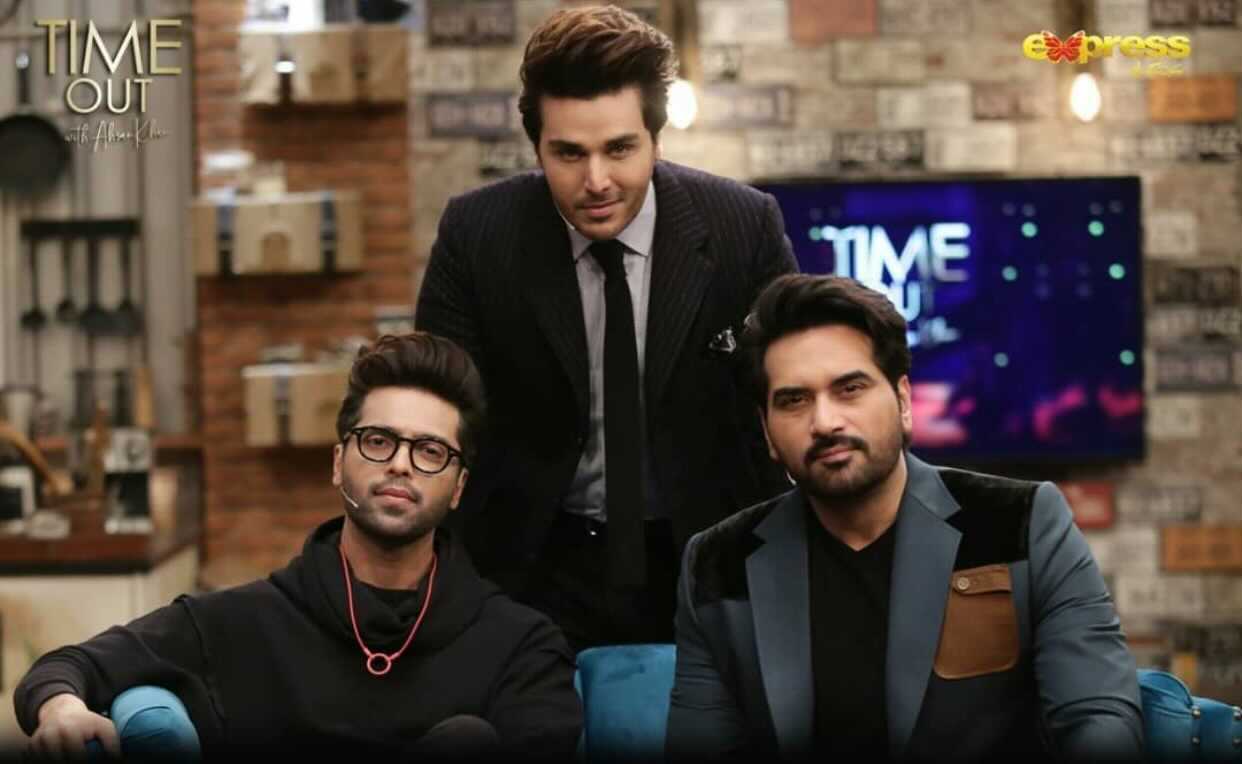 ---
Celebrated actor and host Ahsan Khan is back on the couch with a heartfelt tete-a-tete with our favourite celebrities on Express Entertainment. Time Out with Ahsan Khan's second episode recently aired and the first guests to take the coveted couch were none other than Humayun Saeed and Fahad Mustafa.
In a candid chat with Khan, the superstars shared their thoughts on marriage, their production houses, producing local content and their two cents on the rise of social media.
On marriage and career
The stars talked about getting married before making it big in their careers. 'It does help with the acting," Saeed laughed. "Since you know, we never really learned it." Mustafa chimed in, adding, "You know how singers have certain pain in their voice, actors express the pain better after their marriages." But Saeed feels an actor who has tied the knot consider their career with more seriousness.
"However, on a serious note, being a married actor has its own advantages," the Meray Paas Tum Ho star remarked. "You regard your work seriously. You're mature at that time, you have more responsibility." The Load Wedding star revealed that when he was getting hitched, he and Saeed were actually working on a play together. "It was Humayun's production. I think it was called Saath Aasmaanon Ke Neechay. And I told him that I am getting married. To this, Humayun just gave me a look and that look alone said it all."
The actors then directed the question towards Khan and asked his thoughts on the same. "I think it's fine either way. An actor can be successful with or without tying the knot."
On producing local content:
The actors put on the producer's hat quite early on as well. Talking about the same, Saeed shared he produced his first project 24 years ago! "I actually wanted to be a producer," the actor commented. "So, the first play I produced was Iqraar. It was awful! I showed it to Tasneem Aslam, who was also a producer at that time, agreed and said it was pretty bad. But she did say that I can act. So she hired me as an actor in a PTV play then."
Fahad went on to add that when his father, Salahuddin Tunio, used to produce plays they would end up casting 'leftover actors'. "We had no other choice but to cast them because Humayun bhai would be so busy! Seven days a week, he would be busy in shooting," Mustafa shared.
Talking about his production venture, the Actor-in-Law star shared he considered producing projects as a backup option. "I thought maybe I won't be able to act all my life, so I should have a backup option. But later, I started enjoying it. I followed Humayun Bhai's footsteps. You get a different kind of authority. You are still involved in the shows even if you aren't acting in them. Recently, people were discussing my projects - ones that I have produced, not the ones I'm starring in."
The actor went on to discuss the shows produced under his banner as well. Shows such as Jalan and Nand garnered the attention of the audience - for good reasons and the bad ones. "See, if I am producing something, it isn't necessary that I like it as well. When you're producing a show, there are multiple people who have a say in it. If I don't think it may work, there are four others who think it would be a hit. We have to think about the audience as well, and the public loves these shows. "
"We have to make some ten shows annually. Those ten shows can't be of the same narrative," Saeed divulged. "Some will be message-based, others will be about entertainment."
Of social media woes:
Mustafa, from time and again, has expressed his displeasure over the 'cancel culture' and the cons of social media. When Khan asked him even though the star isn't fond of it, he is always active on the medium, the actor quipped, "My manager is always online. We earn money from it! There's a lot to like but I think there is more to dislike. Anyone can say anything. I think you should be an achiever before you have the right to say something, otherwise, it doesn't make sense."
Humayun added, "Ten years ago from today, whenever we would have an interview, whenever we would have a review, it held certain importance. Now, it is so easy to pay someone to write reviews, say anything we want. I don't have an issue with this, I just think these things have lost their charm."
The ultimate superstar!
The actors shared who they thought were the big stars of Pakistan. "Fahad Mustafa, Shaan Shahid and Fawad Khan I think are brilliant," Saeed said, while Fahad added, "I think Shaan Shahid. He really is the best we have. The charisma he has, the personality. I don't think any one of us is blessed with it. He's a complete package. He doesn't work too much. I differ with that. But our cinema needed that. We didn't appreciate him much."
Have something to add to the story? Share it in the comments below.
COMMENTS
Comments are moderated and generally will be posted if they are on-topic and not abusive.
For more information, please see our Comments FAQ