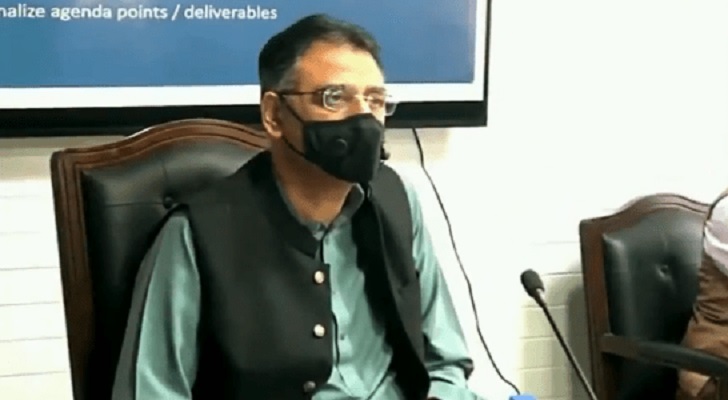 ---
Provinces, private entities free to import Covid-19 vaccine, says Asad Umar
NCOC chief says federal govt has from the beginning maintained it does not have monopoly over import of vaccines
---
ISLAMABAD:
National Command and Operations Centre (NCOC) chief Asad Umar has said that the provinces and private entities were free to import Covid-19 vaccines that have been approved by the Drug Regulatory Authority Pakistan (DRAP).
"The Sindh government, private sector organisation or hospital can place the order for importing the vaccine, provided that they are approved by DRAP," the NCOC chief told a private news channel on Saturday.
"From day 1, the NCOC has adopted the policy that the federal government shall not have the monopoly to import anti-coronavirus vaccines," he said.
Read more: AstraZeneca Covid-19 vaccine approved for emergency use in Pakistan
Umar, who is also the minister for planning and development, was responding to the statement of Sindh Health Minister Dr Azra Pechuho, who earlier in the day, while criticising the federal government's 'slow response' to ordering Covid-19 vaccines, said the provincial government was awaiting the former's approval to allow it to procure the vaccines.
The NCOC chief further said that the AstraZeneca-Oxford vaccine has already been confirmed for use by DRAP, while China's Sinopharm was also okayed by a technical committee.
"We just need to decide as to under which name the vaccine will be distributed. A decision in this regard will be made by Tuesday," Umar informed.
He added that there were two Covid-19 vaccines that had been authorised for emergency use. The phase III of the vaccine by CanSino in terms of clinical trials will be completed by the first week of next month.
"The anti-dote will be made available in Pakistan once the results for the vaccine are finalised," he further maintained.
It was a day ago that Special Assistant to Prime Minister on Health Faisal Sultan confirmed that AstraZeneca's Covid-19 vaccine had been approved for emergency use in Pakistan, making it the first coronavirus vaccine to get the green light for use in the South Asian country.