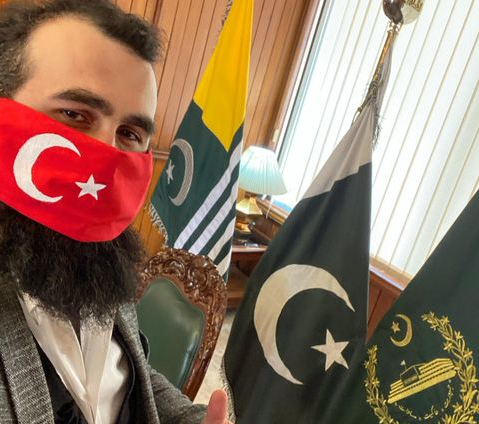 ---
Portraying Abdur Rehman Alp on-screen, Turkish actor Celal Al has won many hearts in Pakistan with his role of a valiant warrior on Dirilis: Ertuğrul. Recently, the famed star was in Pakistan as a part of a Turkish delegation visiting the country, admiring its beauty and hospitality. He also met Prime Minister Imran Khan, federal ministers and several celebrities from our very own industry such as Humayun Saeed, Feroze Khan, Adnan Siddique and Imran Abbas.
Now, the actor has returned to Turkey after his fruitful trip to Pakistan. Taking to Instagram, Celal Al has expressed his gratitude as he penned a heartfelt note as he bids Pakistan goodbye.
"From the very nice and very efficient Pakistan trip, we safely arrived in Istanbul. Under the leadership of my teacher Kemal Tekden, I had very fruitful meetings with President Arif Alevi and Prime Minister İmran Khanla and valuable actors Adnan Siddiqi, Humayun and many other brothers whose names I cannot count," he began.
Sharing an anecdote from 1915, the actor narrated how Pakistanis united to help the Turks. "We cannot do anything against this indescribable heroism. I remember with grace and respect. We presented the soil to President Arif Alevi from Gallipoli and the grave of our National Poet Mehmet Akif Ersoy to serve this brotherhood a little."
He went on to laud the president and shared, "As Mr Presiden Arif Alvi said, this brotherhood must last forever. And I donated my blood to be worthy of you beautiful brothers. The Turkish people and the State love you very much. We are waiting for you in Turkey. And lastly, we could not hug you fully due to Covid-19, please do not be sorry, I hope if I come to Pakistan again, I will hug you profusely."
Celal Al concluded, saying, "I look forward to holding back to your burning hearts with the love of Ummet. We are pleased with you and may Allah be pleased with you. If we had a fault, forgive. Well, did you agree with your brother Celal? I hope you are satisfied with us."

The Ertugrul star has been sharing glimpses from his visit to Pakistan on social media. From meeting renowned celebs to his visit to the serene locales of the north, the star posted several pictures. Celal Al also shared a post from his blood drive.
"I have been lived the most special moment of my life. I met my young brothers who got sick leucemia and who have very big hearts, and I was very impressed their prays for us and deep love, this made me very emotional in Thalassemia aplastic anemia, blood cancer patients center in Karachi," he wrote, adding, "I wanted to encourage blood donation for supporting these children who have very big hearts. If my Pakistani brothers accept my blood which I give, Inshallah this can make us blood brother. I want to call out to all my brothers from here, please let us give blood donation. Blood donation is very important for thalassemia and other diseases. We can save a life in this way."
Have something to add to the story? Share it in the comments below.
COMMENTS
Comments are moderated and generally will be posted if they are on-topic and not abusive.
For more information, please see our Comments FAQ