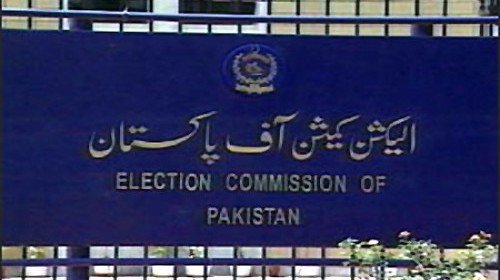 ---
ISLAMABAD:
The ruling party, Pakistan Tehreek-e-Insaf, on Friday, filed a new petition for a day-to-day hearing of foreign funding cases against two major opposition parties – PPP and PML-N – in the Election Commission of Pakistan.
"The investigation into foreign funding against the PML-N and the PPP should be conducted on a daily basis. The cases, which are pending for the past four years, should be disposed of as soon as possible," reads the petition filed by PTI leader Farrukh Habib.
Talking to reporters outside the ECP office, he said: "I challenge parchi chairman [Bilawal Bhutto] and Panama rani [Maryam Nawaz] to appear before the scrutiny committee on ECP and answer their queries."
According to media reports, the scrutiny committee of the ECP has summoned the PML-N and PPP in the foreign funding and funding from "prohibited" sources case on January 18 – a day before the opposition alliance – the PDM plans to lodge its protest in front of the commission's office. But, the electoral body has also directed the PTI to appear before the inquiry panel on January 20.
Habib accused the two opposition parties of pressurising the country's top electoral body, saying that no one would be allowed to damage state bodies. He reiterated his party's stance that the opposition parties want the National Reconciliation Ordinance under the guise of the 11-party grand alliance – the Pakistan Democratic Movement.
Habib, who is the parliamentary secretary for railways, said the investigation is being conducted into the alleged foreign funding of the PPP and the PML-N since 2017 however, despite dozens of meetings of the scrutiny committee it could not reach a decision.
On the occasion, he quoted the scrutiny committee's September 24 order that "both the parties – PPP and PML-N – are not providing their records."
He added that the N-league could not satisfy the body on the millions of rupees come into their account.
On PTI's alleged foreign funding matter, he said the ruling party did not take funds from foreign countries. Moreover, the PPP and the PML-N are not parties in the PTI case, he added.
COMMENTS
Comments are moderated and generally will be posted if they are on-topic and not abusive.
For more information, please see our Comments FAQ