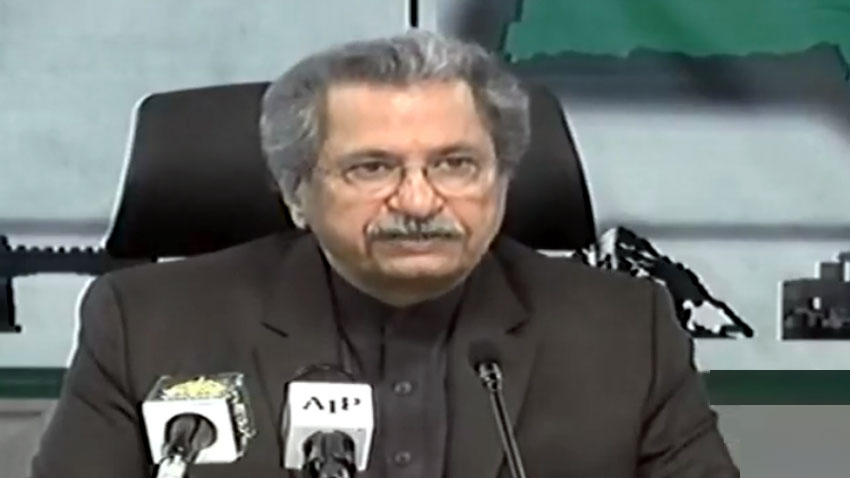 ---
Reopening of 1-8 classes delayed by a week
Federal minister announces classes from 9-12 and universities will resume as per Jan 4 plan
---
ISLAMABAD:
Federal Minister for Education and Professional Training Shafqat Mahmood on Friday announced that countrywide educational institutions from one to eight will reopen from February 1 — instead of Jan 25 — while classes from 9-12 will resume from January 18, according to the plan decided in the earlier meeting.
It was also announced that the universities will resume educational activities from February 1, as per the plan of Jan 4 meeting.
Mahmood held a press briefing after a detailed meeting of National Command and Operation Centre (NCOC) attended by provincial education and health ministers and secretaries. They deliberated on the matter in detail and reviewed different aspects.
During the press conference, the federal minister apprised that the coronavirus situation will be reconsidered next week in an NCOC meeting with education and health ministers who will monitor the city-wise situation of Covid-19 before reopening of higher education institutions and primary and middle schools.
The infection rate in major cities, including Lahore, Karachi, Islamabad and Peshawar, having dense population was higher in comparison with other cities where infection rate was low, he added.
Read more: Education ministry to begin "widespread consultations" on formal education policy
Therefore, authorities will review the data of Covid-19 in detail and discuss if education institutions in cities and districts where infection rate is high should remain closed, he added. Mahmood clarified, however, that a decision to delay reopening in areas with high infection rates had not yet been taken.
"A smart or targeted approach will be in focus and the decision will be taken accordingly," said the federal minister, adding the authorities may also decide, where possible, to have children — who live in areas where lockdowns are imposed — come to schools once a week to collect their homework.
In the briefing, the federal minister clarified that high school students would not be promoted to next classes without examinations like the previous year, therefore it had been decided that their classes should resume as per schedule.
Mahmood in a message on Twitter briefly wrote the reopening dates of the educational institutions, saying "priority is being given to [students of 9-12 classes] them because of board exams that have been postponed to May, June".
Shortly after the conclusion of NCOC meeting, Punjab Education Minister Murad Raas announced the reopening of institutions in a message on twitter. "The situation is being monitored daily for the safety of our students and teachers and their families," he added in his message.
The federal minister in his briefing admitted that "learning capabilities of students have decreased with the closure of institutions".
He added that students have suffered great loss during the past months owing to the Covid-19 but the administration had to consider their health side by side. Therefore, a balance needed to be maintained between the two, considering the least risk to health with the continuation of education process.
Read more: Uniform education system to provide level-playing field to students: PM
Mahmood pointed out that educational institutions had been closed due to the increasing trend in positivity rate which was 7.14 per cent at that time. The experts had now informed that due to closure of the institutions, the positivity rate had declined to 6 per cent, he added.
Nationwide educational institutions were closed on November 26, 2019 due to a hike in positive cases of the coronavirus pandemic during the second wave of Covid-19.
On January 4, the federal and provincial governments had agreed to reopen the institutions across the country in phases from January 18.
They had decided that in the first phase, classes from 9 to 12 would be reopened followed by primary and middle schools from January 25 and in the final phase higher educational institutions from February 1.
The ministers had also decided that before the reopening of schools, a review meeting would be held on January 15.
The meeting of the education ministers had also decided to postpone board examinations for class 9-12 from March-April to May-June to provide some extra time to students to complete their courses.
It was also decided that the new session would begin in August to provide extra time to students to cover syllabus as educational institutions remained closed from March to September last year and then from November onward.
(with input from APP and News Desk)