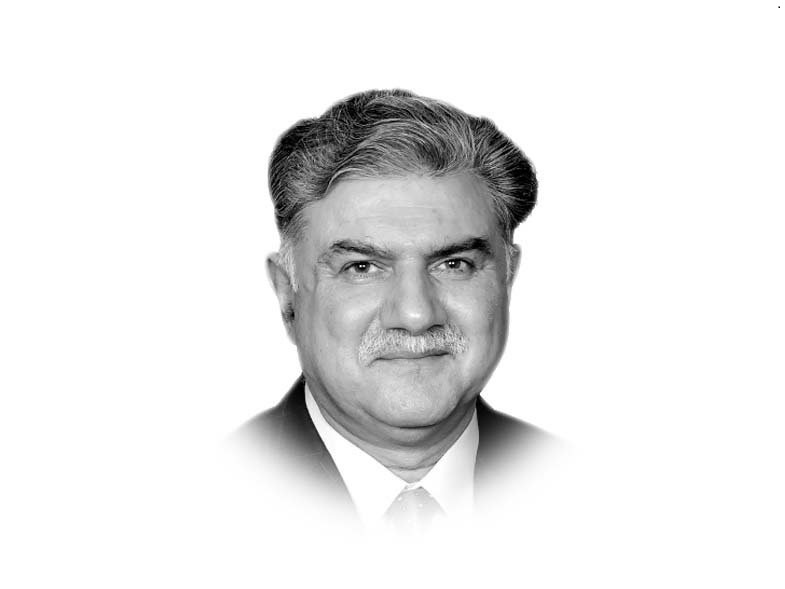 ---
When I penned "Joe Biden, South Asia and Pak-US Ties", printed on November 26, 2020, in this space, the administration of US President-elect was shaping up. As member and twice chairman (1997-2003) of the influential Foreign Relations Committee, President-elect Joe Biden is well-versed in the South Asian region. Like any enduring relationship, Indo-US ties are bound by constants and variables.
While discussing the entire gambit of Indo-US relations, four constants emerge, namely history; democracy & human rights — issues likely to remain important for the Biden presidency; US-India relations as a balancer to a rising China; and the enduring US national interests, given US economic and security relationship with India. The variables include regional dynamics like Pakistan, Iran and the Middle East situation and to some extent the "Kamala factor", etc.
In shared history as a constant, it is instructive to note that president Roosevelt provided strong support for Indian independence in the 1930s and early-1940s, despite Churchill's opposition, notwithstanding US alliance with Britain. India has always captivated US attention. Henry Kissinger in his epic, White House Years (1979), laments the fact that officials in the State Department would dither issuing favourable messages to Pakistan but do so on the instant for India during the 1971 Indo-Pakistan War. As per a Gallup survey, 72% Americans viewed India favourably in 2019; India being their sixth favourite nation in the world.
Second, on human rights there is an expectation that Biden's administration would pressurise India over its contentious domestic developments, which were ignored by the Trump administration, given the Modi-Trump nationalistic credentials. Democrats are, otherwise, strong advocates of human rights and liberties and Vice-president-elect Kamala Harris has spoken against the Modi government's anti-Muslim policies and human rights violations in Kashmir and elsewhere. The US is likely to be critical of divisive politics of Mr Modi's Hindu nationalist party.
Mr Biden's campaign documents squarely urged the Indian government to "take all necessary steps to restore rights for all the people" in Kashmir, expressing "disappointment" in Mr Modi's citizenship law. Recently a group of seven US lawmakers (six Democrats and one Republican) wrote to Secretary of State Mike Pompeo expressing "serious concern" on the farmers' unrest and urged raising the issue with S Jaishankar, the Indian External Affairs Minister. So, a State Department that is back at work, the Biden administration is likely to ramp-up some heat on India for the cited abuses.
However, given the persistent constants and variables of Indo-US relations, no drastic deviation from the present US South Asia policy should be expected. Both nations ostensibly have greater convergences, being the world's two largest democracies besides their expanding economic and military relations. As an enduring theme, each president has improved upon the Indo-US relations since president Clinton (1993-2001).
Propping India against China is likely to be the main driver of Indo-US ties under the Biden presidency. This bilateral constant has brought both countries together in the recent past. The US expects India to act as a regional balancer in the wider China-US competition.
Sequel to the 2020 Sino-Indian stand-off in Ladakh, India committed to reinforce its multilateral partnership with the US, Japan and Australia under the Quadrilateral Security Dialogue or Quad. India had initially dithered to accept US military assistance during initial days of the stand-off for fear of upsetting its trade ties with Beijing. China criticised Quad as the "Asian version" of NATO aiming against her interests. It is believed that the US will use the Quad platform to arrest the precipitous slide of the 'Indo-Pacific balance of power' towards China. Although some Indian analysts feel Biden's approach towards China would be more nuanced and less favourable towards India.
In October 2020, the US and India signed the Basic Exchange and Cooperation Agreement (BECA) that provides India with real-time access to American geospatial intelligence. This would greatly improve the accuracy of Indian missiles, armed drones and automated systems. Although the US effort to boost arms sales to India remains complicated due to Indian closeness to Russia and India's multi-source inventory. American officials are also sensitive to the risks that Indo-Russian amity might cause to the technology transfers.
Indo-US militaries — especially the navies — have been regularly training together, undertaking visitations and exchange programmes. Kenneth J Braithwaite, the US Secretary of the Navy, recently visited India.
On the broader US national interests, the US National Security Strategy (NSS) 2017 welcomes "India's emergence as a leading global power and stronger strategic and defense partner". NSS seeks to expand "defense and security cooperation with India" and "support(s) India's growing relationships throughout the region." This is an enduring commitment buttressed by increased Indo-US bilateral trade and investment; US cooperation with India on global security and related decisionmaking (UNSC); India's upgraded representation in the World Bank, IMF, APEC; and the US' help in allowing India into multilateral export control regimes (MTCR, Australia Group, Wassenaar Arrangement, etc.) and finally admitting her in the Nuclear Suppliers Group (NSG).
In 2018, Indo-US bilateral trade (both goods and services) reached $142 billion after 12.58% yearly growth. India has procured US defence hardware worth around $18 billion in the decade since 2008.
This brings us to some bilateral variables. The persona of Vice-president-elect causes pointed reference, though her utterances on Kashmir are conciliatory to minorities as she remains mindful of her ethnicity. Mr. Modi's push for a "self-reliant India" and wavering to sign a comprehensive trade agreement — ostensibly over concerns of importing American dairy products and medical devices (i.e, coronary stents) — are some bilateral frictions. Recent suspension of H-1B visas for high-skilled Indian workers is another hiccup in the ties.
Indian analysts are also apprehensive that Mr. Biden may be less critical of Pakistan, due to Pakistan's geo-strategic relevance and her role in assisting US military's draw-down from Afghanistan.
Under the regional dynamics, the US would want India to be on her side whether it is Iran, Palestine or Saudi/UAE circumstances… particularly after the recent recognitions of Israel. It would want that India adheres to the anti-Iran sanctions and does not act as a spoiler in the Afghan settlement. Mr. Biden's would also need India's cooperation for his priority climate change initiative.
In sum, the US-India bonhomie is likely to continue under President-elect Biden with Kamala Harris cementing the ties. The situation would likely take a phenomenal turn, if and when, the vice-president becomes president — a sinister campaign theory espoused by the Trump camp.
Published in The Express Tribune, January 7th, 2021.
Like Opinion & Editorial on Facebook, follow @ETOpEd on Twitter to receive all updates on all our daily pieces.