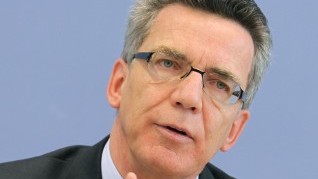 ---
BERLIN: Germany aims to tackle a growing threat from Islamic extremists with an exit programme modelled on assistance for repentant neo-Nazis, authorities said Monday.

"We plan to offer a hotline and a website for people who have fallen under the influence of fundamentalists, Islamists or terrorists," Heinz Fromm, head of the Federal Office for the Protection of the Constitution, the domestic intelligence agency, told reporters.

Interior Minister Thomas de Maiziere said at a news conference that the service would be available in a few weeks' time.

Militants wanting to turn their backs on extremism will be put in contact with "trained personnel who are capable of offering help to people in German and also in Arabic or Turkish," Fromm said.

"We think it will be a useful effort, even though it is modest, to take a preventative approach to this problem," de Maiziere said.

According to Fromm's agency in its annual report, there are 29 Islamic extremist organisations in Germany, with 36,000 members at the end of 2009, 1,500 more than the year before.

Some 200 Germans or foreigners living in Germany have spent time in Pakistan with the intention of receiving paramilitary training by Islamist groups. Authorities have concrete evidence that 65 of them underwent such training, the agency said.

The Federal Office for the Protection of the Constitution launched a similar programme for right-wing extremists in 2001.

It said it has received about 1,040 calls to the hotline since it was established, about 300 of them from former extremists seeking help. About 120 of them have received or are receiving "intensive assistance" in reorienting their lives, the office's website said.
COMMENTS
Comments are moderated and generally will be posted if they are on-topic and not abusive.
For more information, please see our Comments FAQ