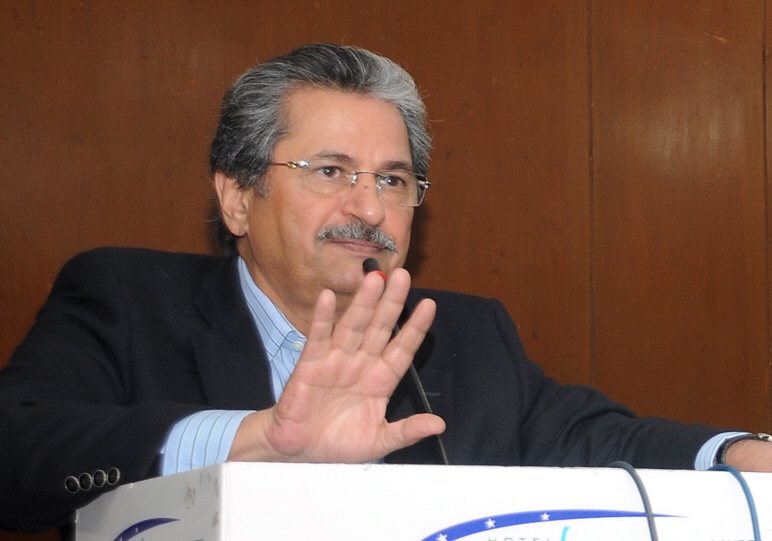 ---
ISLAMABAD:
The federal and provincial governments have agreed to reopen educational institutions across the country in a phased manner from January 18. The educational institutions were closed in the last week of November in the wake of a second wave of coronavirus pandemic.
"Students of classes 9 to 12 would resume studies from January 18, whereas the primary section up to class 8 would reopen from January 25. Colleges and universities are to reopen from February 1," announced Federal Minister for Education Shafqat Mahmood on Monday.
The federal education minister was addressing a press conference along with Special Assistant to the Prime Minister on National Health Services Dr Faisal Sultan after chairing a meeting of the federal and provincial education ministers in Islamabad. Many participants attended the meeting through video link.
According to Mahmood, board examinations will be deferred this year till May-June. "The Covid-19 situation would again be reviewed by January 14 or 15. Our top priority is children's health," he added.
He said teachers and other administrative staff at school and colleges can start working from January 11 while schools could also start online classes from that date. Taking to micro-blogging site Twitter, Shafqat Mahmood later clarified that this year no student will be promoted without exams.
"It surprises me when I see the negative reaction of some students to school/college/universities' reopening. Education is a gateway to the future. Also education years are the best time of one's life. Everyone should welcome the opportunity to study and be among friends," he added.
Dr Faisal Sultan also addressed the press conference and said there was some reduction in the Covid-19 cases after the decision to close schools amid the second wave of the virus.
"Today's decisions were taken in coordination with provincial education ministers, whereas other concerned officials also attended the inter-provincial meeting," he said.
On November 23, the government ordered closure of all educational institutions across the country from November 26 till January 10, 2021, and directed education institutions to hold online classes until December 24 – when the winter vacations started – to reduce the chances of students getting infected.
At the meeting, officials from the Federal Ministry for Health also briefed the forum on the latest situation concerning the coronavirus pandemic. The meeting also discussed proposals to hold board exams in the last week of May and early June while reducing the number of winter vacations.
The participants also discussed the proposal for starting the new academic year from August 2021 as well as the national education policy.