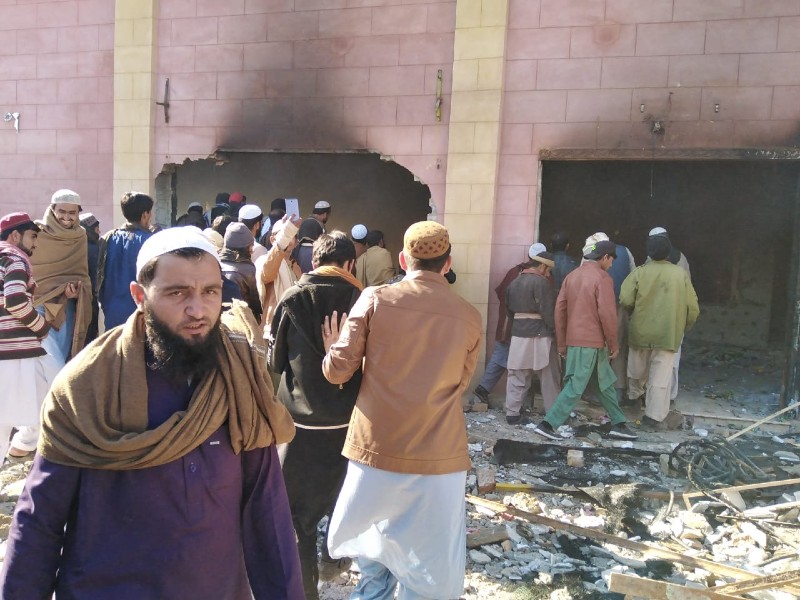 ---
At least two dozen people, including several clerics, were detained on Thursday after a mob attacked and set fire to a Hindu temple in Khyber-Pakhtunkhwa's Karak district, police said.
Around 1,500 people descended on the temple after staging a protest against renovations at an adjoining building owned by Hindu community.
The temple is located in a remote village of Terri in Karak, some 160 kilometres southeast of Peshawar.
"We have arrested 26 people including local clerics for destroying a place of worship and inciting people to riot," local police official Fazal Sher said.
He added that police are looking for a further 50 people identified from the videos of the attack.
Irfanullah Khan, the district police chief, also confirmed the arrests.
He told AFP that a house adjacent to the temple was recently bought by the Hindu community and was being renovated, which offended locals.
The historic temple had stopped offering religious services after the 1947 Partition when all local Hindu families migrated to India. However, four years ago, the unfrequented temple was handed over to the Hindu community on the Supreme Court's order. And it has been a pilgrimage site for Hindus ever since.
According to reports, local clerics were not happy with the handover of the temple to the Hindu community. The ongoing renovation further fuelled their anger that set off a chain of events that led to Wednesday's vandalism, residents told The Express Tribune.
"These people have brought a bad name to our area and tarnished the image of the state," one local resident, Ameen Pashteen, said.
"The destruction of the Hindu temple in Karak is yet another example of persistent discrimination faced by the beleaguered Hindu community in Pakistan", said Rimmel Mohydin, Pakistan campaigner at Amnesty International.
Earlier today, Chief Justice of Pakistan Gulzar Ahmed also took notice of the tragic incident. According to a statement released by the Supreme Court, Member of National Assembly and patron-in-chief Pakistan Hindu Council Dr Ramesh Kumar called on the honourable chief justice to discuss the desecration of the shrine of the Hindu saint.
Justice Gulzar showed "grave concern over the tragic incident," it added.
The chief justice also informed Ramesh that the incident will be taken up by the apex court on Tuesday, January 5th.
The top court judge further directed the One Man Commission on Minorities Rights, chief secretary K-P and IGP K-P to visit the site and submit a report on the tragic incident.
COMMENTS
Comments are moderated and generally will be posted if they are on-topic and not abusive.
For more information, please see our Comments FAQ