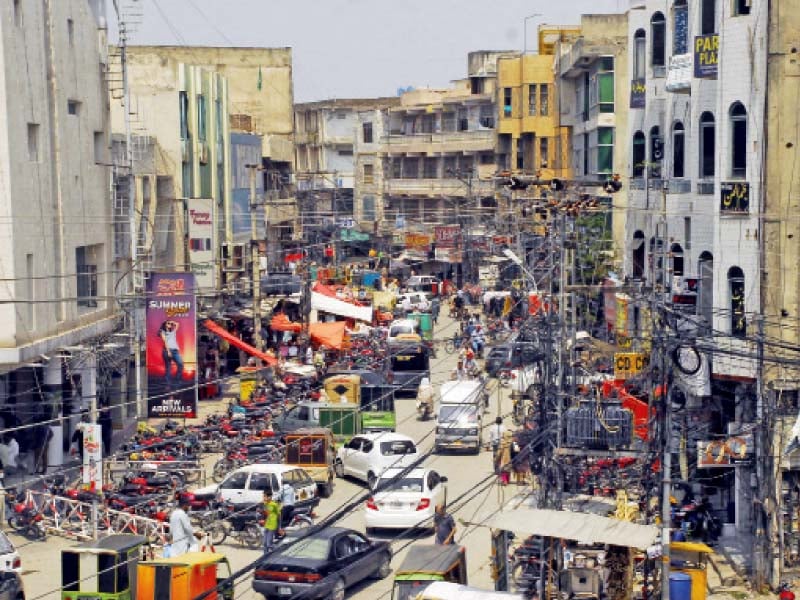 ---
RAWALPINDI:
The project concept to covert winding lanes of almost 300 year old bazaars of the old city area to pedestrian-only heritage trail got official nod on Wednesday.
The special city beautification committee has approved the project-concept (PC) I for the conversion of streets passing through different old markets into proper walking streets.
Under the project, the 2.5 kilometres (kms) long-stretch of lanes and streets from historic Bhabhra Bazaar to Raja Bazaar passing through Sarafa Bazaar, Dangi Khoi, Kalan Bazaar will be converted into a proper walking street.
In the heart of the old city area of Rawalpindi is an over 230 year old locality the Bhabra Bazaar. Named after the rich Bhabra community that owned the almost two square kilometre patch of the town it still has a number of old buildings intact which speak of the regal past of the area. The gated community secured from four entrance and exit points has many small lanes that open on to the main bazaar.
Today, the Bahabra Bazaar is a 20 feet wide and 2km long stretch of commercial area that extends from Muree road to Sarafa Bazaar, the hub of gold and jewellery trading. Bhabhra Bazaar locality was inhabited 260 years ago by
The city administration and the business community have joined hands to convert these ancient lanes to tourist-friendly area, instead of demolishing these relics of past.
The Rawalpindi Development Authority (RDA), Rawalpindi Chamber of Commerce and Industry (RCCI) members of civil society and urban conservation specialist have formed the beautification committee.
The committee has sent the PC-I for converting the lanes of these bazaars to heritage trail to the competent authority for final approval.
The estimated cost of the project would be Rs50 million while it will be kicked off from February 15. The funds for the project have already been approved.
RDA Chairman Tariq Murtaza told The Express Tribune that it was a unique project of Rawalpindi in which the administration and traders' bodies were on-board. He added that tuff tiles would be placed on the entire path.
Under the project, all electricity and telephone poles will be removed from the route and wiring would be laid underground.
The removal of street lights is also part of the project and instead, the lights will be fixed on the walls of the buildings.
Murtaza said that the installation of tiles on the walkway would be done from Teli Mohalla Murree Road to Dangi Khoi Chowk.
The entry of motorcycles will be banned and only pedestrians will be allowed to walk in from a certain limit.
There will be electric vehicles at the entry and exit of the street for the elderly, women, and children.
RDA official said that digitized advertisement boards would be installed along the street as well.
Published in The Express Tribune, December 31st, 2020.