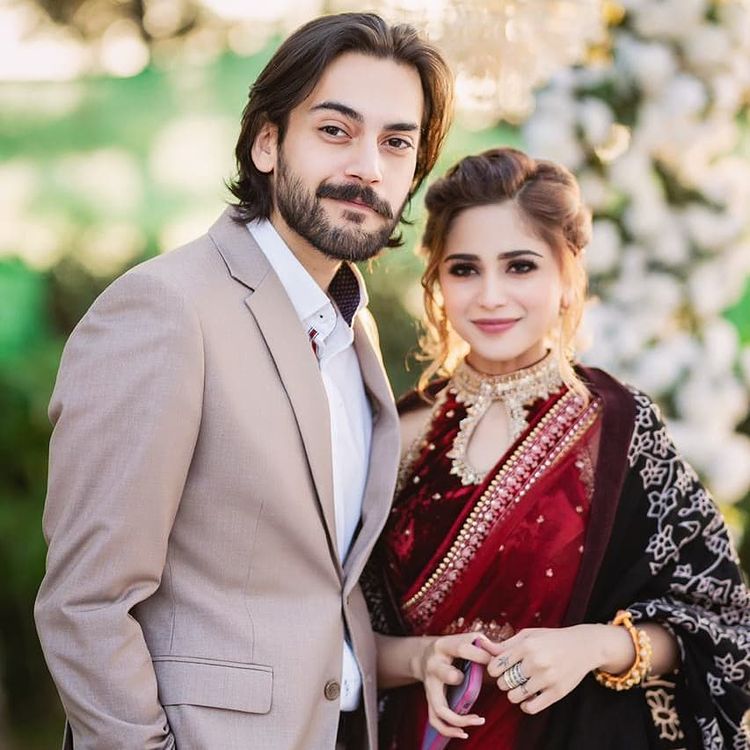 ---
Singer Aima Baig and actor Shahbaz Shigri have often made appearances together - be it at award functions or weddings. Earlier this year, there was much chatter about the two secretly dating and after quite some time, Baig admitted that she was in fact seeing Shigri.
"About the rumours that have been abuzz, all I can say is, they are true. We vibe really well," she confirmed during an episode of Nida Yasir's morning show in September.
Now, Shigri has penned a humorous but heartfelt note for his girlfriend and singer. He said she is the most 'beautiful, amazing, magnanimous and wholesomely awesome human being' he has ever met in his life.
Taking to Instagram, Shigri shared a photo with Baig from her sister's nuptials saying, "The most beautiful, amazing, magnanimous and wholesomely awesome human being I have ever met in my life, and that's Aima Baig standing next to him."
He then jokingly clarified,"I'm kidding. All those descriptive words actually apply to her, and still they aren't enough. Thanks for tolerating me you gorgeous soul, I promise it only gets worst, so hold on tight."
The endearing post has garnered thousands of hearts within no time.
Earlier, when asked about the first time the two met, Baig had revealed it was when she recorded a song for Shahbaz's film, Parey Hut Love. "He's so comfortable to be around, he makes everyone very comfortable around him. That's just the kind of vibe he gives off. He's very mellow. I've never seen him fight anyone. Even in an argument, he's very sensible. I really look up to these qualities," she elaborated.
Have something to add to the story? Share it in the comments below.
COMMENTS
Comments are moderated and generally will be posted if they are on-topic and not abusive.
For more information, please see our Comments FAQ