 ---
Actor Fahad Mustafa stated in a recent interview that "95% cases of sexual harassment are genuine but in some cases, people are falsely accused, so we have to tell every kind of story."
The actor was shedding light on the plot of his latest show Dunk, which revolves around false accusations of sexual harassment. The television series also stars Bilal Abbas Khan, Sana Javed and Naumaan Ejaz.
"We have always tried to show different kinds of stories," said Fahad. "We also made a drama Meri Guriya which told the story of [the rape victim] Zainab."
"As producer it is my responsibility to tell every kind of story and I believe people will enjoy watching this drama," he added.
Fahad went on to say that his new drama depicts reality very closely and that Dunk "is a tribute to every victim who has been falsely accused of sexual harassment."
When asked about his stance on Meesha Shafi's harassment case against Ali Zafar, he said: "I do not know much details about the case, but all I know is that Ali has suffered a lot at the professional front, it is a huge loss for Ali and his family." Mustafa added that,"I think, brands should set an example by working with the people who have been falsely accused of sexual harassment."
Now, Twitter is livid over Fahad's statements and the makers of the television serial for propagating a narrative which may prevent victims of sexual harassment from speaking their truth out of the fear of being labeled as liars.
Many are also calling the supporters of the recently aired serial "rape apologists." Others are asking Fahad whether being an accused harasser is an achievement so big that one needs to pay tribute to it.
Some, however, are just disheartened and asking why the entertainment industry – in its entirety – is adamant on producing narratives against women.
"A woman can never provide proof of being teased, groped and touched or anything that happened behind a close door. Kaha say gawah laye k ik mard nay chaltay huay haath maara?" asked a user.
"'Dunk is a tribute to the misogynistic mindset of the Pakistani entertainment industry; it will paint men as victims while grossly misrepresenting reality,' said the cast and crew of the series while talking about their upcoming venture with pride. There, fixed it," boldly edited another.
But many simply questioned the purpose.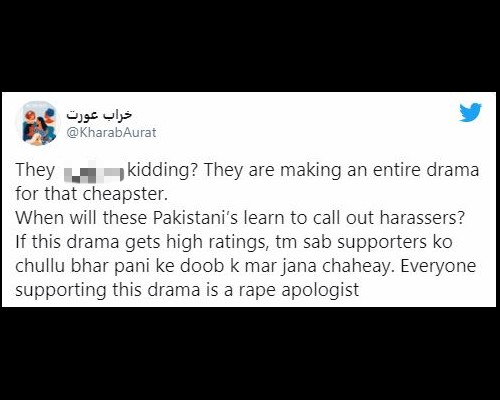 While others provided what they believed was the actual purpose.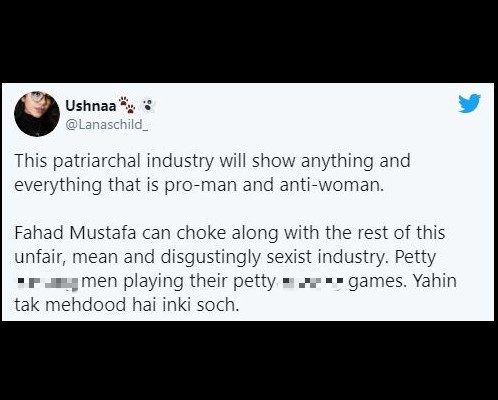 Is it?
What could be the consequence?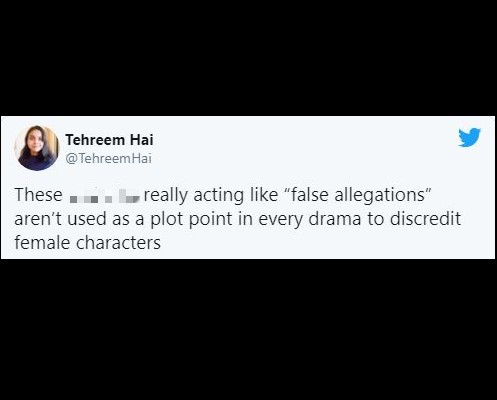 Because all women are 'Jhooti' (ehen!)
Consistency is key.
But 'real feminists don't waste time shouting for their rights'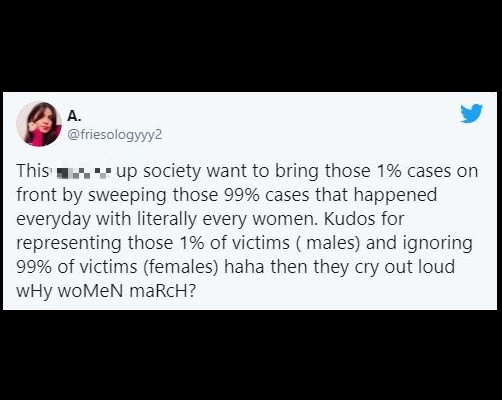 Just when you thought..
Things got a little personal around here
But hey! Why not..
Have something to add to the story? Share it in the comments below.