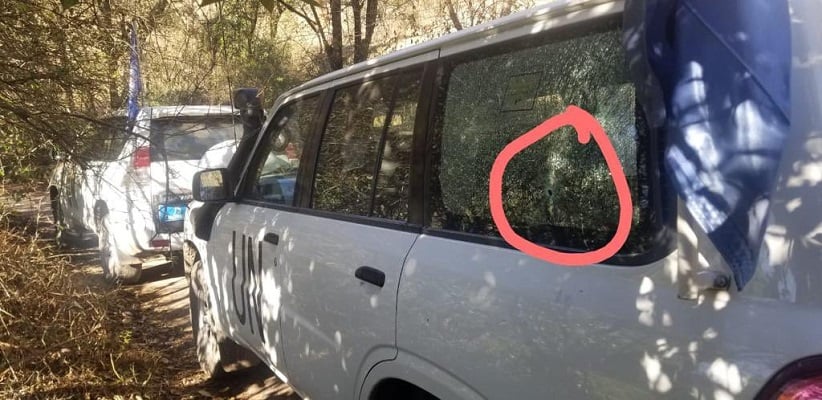 ---
The United Nations on Saturday confirmed that a vehicle belonging to the UN Military Observer Group in India and Pakistan (UNMOGIP) was hit by an "unidentified object" near Rawalakot on the Pakistani side of the Line of Control (LoC).
Speaking at the regular briefing in New York, UN Deputy Spokesperson Farhan Haq said the incident occurred when military observers were conducting routine monitoring activities.
"Mission is currently investigating the incident," he further added.
On December 18, Indian troops fired at a United Nations vehicle on the Pakistani side of the Line of Control (LoC) as they violated the ceasefire without any provocation.
"At 1045 hrs, on 18 Dec, Indian Army resorted to unprovoked fire in Chirikot Sector of [the] LoC. [The] Indian troops deliberately targeted a United Nations vehicle with two military observers on board," the ISPR said.
The UN military observers were en route to Polas village in Chirikot sector to interact with villagers affected by unabated ceasefire violations (CFV) by India, it added.
"It must be noted that the UN vehicles are clearly recognisable even from long distances due to their distinct make and type and clearly visible markings," the ISPR said.
The vehicle was damaged in the Indian fire, but the two UN military observers travelling in it luckily remained unharmed. They were safely rescued and evacuated by Pakistan Army to Rawalakot.
"Such illegal and unlawful acts, against all established international norms, signify mal-intent of [the] Indian army to target not only innocent civilians residing along the Line of Control but UN peacekeepers as well," the military said.
The UNMOGIP replaced the United Nations Commission for India and Pakistan (UNCIP), originally established in January 1948 to investigate and mediate in the dispute between the two countries.
The Foreign Office condemned the incident and said India must follow the 2003 ceasefire understanding in letter and spirit.
Indian border guards, however, have frequently breached the agreement with impunity and targeted civilian population living along the LoC in Azad Jammu and Kashmir.
New Delhi has committed 2,992 ceasefire violations so far this year, resulting in the death of 27 people and injuries to 249 people, according to Foreign Office spokesperson Zahid Hafeez Chaudhri.
He urged the UN military observers deployed along the LoC to play their mandated role as per the UN Security Council resolutions.