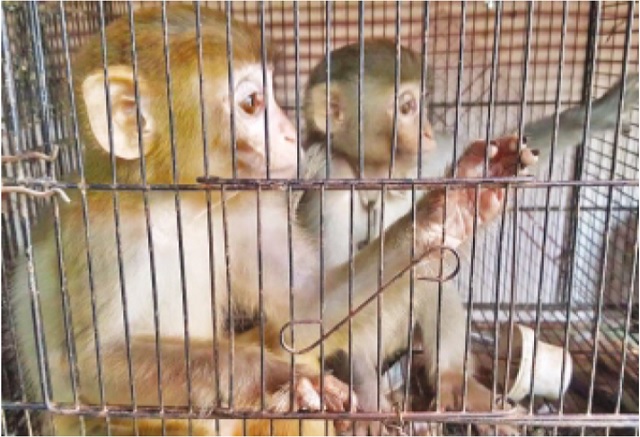 ---
KARACHI:
Four infant monkeys were rescued from one of the city's largest bird markets on Friday following a tip-off and a raid by the Sindh wildlife department. The rescued animals will be released in Nathia Gali next month.
Finding out about the four baby monkeys, caged for sale, on social media South Deputy Commissioner Irshad Ahmed Sodhar alerted the wildlife department. On Sodhar's indication, the SWD Karachi Raid and Rescue Party conducted a sweep at Empress Market in Saddar, said Deputy Conservator SWD Mumtaz Ali Soomro, speaking to The Express Tribune. "Wildlife trade is banned."
The SWD took four minor monkeys in custody in the presence of Saddar Assistant Commissioner Sherina Asad. The rescued animals were then handed over to the animal welfare organisation Ayesha Chundrigar Foundation (ACF).
All shopkeepers at the birds' market were reminded once again to not deal in the trade of wild animals, told Soomro. But the man who had put the monkeys up for sale managed to escape.
"Our officials have been directed to take prompt action against illegal trade," said SWD Provincial Chief Javed Ahmed Mahar. The new law of the province is very strict, added Mahar referring to Sindh Wildlife Protection, Preservation, Conservation and Management Act 2020. According to Mahar, most illegal trading of animals and birds has been discouraged since the law was enacted.
Under the Act, all acts of hurting wild animals - intentional or unintentional - are deemed cruel and are strictly prohibited. The law criminalised posting pictures of hunted birds and animals on social media. Moreover, the use of wild animals for fighting and baiting is banned, and strong action would be taken against people using undersized cages or enclosures that cause discomfort to animals, according to the Act.
Coming into force last July, the law repealed the weaker Sindh Wildlife Protection Ordinance 1972 and increased the ambit of protection for wild animals and birds in the province. It gave SWD staff status of the police and expanded coverage to even those wild animals who enter the province via trans-boundary migration or as a result of human activity.
The four infant monkeys corralled into tiny cages at Empress Market had been captured from somewhere near Murree, said SWD Inspector Naeem Khan, speaking to The Express Tribune. Despite restrictions, some traders manage to bring these animals to the city, he added.
According to Mahar, the rescued monkeys will be released back into their natural habitat after rehabilitation. "We have handed over the monkeys to a private organisation so they can help the animals with their health," he said.
Later the same day, ACF officials sought on social media people with wildlife licenses to help the organisation rehabilitate the baby monkeys till they can be released back in their natural habitat.