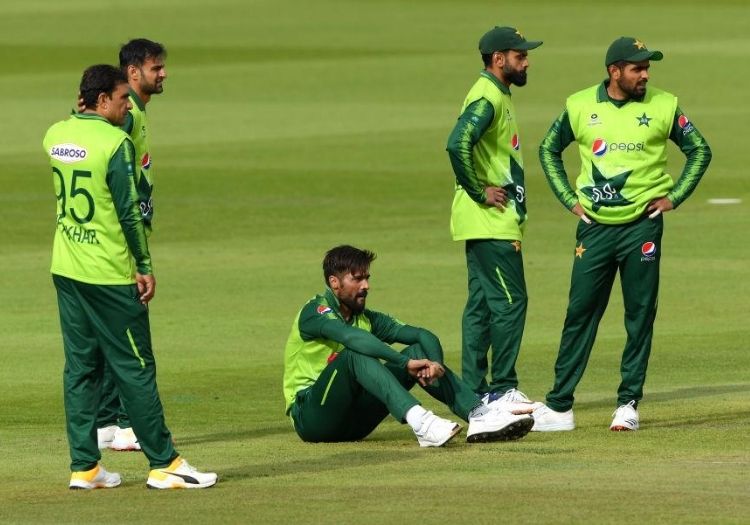 ---
KARACHI:
When Azhar Ali dropped Virat Kohli in the slip squadron in the 2017 Champions Trophy final, Pakistanis felt a pinch in their hearts – it was like he had dropped the silverware. Amir had just sent Rohit Sharma back to the pavilion, who was one part of the deadly trio at the top of the Indian batting order which had destroyed the bowling line-ups of every team in the tournament. Kohli's wicket would have been another nail in the coffin for India, who had earlier humiliated the Men in Green at the start of the event. Pakistanis looked at Azhar with anger, while the whole world stared at him in disbelief.
Pakistan had walked into the Champions Trophy as the lowest ranked ODI side – eighth in the rankings – and after a few hiccups turned the tide, call it tsunami even, in their favour. A big panel of commentators and analysts had predicted England, Australia and India to win the title, but only Ramiz Raja dared to call a Pakistan-India final. No other cricket connoisseur even hinted that Pakistan could make it to the last hurdle; however, the Sarfaraz Ahmed-led side did exactly that.
After Pakistan were nearly pushed out of the semi-final contention, captain Sarfaraz miraculously, also thanks to two dropped catches, put them back in. South Africa in the last group match and England in the semi-final were then just a walk in the park for high-spirited and back in form Pakistan.
Facing India in the final then became less about playing good cricket and more about keeping a hold of those nerves. A Fakhar Zaman-led batting attack saw Pakistan amass a big target for India, but with Rohit, Shikhar Dhawan and Kohli batting at the top, nothing was considered un-chaseable for the mighty India.
Only Amir knows what would have been going through his mind when he would have walked back after nearly dismissing Kohli. Most bowlers would be raging with anger, mind focused only on the mistake made by the fielder, no thoughts of what to bowl next and only agony in mind. Maybe Amir felt all that, maybe he didn't, but he had the stuff of a legend in him, something many others lack. He would have asked himself, I've done it once, why can't I do it twice?
A deep breath at his bowling mark, hands a little shaky with disappointment but gripping the ball as if his life depended on it, Amir took one step forward and then turned his jog into a run. Kohli stood at his crease, licking his wounds, but still in the fight. As Amir released the ball, within a couple of seconds, the crowd was on its feet again, this time in ecstasy of seeing the unbelievable.
Kohli had edged it to Shadab Khan at gully, the teenager who had just surfaced on the international cricket scene courtesy Pakistan Super League, a leggie by expertise but a superb fielder by a long distance.
As Amir let out a loud roar, filled with excitement and maybe a bit of frustration of the previous drop, the world stood and applauded in awe of the unthinkable that the left-arm pacer had done – dismiss world's best batsman across nearly all formats TWICE, on consecutive deliveries.
This ode to the delivery that turned a disgraced Amir, who served five years out of cricket for spot-fixing from 2010 till 2015, into a legend is primarily meant to appreciate the genius he possesses. However, there is a secondary purpose to it – to emphasise that players and not cricket boards are the stars of the game.
Amir's video which is making rounds on social media where he talks about the 'mental torture' he has faced at the hands of the PCB after hanging his Test boots is a testament to the fact that the higher-ups in the board still believe that their will and their desires are more important than that of the cricketers.
There is no argument about the fact that one man cannot be given importance over an entire system, but this is what disillusions the PCB into thinking that giving big players the respect they deserve is too demanding from them.
Saeed Ajmal got his farewell in a domestic match. Shahid Afridi and Abdul Razzaq never got one. And now Amir has been pushed to the verge as he has decided to withdraw his name from any future series.
It is about time the PCB realises that although the board invests heavily in stars, it doesn't mean the players cannot take decisions according to their own free will.
Amir's decision to walk away from five-day cricket should've been respected and although he was given a few chances in a few series, PCB should have stuck with him for bigger games and bigger occasions. In Amir's own words he was ready to give his all in white-ball cricket, but PCB's discriminatory behaviour forced him to leave on such a bad note.
All in all, PCB's man management issues have always caused problems for Pakistan cricket stars and it is about time the board realises that every cricketer is an individual with different needs and wants.
Also they need to realise that in a country where cricket is watched more than the national game hockey, the stars of this sport will obviously have personalities and attitudes. It is the job of the PCB to deal with them, otherwise sooner than later, with so many other cricketing opportunities in sight for every cricketer in the form of T20 and now T10 leagues too, Pakistan won't have any star cricketer wanting to play for them.