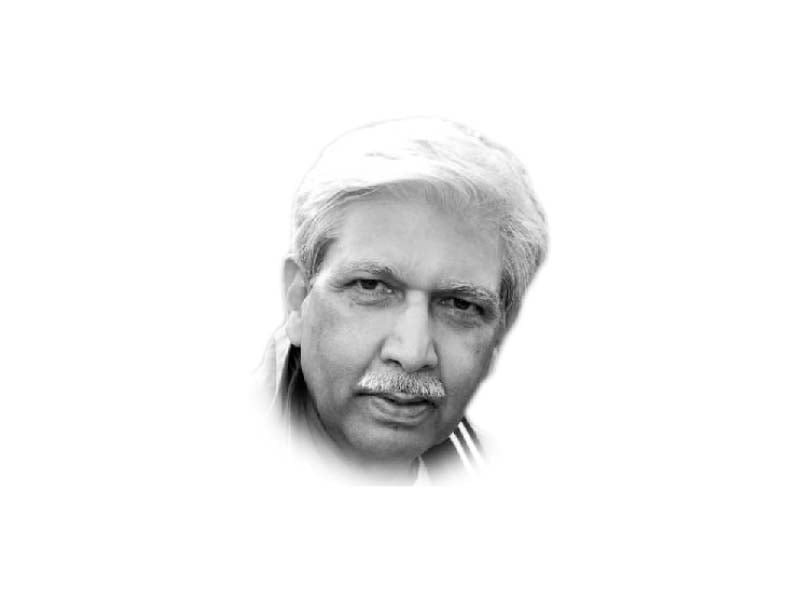 ---
It's transformation time. And not withstanding how bad the PML-N loyalists feel about Nawaz Sharif hitting the end of the road the next in line are here to assert their right. If indeed Maryam Nawaz can take it through to the end and can emerge victorious she still might place NS on the throne to spite all naysayers but really his efficacy remains suspect as is his credibility. One makes mistakes and then atones for those. Maryam has in a bold bid — far bolder than any of the men around her — persevered and persisted to instill life into what had become a listless PML-N and PDM. But Mian Sahib hasn't even tried. He bunked jail and is now an absconder from the courts. He told lies to everybody, the people, law and the institutions. Even the narrative that is thrust on him was a losing attempt at recovering some of the lost pride. Less said the better.
Imran Khan is next. I don't know how he or his party can recover from where they are now. Almost half way down their tenure there is nothing of benefit or the good that one can credit them for. Imran Khan's personality was an asset but he got so badly stuck in what the opposition had so craftily prepared for him that he kept getting sucked into it with every passing day. The Establishment may have had his back but his hands and his mind were his own. We have thus lost a golden chance as a nation to remedy what was rotten. Easily gullible, too many raw hands run his policy. This has only accentuated his and his party's incompetence and lack of vision in running the matters of state and the society. For his life he has held onto the mantra of fighting corruption but couldn't do zilch about those largely perceived in public perception to be manifestly corrupt. What we get for policy from this government has only been hot air. How will the people treat IK at the polls will only be seen.
As political complexities multiply over time it will only add to IK's challenges. Will the PTI fragment, weaken, mutate or simply disappear, is anyone's guess. The party still has diehard fans and zealous workers but few are adept at politics. Most are passengers; they will move on. The game may already be over for this breed. Adios septuagenarians.
Bilawal Bhutto has a political legacy to guide him and a well-rounded head on his shoulders to situate it in the current times. It is his challenge to successfully distance from what is corrupted in the legacy and chart for himself a path to cleaner and purposed politics. His mainstay will be Sindh while he has a task cut out despite his veritable grasp of domestic politics to recreate that niche in Punjab where seats for the National Assembly are lain for anyone wanting to reach the pinnacle at the Centre. His foray into G-B was impressive and purposeful. No matter he did not carry the election — that was another lesson in the peculiarities of Pakistani politics; it is not the elections which are rigged but the people who are wired differently — but how he ran his campaign brought him credit. He is a realist and less of a dreamer and factors in well principles that still matter. Like all politicians he too seeks power but knows how to round off that intrinsic political aim with laudable nuance — something Maryam will need to inculcate and learn. What he inherits is rather constrained and frayed but must work his way up to make another mark in Punjab where it all matters. This will need great amount of patience and some very hard work. If he seeks shortcuts like so many before him in the field of politics even this endowed political finesse will fall short.
If Bilawal seems overshadowed in the last few outings of the PDM that is because Maryam has dominated the stage so comprehensively. She has forced her way through the melee — sometimes literally, through a storm of men, mostly uncouth and undiscerning, yet braving her way — which tells of her ambition and courage. When someone is so committed to succeed, that someone usually does. From a crowd puller to a seasoning politician her future role in Pakistani politics is writ large. She has read the pitch well — in fact, very well — and launched her movement to cause a storm in the quiet of listless politics. She has shaken every bit of the ground so fully that most players have had to make choices. Anyone who can force traditional power players to make choices is no ordinary someone. Give it to her for moving the scale. How she will now conduct herself and take control of her intrinsic fallibilities — of which there are many, sadly — will decide how successful she will be. She knows space and has played it well. Does she know time too and the need to square the larger construct of the state and the society with its evolved weaknesses?
There are no shortcuts to success. It always entails painstaking work and building brick by brick. Sloganeering can win elections but doesn't win credibility. It is credibility Maryam needs. You can storm a stage but you stay only if you have the mettle and the genuineness. One doesn't agree with her politics or her script — especially how she abuses her nation's military — but if that was to catch attention it has been served. Now is the test of her temperament and her empathy, of her ability to own and carry all. It is not about political opportunism and how to manipulate an environment in one's favour but a test of one's beliefs and character. Purpose of politics is pristine and it cannot be practised at the level of the petty. Popular acceptability can play tricks and needs to be watched against. That is the real test, always.
In operational strategy domination is endowed to the one who retains initiative. If he/she holds on to it a bit longer it forces a lag on the adversary. If the lag is pervasive, and the initiative far too assertive and repetitive, lag turns into paralysis. A paralysis is when one is on a wing and a prayer and hope is the only recourse. Hope that Sharifs will end up in-fighting which will break apart the family disabling their assault; hope that the PPP will not resign their NA membership and not dissolve the Sindh Assembly. If both oblige the PTI shall be eternally grateful. The reins are with the other side. Hope that someone will intervene and stall the brewing storm. The government waits in vain hope that Gods will come to its rescue. Bereft of ideas or too obdurate they have stuck to rhetoric as their escape. Time slips by fast. The PDM, or more specifically the PML-N, has the initiative and the momentum. They are not known to oblige as easily — Punjabis are difficult to get off a high horse. We just may be heading into a political reset.
Published in The Express Tribune, December 13th, 2020.
Like Opinion & Editorial on Facebook, follow @ETOpEd on Twitter to receive all updates on all our daily pieces.