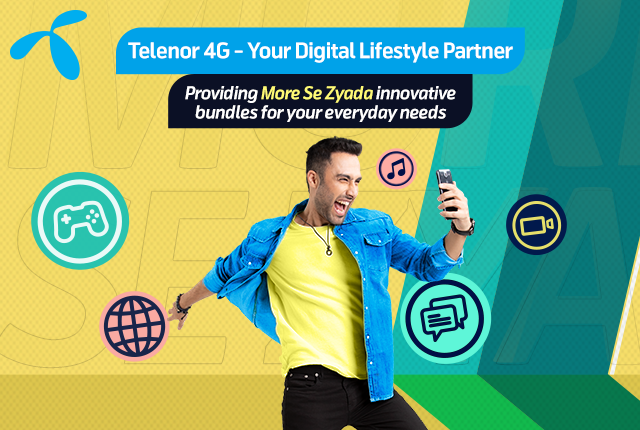 ---
With the nation constantly battling with a devastating pandemic, it is needless to say that the year 2020 embraced many challenges that the people did not previously foresee. Amidst the outbreak, a beacon of hope is bestowed upon us that truly in such circumstances, will give a new meaning to life.
Although confined to homes, people can still achieve a lot; all they need is the will to evolve with the ever-changing times, in order to do more, be more and achieve more!
The emerging necessity for data usage, E-commerce, digital payments, streaming service subscriptions and a host of other digital services has fast-tracked the adoption of a truly digital lifestyle, on a global level. Some of these digital-based businesses have had an enormous record-breaking growth in the past year, while others succumbed to lack of adequate resources and rigidness to change.
"Embracing innovation"
All through this time, Telenor Pakistan has closely monitored every step of this rapid digital evolution. It proactively evolved to furnish solutions to every user's needs' in an attempt to enable Pakistani's to achieve more!
Throughout its enthralling journey of 15 years, Telenor Pakistan has led the telecommunication world, and empowered myriad customers by co-creating distinctive and innovative digital solutions, helping every Pakistani attain more se zyada, while staying true to their purpose, and to what really matters to them. Telenor Pakistan recognises what their customers require, and tailors the core, mission and vision of their brand in line to it. This mission of theirs has truly garnered them with praises and has made their offers and services a huge success. For instance, their video streaming friendly bundles facilitate a truly digital lifestyle and are super popular amongst the masses.
Digital economies everywhere in the world, including the Pakistani market, are predicted to follow an upward trajectory. However, Covid-19 resulted a drastic change in the way we work or exist. The mobile internet has become a prerequisite requirement for remote working. Similarly, successfully anticipating the customers' needs during such tedious times, and delivering them with the best tailor-made services and offers, makes people less anxious as they can stay constantly connected to the outside world at all times. This effort propels every Pakistani to have faith; to believe they have the potential to live more se zyada even when they are constricted to their homes.
All the uncertainties affiliated with Covid-19 have shaken us to the core. It has rather triggered us to rethink every aspect of life, including socialisation. However, socialising is a basic human need. People need to get entertained, network, enjoy online music, play games, and be able to make a conference call without the constant disruptions. Any brand who adapted themselves amid these shifting realities, like Telenor Pakistan, won hearts as it made life a little better, a little easier for them during these demanding times. More so, they accurately leveraged the power of digital technologies and partnerships to empower Pakistanis.
"Fostering connectivity 24/7"
Telenor Pakistan's Lifestyle Bundle comprising of video streaming, networking & conferencing, music, sports & gaming was an initiative that not only strengthened the brand's position as a leading telecommunication company of Pakistan, but has established it as an enabler of digital lifestyle that has become the need of the hour for millions. Telenor has diversified its partnerships so that as a brand, they can offer the very best value propositions to their customers, day and night!
To further escalate digital transformation, Telenor remarkably added Snapchat, Zoom, SoundCloud, IMO, TikTok, CricnGif, Gamebox to their portfolio (in addition to Youtube, Facebook & WhatsApp which are now commonplace).
In this day and age, customers opt for an online presence, a lot more than ever before. Even though economies are facing sluggish growth patterns, digital platforms seem to be advancing steadily. Therefore, Telenor Pakistan is diligently committed to keeping this need at the heart of all its endeavours, while planning for further innovations that are most relevant to their customers. Be its functional value or entertainment, Telenor Pakistan is at the forefront of innovation, as it promises to give you more se zyada!
To learn more about Telenor Pakistan, visit here.