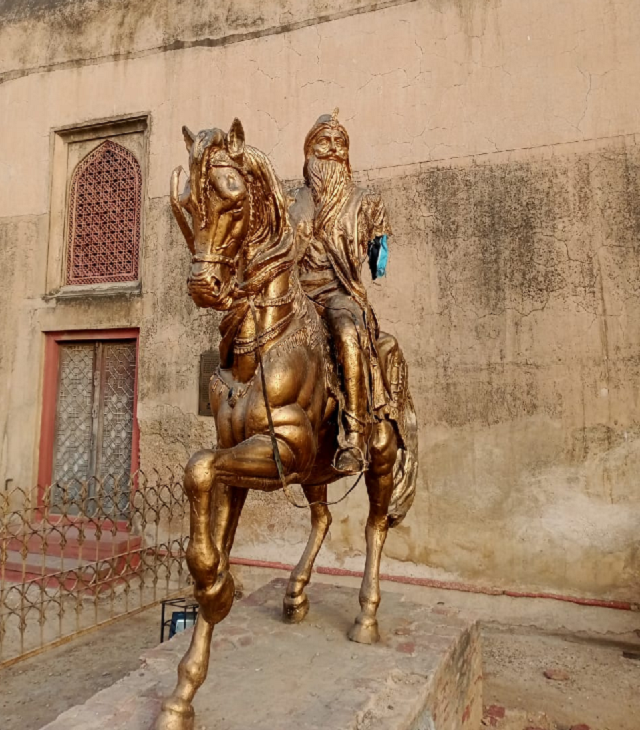 ---
LAHORE:
A young man in Lahore was arrested on Friday for allegedly vandalising the statue of Maharaja Ranjit Singh, ruler of Sikh empire during 19th century.
Zaheer, a resident of Harbanspura an area of the provincial capital, broke an arm of the statue which is placed near Shahi Qila, Lahore.
The accused, reportedly an active member of religious party, has confessed to his crime. In his initial statement to the police, the suspect claimed that Ranjit Singh's statue should not have been built as he had committed atrocities against Muslims when he was a ruler.
Police have registered a case against the accused and initiated further inquiry into the matter.
In June last year, a life-size sculpture of Maharaja Ranjit Singh was unveiled outside the Sikh Gallery at Lahore Fort on the eve of his 180th death anniversary.
In the sculpture, Singh is sitting on his favorite Arabic horse named Kahar Bahar which was a gift by Dost Muhammad Khan. The horse was very intelligent and was Singh's favourite horse.
In August last year, two men had also damaged the sculpture of Ranjit Singh after which it remained covered with a fabric for some time.
Maharaja Ranjit Singh ruled Punjab for 40 years in the 19th Century.
The sculpture was made under the supervision of Faqir Khana Museum Director Faqir Saifuddin
Sikh Heritage Foundation UK Director Boby Singh Bansal, commissioned the sculpture in association with the Walled City of Lahore Authority.
COMMENTS
Comments are moderated and generally will be posted if they are on-topic and not abusive.
For more information, please see our Comments FAQ