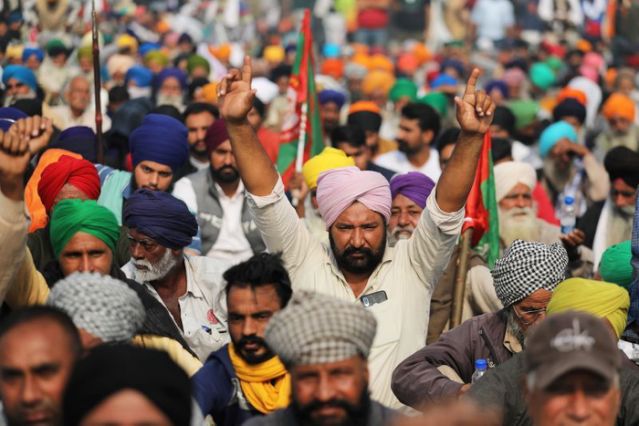 ---
KARACHI:
Pakistan has put its troops along the border with India on 'high alert' after intelligence indicated that India could mount a misadventure or surgical strike to take the spotlight off the ongoing mammoth farmers' protest in the country.
As the latest in a series of controversial policies backfire on Delhi, there is concern that Narendra Modi's hardline Hindu nationalist government may go to any length to weaken the protests led by Sikh farmers and prevent them from giving impetus to the Khalistan movement.
According to highly credible sources, Pakistani troops guarding the Line of Control and Working Boundary with India have been put on 'high alert' to frustrate the Indian designs. The sources, speaking on condition of anonymity, said Pakistani forces have been given clear instructions to respond to any 'misadventure' from India.
By now, the protests sparked off by controversial reforms deregulating India's agriculture sector have escalated to the entire country. The protesters, led by Sikh farmers from Indian Punjab, believe the so-called reforms will further undermine, disenfranchise and subjugate the Indian farmers.
On Wednesday, they rejected the government's proposal to amend three controversial laws and said they would step up protests seeking withdrawal of these laws which they said would harm their economic interests while helping big food retailers.
"The farmers have rejected the government's proposals," Darshan Pal, president of Krantikari Kisan Union, told reporters after the meeting of over 30 farmers' unions.
Farmers leaders said they would intensify nationwide protests from Saturday that would include boycott of the leaders of Modi's ruling party, blocking of national highways and picketing at toll plazas.
Expressing their anger towards some large domestic corporations and retailers, including Reliance Industries and Adani Enterprises, farmer leaders said they would boycott the products and services of these companies.
Narendra Modi and his government are already under immense pressure following the move to revoke the special status of IIOJK and the introduction of controversial citizenship laws that could end up excluding many Muslims. Modi's heavy-handed actions towards those who chose to resist have drawn much condemnation from voices both inside and outside India.
Talking to reporters, Foreign Minister Shah Mehmood Qureshi voiced fears that India could decide on some rash move to distract negative attention. "India's irresponsible handling of the novel coronavirus has severely impacted the country's economy," he said.
"Faced with protests, first by farmers and then by opposition, trade unions, lawyers and students, those leading the country have resorted to using threatening language," the minister warned. "Now, there is a real risk that India may do something to divert attention from its internal challenges."
Speaking to The Express Tribune, defence and security expert Maj Gen (retd) Inamul Haque agreed that domestic and international factors did appear conducive for a new Indian misadventure. "Internationally, the main player that could influence India – the United States – is preoccupied with its own internal developments," he said. "India's domestic situation, likewise, seems favourable as well."
According to Inam, while the same couldn't be said for India's regional environment – "Be it China or Saarc nations, Iran or Gulf states, no one wants instability" – Indian compulsions were more likely to be dictated international and domestic factors.
"When it comes to what India will do, however, a different set of factors must be taken into account," Inam said. Ruling out full-scale or limited war, he said India would not be keen to repeat a Balakot-like episode as well.
"Indian CDS Bipin Rawat may be baying for a fight, but India's recent standoff with China and bad weather will discourage a big conflagration," he said. "After Balakot, India also knows Pakistan will be compelled to retaliate if its territory is violated."
Inam added that India still had some way to go in plugging capability gaps exposed during last year's air battle. "India has received some Rafale jets, but its still several years from fully integrating them into its arsenal. Its air force also has a serious shortage of pilots," he pointed out.
Security analyst Imtiaz Gul agreed with Inam's assessment. "I believe India is not foolish enough to indulge in any large-scale misadventure," he said. "Even domestically, there is good reason for India not to do so. Its economy is in tatters and any conflict will create alarm within its business community."
Both, however, said the risk of India carrying out some limited misadventure was ever present. "The possibility of psychological warfare – of any minor action that Indian authorities can flag as a big success – can never be ruled out," said Gul.
"In the present situation, what India can do is carry out something small, like a limited air incursion, along the LoC and play it up in its domestic media," said Inam. "Modi could believe that this would win him some brownie points and help maintain the strongman image he wants to cultivate."
Inam, however, warned that minor or major, further misadventure would create a wrong precedent. "Ultimately, it will only increase the risk of miscalculation."
COMMENTS
Comments are moderated and generally will be posted if they are on-topic and not abusive.
For more information, please see our Comments FAQ