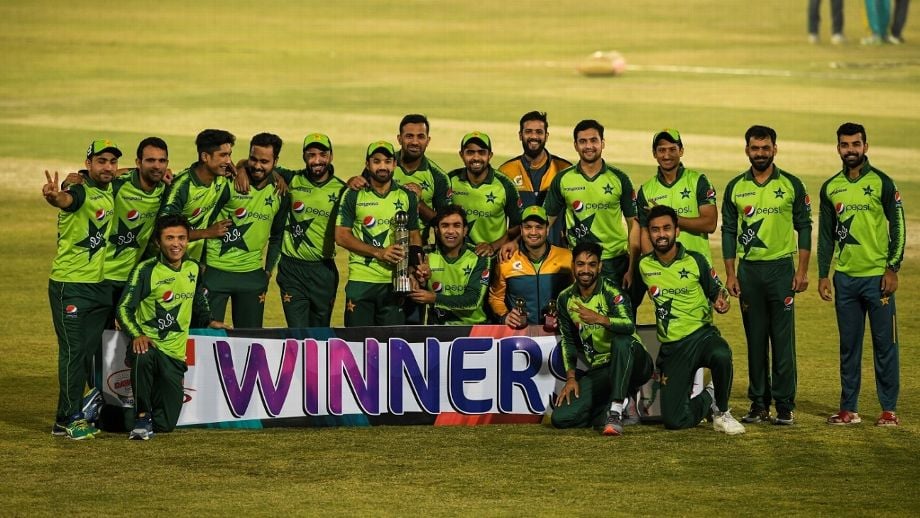 ---
KARACHI:
Pakistan are back on the field for practice after completing their 14-day quarantine in New Zealand. While it would be wise to see who performs how in the intra-squad matches to evaluate the fitness, form and mental state of the players, there are four players who can be unconditionally considered match-winners in the 18-man squad announced for T20Is.
1. Babar Azam
Pakistan skipper Babar Azam is a textbook batting genius across all formats and T20s are no exception.
Many believe he lacks the ability to go big and relies majorly on fours and quick ones and twos to maintain an average of nearly 51 and a strike rate of approximately 130 in T20Is, but the young leaders is raring to go from better to the best and prove his critics wrong.
His last 10 innings boast six fifties, with all the strike rates above 120s. While Babar has been consistent throughout his career, one reason he is touted to become the next Virat Kohli, he hit peak form starting from the tour of Australia in November 2019.
And it is this form with the bat and also in numbers that can prove detrimental to New Zealand's hopes of rolling over Pakistan in the three-T20I series.
2. Muhammad Hafeez
Talk about ripening with age and Pakistan all-rounder Mohammad Hafeez would be the first name that comes to your mind.
While former cricketer Ramiz Raja may have counted him out and suggested retirement for the 40-year-old, Hafeez still believes he can deliver some goods for Pakistan, and he has numbers to show for it.
His last 10 innings are a proof that Hafeez may well be the experienced operator Pakistan need when they face the World T20 challenge next year. He has four fifties, two 40-plus and three 30-plus scores to show when Ramiz comes knocking with an invitation to hang his boots.
Along with the easy-on-the-eye, effortless and clean hitting ability which Hafeez possesses, he also has an added advantage of getting the southpaws out without missing, but that is a discussion for some other day.
3. Haider Ali
The new kid on the block, Haider Ali, is one of the main reasons everyone will be glued to the screens when Pakistan take on New Zealand.
Pakistan, for a better part of the last decade, have waited for a big-hitter to come through the ranks and Haider promises to be just that.
Haider has played a total of four T20Is for Pakistan and doesn't have a big international portfolio to boast in the shortest format, but his clean-hitting ability is currently second to none in the Pakistan squad.
Haider is one of the better finds of the Pakistan Super League and his 54 on T20I debut against England in Manchester was a sign that he has great things coming for him.
He then played all three T20Is against Zimbabwe and scored an unbeaten 66 in the second match to reassure selectors that he is not a one-inning wonder.
Hopefully, he'll bring his A-game to fore when asked to bat on the tricky New Zealand pitches.
4. Abdullah Shafique and Khushdil Shah
Yes, this is a tie. At the moment, there is no metric which can help us decide who is a better player when Abdullah Shafique and Khushdil Shah are compared.
While Shafique showed ominous form for Central Punjab in the National T20 Cup and then came in and scored a match-winning 41 not-out for Pakistan against Zimbabwe, Shah has stayed unbeaten in all three Zimbabwe T20Is with an unbeaten 36 alongside Shafique in third T20I.
This sweet selection dilemma is a good sign for Pakistan as the mercurial Asian side has now been waiting for a long time for power-hitters and finishers to raise their hands and announce themselves on the international stage.
If given proper chances, the New Zealand T20Is will prove to the acid test for both players to prove that they deserve a permanent spot in the shortest format squad and also in the upcoming World T20.
Bonus: one batsman who is not a match-winner
Iftikhar Ahmed, period.
COMMENTS
Comments are moderated and generally will be posted if they are on-topic and not abusive.
For more information, please see our Comments FAQ