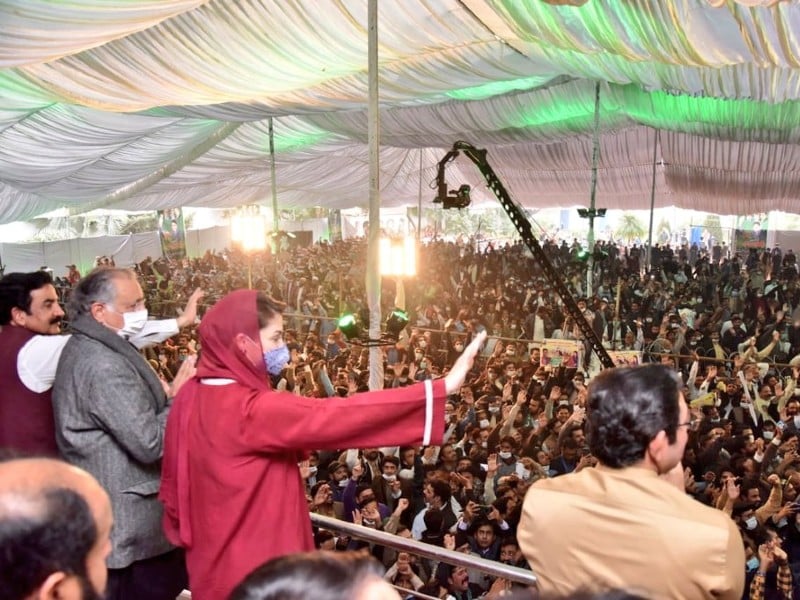 ---
De facto president of the PML-N, Maryam Nawaz, while announcing that the Pakistan Democratic Movement (PDM) is about take "big decisions" has cautioned the parliamentarians of all the parties in the joint opposition alliance against giving into any pressure if their parties decide to resign from the assemblies.
Addressing the PML-N social media convention in Lahore, which was also addressed by her father Nawaz Sharif from London through video link, Maryam said it will be either "ar ya par" (do or die) in the coming PDM meeting, scheduled for December 8.
"The masses have won this war [against the government]. We are going to make big decisions on December 8 and we will declare our victory on December 13 in Lahore [during the PDM rally],"
She appealed to the lawmakers to guard their integrity and recognise those who wanted to put a stain on their characters and loyalties.
Maryam urged the MNAs, MPAs and senators of the opposition alliance to stand by their parties' decision saying the "government cannot do more than registering an FIR or picking them up".
"The cure of all ills of the country is to send this government packing for which people will have to come to the December 13 rally," she said.
Thanking the PML-N workers, Maryam recalled that seven to eight years back, she was handed over the responsibility of social media by her father when it was a small group and added that "now it has blossomed into a tall and shade-providing tree."
She said the PML-N social media team had spread Nawaz Sharif's message to every nook and corner of the country and that it was important for the youth to know what was happening in the country.
Metaphorically speaking about the army and PTI-led government, she said despite being on the same page, "the bus was not moving on its own and was pushed forward".
She criticised the ruling party saying that it had promised to bring honour to the green passport but "got the national flag carrier banned in Europe".
"Those who gave examples of Holland's premier commuting to office on bicycle are now sealing entire cities before their arrival."
Maryam alleged that the government in order to benefit their sponsors had delayed the import of LNG, which afflicted a loss of Rs122 billion to the national exchequer.
She reminded that the PTI at the time of coming to power had promised to establish schools and healthcare facilities but had not built a single hospital despite the passage of two-and-a-half years.
"On the contrary, seven coronavirus patients have died in Khyber Teaching Hospital due unavailability of oxygen," she said.
The PML-N leader said that the Khyber Teaching Hospital charged Rs20 per stretcher and claimed that 100 children had died at the children's hospital due to non-availability of funds.
"But the man is very honest," she said while directing a pun at Prime Minister Imran Khan.
Alluding to the establishment, Maryam said though her father had delivered, he was not acceptable because he was not "obedient".
"They will tolerate the most incompetent person, because he is obedient," she said while taking a dig at the premier.
Counting on the performance of the PTI, she said "the growth rate had dipped to negative figures from 5.8%, inflation is all-time high, [country's] debts are increasing, hundreds of thousands of people have been rendered jobless, prices of medicines have jacked by 600%, businesses are shutting down and Kashmir has been handed over to India".
Quoting Justice Qazi Faiz Isa that he was suggested by former chief justice Asif Saeed Khosa to retire in view of the presidential reference against him, she said the same pressure was put on Nawaz Sharif to resign but the former premier refused to give into any pressure.
She further said that Justice Shaukat Siddiqui, who was asked not to give bail to Nawaz Sharif and Maryam Nawaz, was now himself waiting for the hearing of his own case.
Earlier, addressing the PML-N social media convention via video link from London, former premier Nawaz Sharif said that he was "removed from the premier's office" because he had raised his voice for the sanctity of vote.
He urged the party workers not to "bow down and not to rest until the rule of law [in the country] is not restored".
Sharif said his fault was to ask those who had abrogated the constitution to atone for their sins.
"Again and again, the constitution was violated [...] those who created the country were termed traitors, popular leaders were jailed and leaders were made out to be robbers," he said.
Referring to criticism over his speeches in the past few months, in which he had repeatedly accused the establishment of meddling in the government affairs, he asked his party workers if it was "treason to expose those who have formed a state above a state".
"This exposes who had robbed the public mandate, who had abrogated the constitution and who is running a state above the state," he said.
He said the undemocratic forces were irritated with his slogan of vote ko izzat do (give respect to the vote) and had started propaganda through social media that "Nawaz Sharif's narrative is empowering enemies of the country".
"These undemocratic forces have choked freedom of expression in the country, choked the poor and unemployment, have crushed them with inflation [...] these are painful things but all they are worried about is how to stop Nawaz Sharif."
He said the time had changed and it was no longer possible to suppress anyone's voice.
"Social media, despite recently approved rules," Nawaz said, "is free to quite an extent".