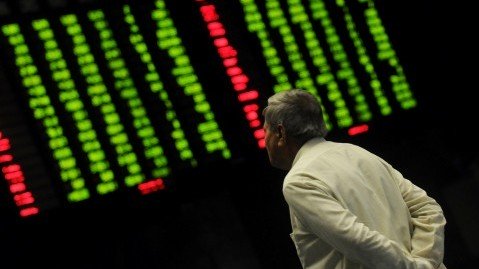 ---
KARACHI:
The Pakistan Stock Exchange's (PSX) benchmark KSE-100 index is expected to surge around 25% to 52,000 points by the end of next year - December 2021 - with the return of economic activities to normality and disappearing of Covid-19 challenging times into history.
"We have a strong bullish view of the stock market," said Arif Habib Limited (AHL) CEO Shahid Ali Habib on Friday while launching "Pakistan Strategy 2021: Realistic Optimism, Targeting 52,000".
"Economic growth, earnings growth, profitability of listed firms and availability of huge liquidity will jointly help the index accelerate in 2021," it said.
AHL Head of Research Tahir Abbas stressed that fiscal year 2021 would be the year of economic revival.
Gross domestic product (GDP) was estimated to grow 1.8% during fiscal year 2020-21 (compared to contraction of 0.4% in 2019-20), he said.
Manufacturing and export sectors such as textile, cement and steel will lead the anticipated rally as the government focuses on uplifting export earnings and accelerating housing and construction activities.
Besides, the stock market is expected to welcome around eight new firms on its trading platform, which will offer shares to raise investment of around Rs20-22 billion next year.
Policymakers are expected to announce measures in support of economic activities following a significant dent from the Covid19 pandemic.
However, inflation is likely to remain elevated at 9.2% in FY21, slightly higher than the central bank's projection of 7-9% for the year.
Foreigners are expected to turn net buyers of shares worth $300-400 million at the PSX till December 2021 as they will try to search for investment avenues in relatively cheaper emerging markets like Pakistan.
Besides, they were expected to invest in rupee-based government debt securities once again including treasury bills and Pakistan Investment Bonds (PIBs), he said.
"The return of stability to the rupee-dollar parity and negative interest rates in developed countries will encourage global investors to make investment in government debt securities in the near future," Abbas said.
Earlier, the global investors had invested over $3.5 billion in debt securities in Pakistan from July 2019 to March 2020. They, however, divested their holdings to keep hard cash in hand during the pandemic.
The world, including Pakistan, is experiencing a deadly second wave of Covid-19. "This carries downside risk to our potential investment case at the PSX," said Abbas.
"This may also reverse the improvement in economic activities if the government takes harsh measures like imposing a nationwide lockdown."
He, however, said the government would opt for smart and micro lockdowns instead of a complete nationwide lockdown to deal with the situation.
"On the positive front, the world has invented highly effective vaccines. The development will encourage investors to pour money into shares offering higher return," Habib said.
The two officials hoped that the government would complete its five-year tenure, citing that it faced no meaningful threat from the opposition parties.
They held the view that all the three major sectors of the economy including agriculture, industries and services would post growth.
The International Monetary Fund's (IMF) loan programme worth $6 billion, which is on hold, is expected to be resumed soon. The government is engaged with the Fund and it is expected to release two loan tranches worth over $900 million in one go.
The current account, while swinging into deficit, is expected to be manageable (at 0.9% of GDP) owing to a consumption-driven and import-dependent GDP. No significant depreciation of the currency is on the cards (dollar is expected to cost Rs168 by December 2021) owing to orderly market conditions, continued robust inflows of remittances and improved exports.
Housing finance, construction package and TERF (subsidised investment scheme for industries which expires on December 2020) are some of the government's efforts to fuel investment activities in the country.
The G20 debt relief and low interest rates would allay the stress off debt servicing expenditure, they said.