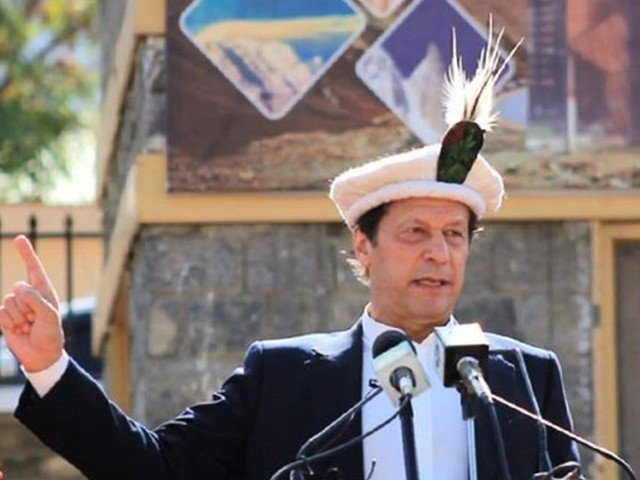 ---
GILGIT BALTISTAN:
Prime Minister Imran Khan promised on Wednesday to immediately launch the necessary work for granting provisional provincial status to Gilgit-Baltistan and a universal health coverage for the people of the region.
Imran Khan arrived in Gilgit to attend the oath-taking ceremony of the new cabinet. After the swearing-in ceremony, the prime minister addressed the cabinet members. During the visit, he also announced two new high altitude national parks in G-B.
"As the new Gilgit-Baltistan government is in place, the federal government will immediately launch work to grant it [G-B] provisional provincial status for its uplift on a par with other provinces," Imran said, addressing the cabinet members.
The prime minister announced that an exclusive committee would be tasked to work out the formalities for the provisional provincial status on a timeline-basis that would meet the longstanding demand of the people.
Addressing the swearing-in ceremony, Prime Minister Imran said that the Gilgit-Baltistan government would establish new traditions. "We will put Gilgit-Baltistan in the new direction which will change the lives of the people," he said.
Speaking about the opposition, Imran said that he had known former prime minister and Pakistan Muslim League-Nawaz (PML-N) supremo Nawaz Sharif and former president and Pakistan Peoples Party (PPP) Co-Chairman Asif Ali Zardari for 30 years. He added that they were being tormented.
"The [stolen] public money is Allah's curse. I have seen Nawaz and Zardari facing (Allah's) punishment by coming in and out of jails, moving to Saudi Arabia or London just to cover up their theft and corruption," he remarked.
The prime minister said that none of them knew that their palaces would be exposed in Panama leaks. "It takes 100 lies to cover up one lie. What's the use of money that destroys you and your children," he added. "His children are lying too."
Criticising the Pakistan Democratic Movement (PDM), he said people were dying because of coronavirus pandemic but the PDM was campaigning. "Doctors and nurses are concerned over mounting pressure on hospitals but the PDM is adamant to hold public gatherings."
Calling stress as the root cause of all major diseases such as heart, blood pressure and even cancer, the prime minister referred to the grilling of former finance minister Ishaq Dar by BBC's host Stephen Sackur in an interview on Tuesday where he (Dar) was visibly under immense stress.
The swearing ceremony was also attended by Kashmir Affairs and Gilgit Baltistan Minister Ali Amin Gandapur, G-B Governor Raja Jalal Hussain Maqpoon and newly-elected Chief Minister Barrister Khalid Khursheed and others.
At the ceremony, the governor administered oath to the 12 new ministers – Obaidullah Baig and Raja Muhammad Zakria Khan Maqpoon (senior ministers), Fathullah Khan, Javed Ali Manwa, Muhammad Kazim, Wazir Salim, Raja Nasir Ali Khan, Raja Azam Khan, Haji Shah Baig, Haji Gulbar Khan, Mushtaq Hussain and Haji Abdul Hameed.
Imran while congratulating the new G-B government, expressed the hope that it would set new standards of public service and win the people's hearts and their prayers. He resolved that the PTI government would put the G-B region on path to development.
Reiterating his vision of Madina state model for Pakistan, he announced to launch anti-poverty Ehsaas Programme in G-B, besides giving Sehat Insaf Card of Rs10 million health insurance cover, to entire G-B population.
Prime Minister Imran Khan announced two new high altitude national parks in G-B, spanning over 3,600 square kilometres -- 5% of the total area of the region. The "Himalaya National Park" and the "Nanga Parbat NP" comprise unique ecological areas with precious flora and fauna.
These national parks have been announced under the PMs "Protected Areas Initiative". It will protect the wildlife, including snow leopards, Himalayan brown bear, Ladakh Urial, Ibex, Markhors and Blue Sheep.
(WITH INPUT FROM APP)