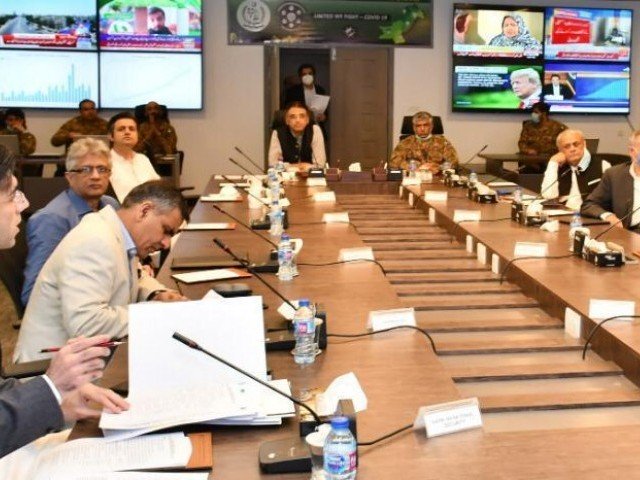 ---
Pakistan's Covid-19 positivity ratio falls to 7.2%, days after peaking at 7.46%
Peshawar has the highest positivity ratio of 19.65%, followed by Karachi at 17.73%
---
ISLAMABAD:
The country's coronavirus positivity ratio fell to 7.2pc on Friday, days after reaching its highest-ever level of 7.4pc since the pandemic emerged in the country nine months ago.
A morning session of the National Command and Operation Centre (NCOC), attended by chief secretaries via video link, was apprised about the disease's prevalence and spread in various parts of the country.
The meeting was informed that Sindh has the highest positivity ratio of 13.25pc, Azad Jammu and Kashmir (AJK) 10.79pc, Khyber-Pakhtunkhwa (K-P) 9.25pc, Balochistan 6.41pc, Islamabad 5.84pc, Gilgit-Baltistan (G-B) 4.81pc. Punjab has the lowest positivity ratio of 3.59pc.
Peshawar has the highest Covid-19 positivity of 19.65pc, followed by Karachi at 17.73pc and Hyderabad 16.32pc. The federal capital's positivity ratio stands at 5.84pc and Lahore's at 4.52pc.
At least 2,112 patients are in critical condition across the country and the number is increasing rapidly.
Federal Minister for Planning and Development Asad Umar underscored that the government's main responsibility is public safety and health, adding that all necessary measures and guidelines issued by the Ministry of Health must be ensured.
"Continuous monitoring and anticipation of likely patterns and disease prevalence are the most important," he added.
The forum was also informed that meetings were held with Ulemas to discuss the compliance of health guidelines. The federating units praised the compliance of standard operating procedures (SOPs) in mosques and public awareness about the pandemic through Ulemas.
Earlier this week, Pakistan's coronavirus positivity ratio jumped to 7.46%, the highest-ever level since the pandemic emerged in the country, resulting in the doubling of hospitalisation during the last two weeks.
The country recorded 3,113 cases over the last 24-hour period and at least 54 people succumbed to the virus.