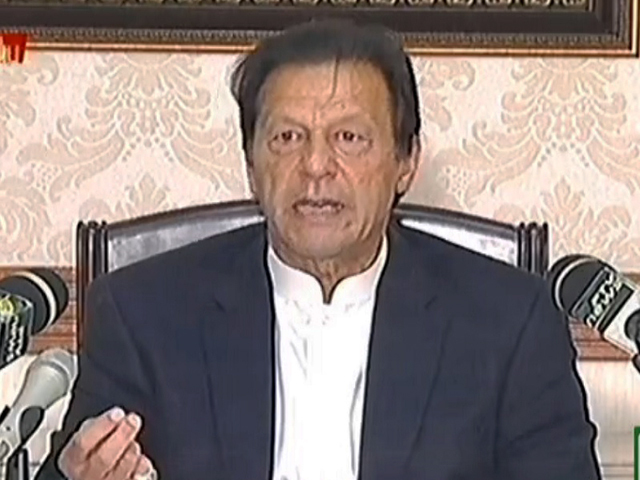 ---
Prime Minister Imran Khan on Wednesday said there was no pressure from any quarter to recognise the state of Israel as founder of the nation Muhammad Ali Jinnah said in 1948 that no headway could be made in this regard unless Palestinians were given their due rights.
The statement comes weeks after he had revealed in an interview that he has been "under pressure" to recognise Israel. However, he clarified that Islamabad will never establish relations with the "Zionist" state until a just settlement of the decades-long Palestinian issue.
In an interview with a private TV channel earlier this month, PM Imran had refused to name the countries that have been pressuring him to recognise Israel.
Earlier in the day, the foreign office had also dismissed the "baseless speculations" that the country is contemplating to normalise its ties with Israel.
Both statements came amid speculative media reports triggered by a reported 'secret meeting' between Saudi Crown Prince Muhammad bin Salman and Israeli Prime Minister Benjamin Netanyahu in the kingdom, which was later rejected by Riyadh.
The premier, while speaking to the media in Lahore today, said that his government's biggest achievement to date was a "successful foreign policy".
"In the past, India was considered a 'good' country while Pakistan was labelled as a state which supported terrorism. But, because of our lobbying in international media, we have been able to project our foreign policy in a better way and have also exposed Indian atrocities in IIOJK [Indian Illegally Occupied Jammu and Kashmir]," he added.
PM Imran said that Afghanistan never believed Pakistan in the past and was closer to India but today we have good relations with the neighbouring country. "The USA used to allege that we're playing a 'double game' with them and asked us to 'do more'. But today, the US appreciates us. Today, the world thinks Pakistan is bringing peace in Afghanistan."
He said that Pakistan suffered immense humiliation in the past 20 years due to its foreign policy as "we were asked to do more in a war which was not even ours".
PM Imran further said the country also had great relationship with Turkey, Iran, Saudi Arabia and the UAE.
Pakistan's principled stance on Israel stemmed from the historic position taken by the Muslim world, particularly by the Arab countries, who for decades championed the Palestinian cause.
However, there has been shift in Arab world's approach in recent years with the United Arab Emirates recently striking a historic accord with Israel, establishing diplomatic ties with the Jewish state.
There are reports that Saudi Arabia would eventually also recognise Israel but before that Riyadh reportedly wanted other Muslim countries including Pakistan to soften its stance towards Israel.
Observers believe that while the changing scenario warrants review in Pakistan's approach, recognising Israel without the just settlement of Palestinian issue would weaken the country's stance on the longstanding Kashmir dispute with India.
'Rallies won't change anything, no NRO for anyone'
Prime Minister Imran, while commenting on ongoing Pakistan Democratic Movement (PDM) power shows across the country, said that rallies being held by opposition parties to oust his government will not be able to yield any results, reiterating his stance that he will not give "NRO" to any opposition leader.
"No one will get NRO… rallies and demonstrations will not yield any results. No matter how many rallies you hold, you will not be able to get NRO from us," he maintained.
Talking about Covid-19 situation in the country, he said that the government will not close down businesses and factories as after a long time the exports were witnessing an increase.
"We have fared much better than India and Bangladesh despite Covid-19. We cannot allow our citizens to die of hunger by saving them from coronavirus," he added.
However, the premier also stressed on adhering standard operation procedures (SOPs), saying that people must wear masks and action will be taken against those violating the SOPs.
To a question about the impact of opposition's rallies on Covid-19 situation in Pakistan, PM Imran said the government will not allow any public gathering under the present situation.
"More than 50 people have died due to coronavirus in the last 24 hours. This figure was nine to ten just a few weeks ago. Until fatalities don't go down, we will not allow any public gathering," he maintained.