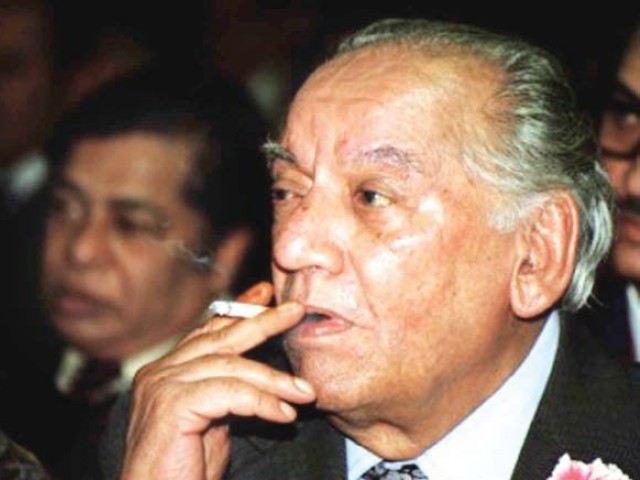 ---
LAHORE:
The 36th death anniversary of legendary poet Faiz Ahmad Faiz will be observed today. Fans, followers and family members have organised events in his honour across the world. However, most of these programs will be held virtually due to the ongoing situation in relation to the Covid-19 pandemic across the world.
The annual Faiz Festival in Lahore, for instance, will not be held this year due to the second wave of Covid-19 cases across the country. Instead online programs will be held both at King Edward Medical University and Alhmarah Arts council in which speakers talked about various aspects of Faiz's poetry and life.
Despite the hurdles, the late writer's legacy is going to be celebrated in the same vain as before among literary circles. "Faiz Ahmad Faiz's poetry and message continues to spread across the world. His message is as relevant today as it was back when Faiz was alive. In the current circumstances, his work provides a ray of light for everyone, especially the youth," Faiz's daughter Muneeza Hashmi told The Express Tribune. Adding on, Hashmi revealed that a high profile online ceremony will be held in Faiz's honour at Bostan.
Decorated writer and professor, Dr. Munawer Sabir talked about how Faiz, despite hailing from South Asia carried a message that can be applied universally. " Faiz Ahmad Faiz's poetry is immortal and carries a universal message. He always made a point to highlight the plight of people hailing from lower socio-economic backgrounds and always stressed on equality for all. Faiz has captivated generations through his poetry. Without a shadow of a doubt, his work is a world asset," he said.
According to the Alhamra Arts Council Executive Director, Saman Roy, Faiz's poetry has a tendency to instill hope in the listener and the reader. "There is hope in the poems of Faiz Ahmad Faiz. He is a legendary poet of the country whose poetry everyone wants to read. His work gives the message of equality, peace and love. Even today, people across the globe are in awe of his writings," he said.
"Alhamrah Arts council in the past has arranged a number of events in connection with Faiz. This year too we are celebrating his legacy."
Faiz was born in 1911 in Sialkot. In the 1930s, he came under the influence of the anti-fascist, pro-socialist Progressive Writers' Movement. A few years later, Faiz became one of the founders of the Progressive Writers Association.
During the Second World War, he served in the British Indian army in Delhi. After independence in 1947, he resigned from the army, moved to Lahore and became the editor of the leftist-English language daily, Pakistan Times. He also served as managing editor of the Urdu daily Imroz.
Faiz, a Marxian activist, won the Lenin Peace Prize by the Soviet Union in 1962. He was associated with the Communist Party of Pakistan and leftist leaders like Sajjad Zaheer, Hasan Nasir and Major Ishaq. Deeply saddened by their demise, Faiz wrote poems for Zaheer and Ishaq, who have also written the preface of his book Zindan-Nama.
As secretary of the Pakistan Peace Committee formed after partition, he worked to establish peace between India and Pakistan. A UK-based newspaper called Faiz "a brave enough man to fly from Lahore to Delhi for Gandhi's funeral at the height of Indo-Pakistan hatred," as quoted in the 'Requiem for an unsung messiah."
The poet was arrested in 1951 for the Rawalpindi conspiracy case and spent the next four years mostly in solitary confinement. After the sentence was announced, in a telegram to his wife Alys, Faiz said: "Now it's over: we can start counting the days." In solitude and exposed to harsh realities of life, Faiz wrote two of his greatest works Dast-e-Saba and Zindan-Nama.

A symbol of resistance, Faiz went into self- exile in Beirut when General Ziaul Haq came to power after a military coup. During this period, Faiz wandered from country to country and wrote a poem that highlights his pain away from home. In a poem called 'Meray dil meray musafir, Faiz wrote "har ik ajabi se poochain, jo patta tha apnay ghar ka" (Asking every stranger where one's home was)
Have something to add to the story? Share in the comments below
COMMENTS
Comments are moderated and generally will be posted if they are on-topic and not abusive.
For more information, please see our Comments FAQ