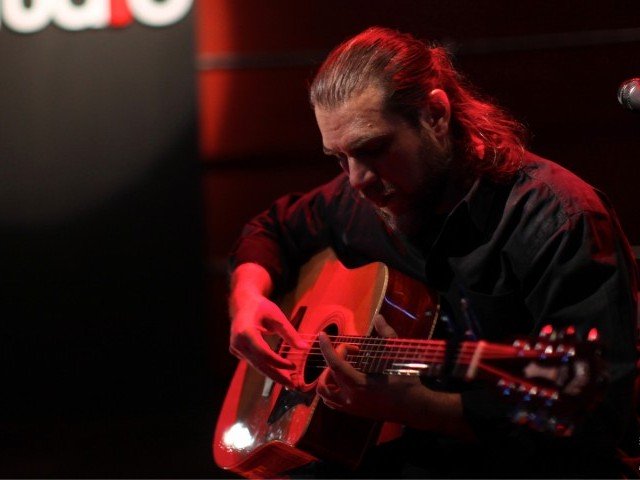 ---
KARACHI:
This is no new knowledge that Rohail Hyatt is a bit of a recluse. He spends most of his life disconnected from the world and surrounded by plants he so dearly nurtures. Whether you like him or hate him for his music, or his, at times over-indulgence in spirituality; the man and his mystique goes hand in hand. Perhaps that's why his emergence arrives like an update for the rest of the world.
While Rohail was used to living in an unofficial lockdown, the changes in practice and the new SOPS had almost made it possible to put together a show like Coke Studio that relies so heavily on teamwork and spending time together to come up with the ideas. Thanks to technology that enabled the artists, despite the lag and bandwidth issues, to somehow come up with something worth celebrating, despite the bandwidth and access issues. The Coke Studio season 13 that had almost been cancelled is finally happening and Hyatt, the founder of the show, is once again producing the show.
Following major budget cuts, the show has been scaled down making CS 13 the shortest season of the show's history with a total of 12 songs being released over the span of a month and a half. While this may give the audience fewer songs to listen to this will also allow each song to get more mileage; an issue that has been under discussion in the fizzy business for a while now. Rohail Hyatt also confirmed to The Express Tribune that this season will once again not kick off with a patriotic song and more importantly this season will only have original songs.
Asad Ahmed is back in the small house band along with Mannu the bassist whereas a 'very promising' drummer from Turkey has been taken on board. As far as the line-up of the show is concerned, it has some young and hopefully promising surprises with enough artists from Rohail's old guard just in case things end up going south. So both Rahat Fateh Ali Khan and Sanam Marvi are back along with Umair Jaswal, who would perhaps become the artist with the most CS appearances after season 13.
As announced on his social media a few weeks back, Bohemia - the Punjabi rapper will be making his comeback to CS after eight years and the likes of the classically trained Aiezaz and the Mehdi Maloof will make their CS debuts along with other new artists.
The line-up
Rahat Fateh Ali Khan
Sanam Marvi
Meesha Shafi
Ali Noor
Bohemia
Aizaz
Mehdi Maloof
Umair Jaswal
Wajeeha Naqvi
Zara Madni
Saher Gul Khan
Nawazish
Ali Pervaiz Mehdi
Fariha Pervaiz
Shehroze Hussain
The 13th season is expected to release by the end of this month.
Have something to add to the story? Share it in the comments below.
COMMENTS (3)
Comments are moderated and generally will be posted if they are on-topic and not abusive.
For more information, please see our Comments FAQ