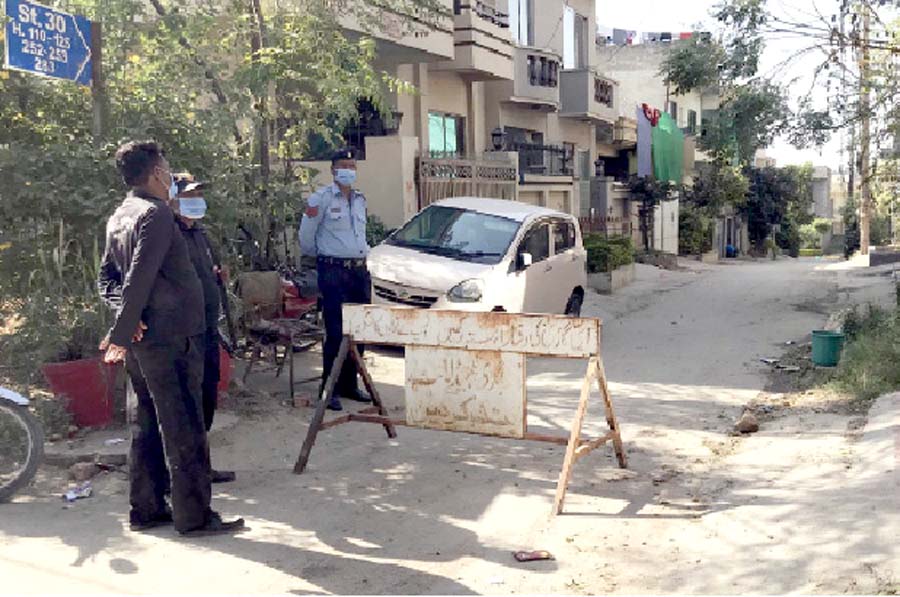 ---
Nine more areas put under lockdown
Around 270 coronavirus cases were reported in affected localities
---
LAHORE:
Following an increase in the number of coronavirus cases, the district administration decided to impose smart lockdown in nine more areas of the provincial capital on Wednesday.
An official of the district administration disclosed that as the coronavirus cases were increasing continuously, the government had decided to impose smart lockdown in the neighbourhoods of Wapda Town, Johar Town, Valencia Town, Paragon City, Defence Housing Authority (DHA) Phase 3 and 4, Gulberg and a block of Punjab University boys hostel.
He highlighted that in recent days 51 coronavirus cases had surfaced in Wapda Town, over 60 in Valencia, 24 in Johar Town, 23 in Paragon City, around 60 in different blocks of DHA, 26 in Gulberg and six in Punjab University boys hostel number 11. In all, around 270 new coronavirus cases have been recorded in the areas of the metropolis identified as hotspots of the disease. The government has decided to impose smart lockdown in the neighbourhoods to rein in further spread of the pandemic.
Meanwhile, Punjab Primary and Secondary Healthcare Department Secretary Capt (retd) Muhammad Usman said the government would impose smart lockdown in all areas where the number of coronavirus cases would rise. He said restrictions under the policy had already been imposed in six areas of the metropolis, including Valencia Town F1 Block, Paragon City, Johar Town Block E1, E2, F1, F2, G2, G4, G5 and Punjab University hostel 11.
Four areas of the Gulberg have also been sealed, while smart lockdown has been imposed in DHA Phase 4 Sector AA, BB, CC, FF and Phase 3 Sector XX, Phase 1 Sector N, Block A and B.
In addition, he highlighted, smart lockdown has also been imposed in several areas of Multan, Bhakkar, Rawalpindi and Bahawalpur. The official underlined that movement of citizens had been restricted in the areas and only one passenger could use a vehicle in case of emergency.
As per the government decision, an embargo has also been imposed on all sorts of public gathering.
Medical stores, pharmacies, laboratories, collection centres, hospitals and clinics in all these areas can remain open round the clock. Milk shops, poultry and meat outlets, flour mills, fruit and vegetable shops and bakeries can operate between 7am and 7pm. Grocery and general stores, tandoors and petrol pumps can open from 9am to 7pm.
Published in The Express Tribune, November 19th, 2020.