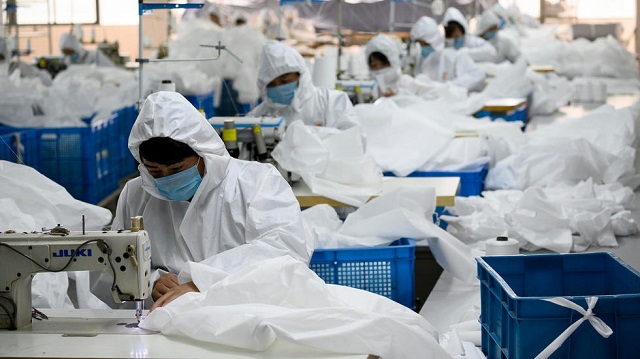 ---
ISLAMABAD:
Minister for Science and Technology Fawad Chaudhry has said Pakistan has become self-sufficient in manufacturing Covid-19 related material thanks to the efforts of its scientists, engineers and technicians.
"The country lacked the medical equipment to fight the pandemic when the first phase of Covid-19 appeared in the month of February, but now the situation is different," the Radio Pakistan quoted the minister as saying.
Separately, in his address at the launching ceremony of a new model of ventilator, the minister said Pakistan is now exporting coronavirus related products worth 100 million dollars.
On June 28, the minister announced that the first batch of ventilators manufactured in Pakistan would be delivered to the National Disaster Management Authority (NDMA). In a video statement, Chaudhary had said Pakistan has joined the ranks of those few countries which are producing their own ventilators.
The minister had expressed hopes that the country would be able to meet its own need for ventilators and would also be able to export the equipment, which, according to him, is a "complicated machine and not a lot of countries in the world have the capacity to make it".
"When the first Covid-19 case was recorded in February 26, we were not producing anything. Within a few months, we have become capable of producing our own equipment," he had said.
The minister had also congratulated the Pakistan Engineering Council (PEC), the National Radio and Telecommunication Corporation (NRTC) and other scientists and technicians for making it possible.
The contagious coronavirus disease has given an unprecedented boost to the use of personal protective equipment (PPEs) that include surgical mask, respirator, surgical gloves and face shield.
There has also been a global spike in the demand for medical equipment needed for treatment of this flu-like infection. The medical equipment comprise Covid-19 testing kit, mechanical ventilation, open-source ventilator and extracorporeal membrane oxygenation.
In April, Alpha Rubber and Plastic Works – a Lahore-based company which manufactures auto parts –developed a splitter through which oxygen could be provided to two to four patients at once by using a single ventilator.
Osama Usman, head of the private firm, had told The Express Tribune that 'Plan 9' of the Punjab IT Board (PITB) had approached them to manufacture the connector using the 3D printer prototype.
The part was initially being manufactured by the PITB using the 3D printer technology which was a time-taking and costly procedure. The firm, however, managed to find an alternative and started manufacturing 1,000 ventilator connectors on a daily basis for government and private hospitals.