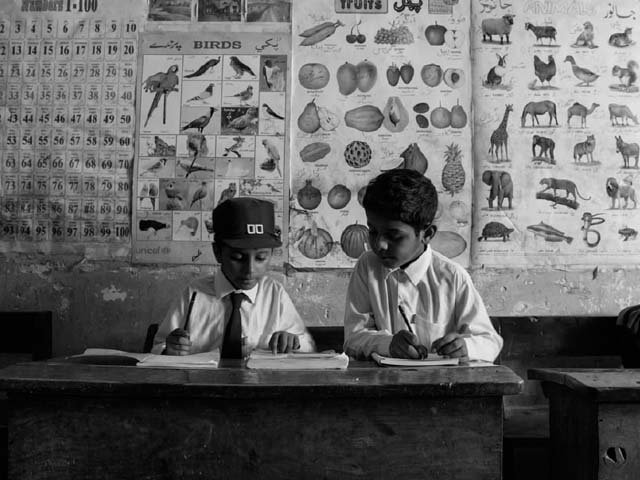 ---
ISLAMABAD:
Owners of private schools have opposed an extended winter vacation proposed by the National Command and Operation Centre (NCOC) to control the spread of novel coronavirus disease (Covid-19).
National Association of Private Schools (NAPS) has taken a strong exception against the possible closure of educational institutions with a surge in Covid-19 cases across the country.
The body demanded NCOC, Prime Minister Imran Khan, and Federal Education Minister Shafqat Mehmood to refute prevailing rumours about schools' closure.
NAPS Chairman Malik Imran in a statement issued on Thursday asserted that the private schools were implementing the Standard Operating Procedures (SOPs) for virus prevention, unlike any other institutions.
He compared violation of precautionary measures in markets and other public places, maintaining they followed every order of the government during the pandemic situation. Therefore, private educational institutions should be pushed into trouble again, he added.
However, Malik Imran hailed the federal education minister's statement that the educational institutions would not be shut down.
NAPS chairman demanded the government to compare implementation of SOPs in schools with other private and public entities and businesses in the inter-provincial educational conference on November 16.
Meanwhile, in Rawalpindi, three more fatalities from novel coronavirus were reported while another 80 people were infected with the deadly virus on Thursday. Besides this, six educational institutions were also sealed off as people continue to flout precautionary guidelines.
Three patients including Ashfaq, Shahid, and Nagina were receiving treatment in the Holy Family Hospital (HFH) when they succumbed to the pandemic virus. Some 10 patients were moved to ventilators as their condition deteriorated.
Further, the medical staff has been clobbered with the virus too and some 30 of them including doctors are under isolation at homes.
Health authorities have advised the medical workers to strictly implement Standard Operating Procedures (SOPs). District Health Authorities (DHA) Chief Executive Officer (CEO) Dr Sohail Chaudhry told that as many as 409 people are currently observing home-isolation in the Rawalpindi district.
Meanwhile, six educational institutions including five schools and a college were sealed off in the garrison city after students and staff tested positive. DHA issued a notification in this regard too.
The schools including Higher Secondary Girls School No. 1 Murree Road, Government Boys School Gharibabad, Government Girls High School Kotli Satiyan, Girls School Mandira, Girls High School Teli Mohalla, and FG Women College Kashmir Road would remain closed until November 21.
Furthermore, an acute violation of precautionary SOPs is underway in areas put under smart lockdown as well as in general.
The areas of Satellite Town and Abbasiabad that were supposed to be sealed off after getting declared hotspot areas remained open as usual on Thursday too. The administration is not maintaining a check and balance in both areas. The business activities in the entire city were witnessed to be in full swing.
Published in The Express Tribune, November 13th, 2020.