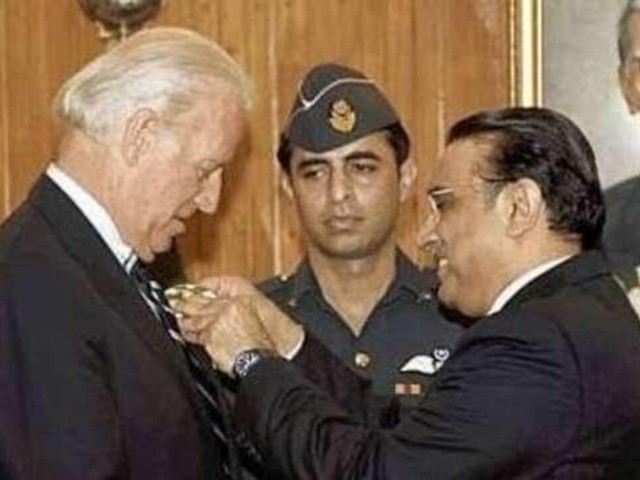 ---
Joe Biden, a fixture in US politics for a half century as a senator and vice president, has completed a long climb to the political summit that included two previous failed presidential bids by defeating President Donald Trump.
When he enters the White House on January 20, Biden, at the age of 78, will be the oldest person ever to assume the office.
His views about Pakistan intrigue the most. Unlike Trump's scepticism about Pakistan's role in the US war on terror, Biden has historically looked upon Pakistan as a strategic regional ally.
During his tenure as the Chairman of the Senate Foreign Relations Committee (SFRC), Biden, along with Senator Richard Lugar, promulgated the Enhanced Partnership Act with Pakistan 2008.
Their efforts to strengthen the US-Pakistan relationship later culminated in the famous Kerry-Lugar-Berman Act 2009 after Senator Kerry became the Chairman of SFRC. The main aim of Biden's effort was to improve the political and economic situation in Pakistan for regional stability.
Likewise, Biden also sees Pakistan as a valuable and trustful ally in the context of the Afghan problem. Shuja Nawaz, in his recent book "The Battle for Pakistan", recalls that during his visit to Kabul as the vice president of the US, Biden gave a 'shut-up call' to Hamid Karzai when the latter demanded that the US should pressurise Pakistan diplomatically to curb its support for the Afghan Taliban. Biden countered this by asserting that "Pakistan is fifty times more important than Afghanistan for the US".
According to experts however, a trilateral dialogue under US oversight is the likely option the Biden administration would choose – a quasi-autonomous arrangement also deemed unfavourable by Islamabad.
Furthermore, a change in the White House can also alter Pakistan's relationship with its hostile eastern neighbour. India has enjoyed diplomatic leverage under the Trump administration. Its hostile narrative towards Pakistan since the last Indian elections, and the unilateral annulment of Article 370, revoking Kashmir's special autonomy, relatively went unheard in Washington.
To contain the rising Chinese influence, the Trump administration openly supported Prime Minister Narendra Modi's ambitions, culminating in a $3 billion arms deal earlier this year between the two countries. Such a diplomatic romance between the US and India has not only alienated Pakistan but also raised a red flag in Beijing, resulting in numerous skirmishes and diplomatic spats between the three nuclear-armed neighbours in South Asia.
It is unlikely that the diplomatic relations between Washington and New Delhi will change significantly since India's economic clout in South Asia makes it the only formidable force against Chinese expansionism.
However, the Biden administration would likely strive to improve Indo-Pak relations through dialogue – something he explicitly endorsed during the Vajpayee-Musharraf talks as a US senator. Moreover, possibly, the US will diplomatically pressurise India to curb its human rights violations in Kashmir, as hinted at by Kamala Harris, who also made history on Saturday with her election as Joe Biden's vice president, becoming the first woman, first Black American and first Asian American to win the second-highest US office.
Biden's historical position and his views regarding Pakistan suggest that under him the Washington-Islamabad diplomatic exchange will flourish, and the US might resume its civil-military assistance to Pakistan, which was ceased under the Trump administration.
However, the new administration might compel Islamabad to move away from Beijing's influence because of the strained US-China relationship. Thus, maintaining a balance between the two powers is a job Pakistan's foreign policy experts should be prepared to undertake.
Visits to Pakistan
Biden last visited Pakistan in 2011 and had spent a very busy day in Islamabad on January 12, on a rather hastily scheduled visit, after his trip to Kabul.
This unscheduled visit was to reassure Pakistan of America's long-term commitment to Pakistan, and to express its concern on Salmaan Taseer's murder and the public reaction of supporting Mumtaz Qadri.
Biden has been the strongest opponent to prolonged US presence in Afghanistan and continued to oppose the "surge" of US troops there, even after it was sanctioned by then US president Barack Obama.
In 2008, Pakistan awarded Biden the second-highest civilian honour, "Hilal-e-Pakistan" in recognition of his consistent support to the country.