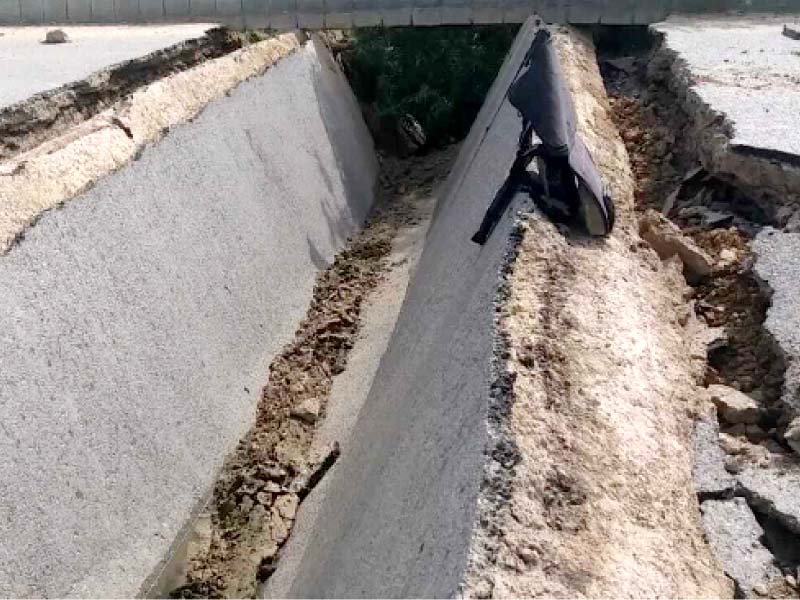 ---
On 13 May 2015, a bus carrying several Ismaili Muslims was targeted on a dingy, unnamed street near Karachi's Safoora Chowarangi.
The potholed road had slowed down traffic, which arguably allowed the assailants to board the moving vehicle and open fire on the passengers. As many as 46 lives were lost, while many were left injured and unspeakably traumatised.
In the public outcry following the harrowing attack, Sindh Chief Minister Murad Ali Shah had ordered tighter security on the unnamed road, along with emergency repairs and carpeting of the roadway. Repair work was said to be underway by 2016.
However, a recent survey conducted by The Express Tribune reveals that there is little evidence of the repair and development work touted in 2016.
"After dark, this stretch appears grim and haunting- most street lamps have been stolen, so there's barely any light. Security arrangements are non-existent. The repairs that took place in 2016 were so shabby that the potholes took no time to return while recent rains have destroyed the gutters on either side," lamented an area resident.
Five years after the gut-wrenching tragedy, residents complain that the government's lack of concern for public welfare and security has put many in harm's way.
"This road leads to the Jamali Bridge of the Super Highway, making it an essential pathway for not only Safoora's residents, but also others. But its sorry state and the lack of alternative routes have bothered commuters for many years," commented another resident.
The surface carpeting of the road had started showing signs of crumbling within six months, but its current state owes much to this year's torrential rains, leaving it more dilapidated than ever.
According to Muhammad Sajid, who lives in the area, the 'land mafia' has occupied the natural rainwater conduits in Scheme 33, building illegal residential and commercial structures there.
Every year, come monsoon, the rainwater from Gadap flows down to Safoora and floods the locality, damaging its already shaky infrastructure.
"A few years ago, rainwater inundated Saadi Town, after which the provincial and city governments constructed small rainwater drains. These drains diverted the flow of water from Saadi Town to areas like PCSIR Society, New Rizvia Society, Karachi University Employees Society, State Bank Society and Gwalior Society. And it is because of these poorly-built drains that this road's gutter slabs were left broken," explained Sajid.
Speaking to The Express Tribune, he said residents had lodged complaints about the road and drains with East deputy commissioner's office and other relevant authorities, but to no avail. Subsequently, the residents themselves filled one of the gutters with mud and it is now being used for traffic.
A Karachi Development Authority (KDA) official, on condition of anonymity, said that Scheme 33 did not fall under the KDA or Karachi Metropolitan Corporation's (KMC) purview.
"The East DC is the project director, responsible for all development work and other affairs pertaining to Scheme 33. But despite the passage of 12 years and owing to political hiring, no actual development work has taken place in the area," he claimed.
Commenting on the repairs that took place in 2016, he remarked that considering the area's sensitivity, the DC should have repaired the drains and surrounding roads on an emergency basis too. "But it's evident he had no interest in it," the official added.
A month ago, the Sindh Local Government Department reportedly surveyed the road, asking senior provincial government officials to release funds for the road's construction on an emergency basis.
Furthermore, a summary in this regard has been forwarded to the government, but is yet to be approved.
However, when The Express Tribune tried contacting local government secretary Najam Shah and East DC Muhammad Ali Shah for their comments on the matter, no response could be received.
Published in The Express Tribune, November 3rd, 2020.