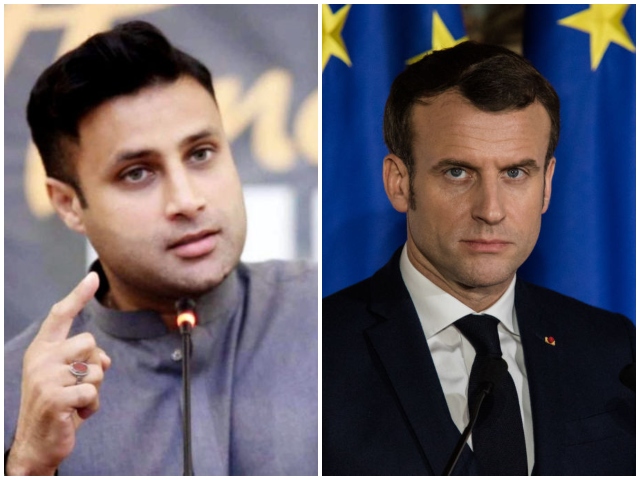 ---
Special Assistant to the Prime Minister on Overseas Pakistanis and Human Resource Development Zulfiqar Bukhari has urged French President Emmanuel Macron to lead his nation in providing Muslims with the same safeguards it extends to other communities.
"Any other course of action will continue to weaken French society, and undermine the "Republican values" the nation holds so sacred. This is to say nothing of the growing global economic boycott of France in the Muslim world," he was quoted by Euro News as saying.
Zulfiqar Bukhari said that Holocaust denial is illegal in 16 European countries including France, which passed the Gayssot Law in 1990. "I have never seen history professors march along the Champs Élysée in protest against this law. I am not aware of history teachers telling pupils that 5.9 million Jews perished in the Holocaust just to make a point about freedom of speech," he questioned.
The PM's aide said that Charlie Hebdo's controversial cartoon perpetuated the worst (and false) caricature of the Prophet (PBUH). By extension, the billions of Muslims who believe in and love him were portrayed, in the popular imagination, as being just as bad.
"These representations of the Prophet (PBUH) are not satire, art, or freedom of speech. They are glaringly similar in their dehumanisation to the blood libel which has been used by anti-Semites for centuries."
He requested the European leaders to apply their own laws fairly and give the same protection they give to others, like the Jewish community, from abuses of freedom of speech.
"For that particular community, the red line – and the line along which some seek to divide our societies through slurs and provocations – is their unparalleled historical suffering. Our red line is what we love and cherish the most. In fact, no word in the English language can capture the indescribable attachment and loyalty we feel towards our noble Prophet, peace and blessings be upon him," he added.
This article originally appeared on Euro News
COMMENTS
Comments are moderated and generally will be posted if they are on-topic and not abusive.
For more information, please see our Comments FAQ